Why Morbius' Jared Leto Found It 'Hard' To Play The Lead Role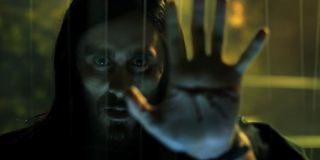 Sony Pictures' upcoming Morbius is one of many films delayed by the COVID-19 pandemic. Originally slated for June of last year, fans will now have to wait until 2022 to see the doctor-turned vampire on the big screen. Jared Leto, who has recently been meme-ing about the delays, stars as Doctor Michael Morbius. It marks the first time the Oscar-winning actor will be appearing in a Marvel-related title. While he has superhero experience from his time as the clown prince of crime in Suicide Squad and the upcoming Zack Snyder's Justice League, the lead role of Doctor Morbius was a bit harder to perform than some of his past characters.
In a recent interview, Jared Leto noted how difficult it was to get into character for Morbius. Not because he's a vampire, but because his own personality closely aligns with the living vampire. As Leto put it,
In the interview from Variety's Actors on Actors series, Jared Leto mentions that his personality closely aligns to the character of Dr. Morbius, making it a unique challenge in comparison to his other roles. He is known for his unique approach to method acting, and has made headlines for some of the bizarre antics that come from staying in character during the entirety of filming.
Morbius follows Doctor Michael Morbius as he attempts to cure himself of a rare blood disease, inadvertently turning into a vampire. The character is known as one of the many members of Spider-Man's rogues' gallery. The upcoming feature is an adjacent film in Tom Holland's Spider Man Universe, similar to Sony's Venom, which starred Tom Hardy as the symbiotic host.
Sony is more than likely banking on Morbius doing well, as Venom was a surprise hit for the studio and pulled in over $856 million world wide. Jared Leto's Morbius isn't the only vampire flick in the works with Marvel, either. Mahersala Ali is set to star in Blade as the Daywalker, Eric Brooks. Fans will have to wait a bit for the Blade reboot, as there isn't a confirmed release date just yet.
As of now, Morbius is scheduled to release on January 21st, 2022. Hopefully that date will hold as the film has already been delayed twice. Jared Leto fans don't need to wait though, as the actor stars as a suspected murderer in the recently released The Little Things, which is now in theaters and on HBO Max (opens in new tab). Those interested in the rest of this year's upcoming movies should check out CinemaBlend's 2021 Release Schedule for the latest on films headed to the big (and now small) screen.
Into tracksuits by Paulie Walnuts, the Criterion Channel and Robert Eggers.
Your Daily Blend of Entertainment News
Thank you for signing up to CinemaBlend. You will receive a verification email shortly.
There was a problem. Please refresh the page and try again.