Jared Leto Is Showing Some Extreme Dedication To His Joker Role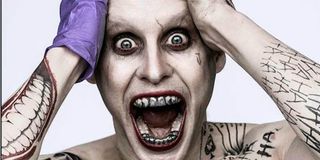 Jared Leto is under tremendous pressure. He's succeeding Heath Ledger as the Joker in the David Ayer-directed Suicide Squad, and those are no small shoes to fill. Understandably, he's taking his role seriously, and the drastic measures he's employed have caught the attention of his co-star Jai Courtney.
We haven't seen Jared Leto out of his Joker costume on the Suicide Squad set, and, as it turns out, neither has Courtney. The Terminator Genisys star, who plays Captain Boomerang in Suicide Squad, recently spoke with MTV about Leto's process. When asked whether the Oscar-winning Dallas Buyers Club actor is utilizing method acting, Courtney said:
Courtney continued by saying that the cast and crew will continue filming at night up through the end of August. Though Joker is rumored to be making the majority of his appearances from behind bars, Courtney says he and his co-stars know the kind of pressure Leto's under to get the character right.
Think back to the days before audiences saw The Dark Knight. When Ledger was announced in the role of the Joker, fans were outraged in a similar fashion that Ben Affleck recently experienced when he was named Batman. But Ledger's performance changed minds. When Leto was cast as the Joker in Suicide Squad, there was an opposite reaction: people, for the most part, were on board with the casting, but when the first image of him in costume was released, fans heavily criticized his look. We'll see if he can turn public perception around, but, as we've learned time and time again, it's unwise to judge a book by its cover…or a performance by its casting.
Aside from the official first look image of Joker bedecked with "Ha ha ha" tattoos, we've also seen footage and photos from the Suicide Squad set that reveal a car chase between him and Batman. Ben Affleck will appear in the film that follows Batman v Superman to chase down Joker and his sidekick, Harley Quinn (Margot Robbie), in the Batmobile.
In Suicide Squad, some of the most sadistic villains of the DC Comics universe will be given a second chance at redemption. In exchange for reduced jail time at Belle Reve prison, these baddies will execute top-secret government missions under the direction of the warden, Amanda Waller (Viola Davis). In addition to the previously mentioned actors, the film also features Will Smith as Deadshot, Joel Kinnaman as Rick Flagg, Cara Delevigne as Enchantress, Adewale Akinnuoye-Agbaje as Killer Croc, Adam Beach as Slipknot, Jay Hernandez as El Diablo, Ike Barinholtz as Hugo Strange, Jim Parrack as Johnny Frost, and Karen Fukuhara as Katana.
Suicide Squad hits theaters on August 5, 2016.
Your Daily Blend of Entertainment News