How Jared Leto Apparently Lost His Oscar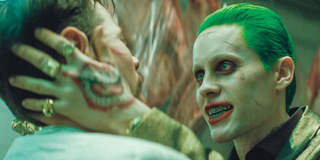 Jared Leto is what some would describe as a man of many talents. When he's not deep in character during his signature bouts of method acting, he's a singer, songwriter, and avid rock climber. Over the course of his career his band 30 Seconds to Mars has sold millions of records, he's appeared in numerous films, taking up the role of the iconic Joker, and has even won a coveted Academy Award for his performance in 2014's Dallas Buyers Club. The guy lives a cool life, to say the least.
But no matter how cool you are, you still have to deal with the unfortunate process of moving-- which is virtually never a good time. Jared Leto recently found out just how much moving sucks when he was unable to locate his Oscar after moving to a new Los Angeles home. During a recent interview, Leto casually mentioned that his Academy Award has been missing for quite some time:
In his interview on The Late Late Show With James Corden the enigmatic actor revealed that his Oscar, which he earned for Best Supporting actor with Dallas Buyers Club, has been missing for three whole years. If I can't find something for more than 24 hours there is a 99% chance I'll never see it again, so I can't imagine Jared Leto is feeling too optimistic about reuniting with the trophy.
Despite the missing Oscars length of absence, he seemed surprisingly cool about the situation. In fact, he's hoping that it's getting the care (and attention) it deserves. In his words,
Who knows, maybe Jared Leto will be reunited with his long-lost Oscar one day, or maybe he'll just go ahead and win another to replace it. It's not out of the question as the actor has been staying busy since his performance as the Clown Prince of Crime in 2016's Suicide Squad.
His upcoming films include The Little Things, which premieres in theaters and on HBO Max this Friday. Described as a detective crime drama, Leto plays a suspected serial killer alongside Denzel Washington and Bohemian Rhapsody star Rami Malek.
Jared Leto recently made headlines for another project as one of the driving forces behind Disney's long anticipated follow-up to 2010's Tron: Legacy. Although there's no confirmed date for the third installment of the Tron series, his first Marvel appearance in Morbius is scheduled to release on January 21st, 2022 after numerous delays.
Even if his next few performances don't earn Jared Leto another Oscar, he doesn't seem too broken up about it. After all, he didn't even know it was missing for three whole years. Just make sure if you happen to stumble upon a missing Oscar with Jared Leto's name on it, maybe give the guy a call.
Into tracksuits by Paulie Walnuts, the Criterion Channel and Robert Eggers.
Your Daily Blend of Entertainment News
Thank you for signing up to CinemaBlend. You will receive a verification email shortly.
There was a problem. Please refresh the page and try again.