Regina King On History 'Repeating Itself' For One Night In Miami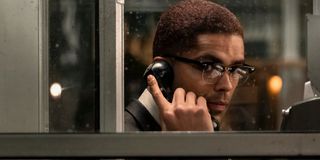 The COVID-19 pandemic has changed the world of entertainment as we know it, from suspending TV and film productions to forcing theaters to close their doors. Many are back to work with new safety precautions, though they make things a bit tricky, but there's still the matter of completed films with planned theatrical releases that had to be pushed back or changed. For One Night in Miami, the delay has only strengthened the relevance of the film. In light of all that has happened in 2020 and in these first few weeks of 2021, director Regina King spoke about American history repeating itself.
Already well accomplished as an actress and having directed a good amount of television as well, the esteemed Regina King makes her film directing debut with One Night in Miami. The film is set in 1964 and gives a fictional account of a night when real legends Cassius Clay (later called Muhammad Ali, played by Eli Goree), Malcolm X (Kingsley Ben-Adir), Sam Cooke (Leslie Odom Jr.) and Jim Brown (Aldis Hodge) meet to celebrate Clay's defeat of heavyweight champion Sonny Liston. The men discuss their roles in the civil rights movement throughout the film, and Regina King talked about the relevance due to history repeating itself in an interview with CinemaBlend, saying the following:
This is bittersweet because One Night in Miami is an excellent film that everyone should see, regardless of when they're able to or how much time has passed after it was completed. It deserves to make an impact. But it pains me that you wouldn't know it's 1964 by the film's the dialogue around how Blacks are being treated. I do agree with Regina King that the impact of this film will be equally strong (probably stronger) as it would have been if released when originally intended. It's eye-opening to see scenes that are very clearly depicting a problem, and then knowing that people still experience this today.
The performances in every scene of One Night in Miami are phenomenal. Regina King makes every moment feel authentic. She brings the audience into the room with these characters and lets them feel the tension, the pain, and also the joyous moments. This film is beautiful, the casting is spot on… I truly can't rave about it enough. You have to see it, trust me.
2020 was certainly a challenging year, to say the least. But I will say something I was grateful to see was a lot of open discussion regarding social justice. One Night in Miami is a great film to watch with others and talk about the work that is still left to do. One Night in Miami is available on Amazon Prime Video January 15.
Your Daily Blend of Entertainment News
Obsessed with Hamilton and most things Disney. Gets too attached to TV show characters. Loves a good thriller, but will only tolerate so much blood.