One Milestone Leslie Odom Jr. Hit While Working On Hamilton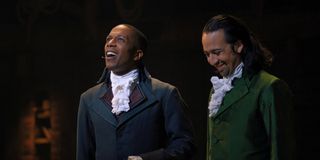 Starting as a sensational Broadway hit and now a film that impossibly surpasses the hype, Hamilton has taken the world by storm. The show has improved diversity for theatre and sparked conversation in the awards space. Leslie Odom Jr. who plays Hamilton star and narrator Aaron Burr, hit a huge milestone while working on the show.
Part of the job when you're an actor is the constant hustle for the next gig. Movie stars film for a certain number of months, and sometimes the shooting schedules conflict with other opportunities. TV actors may have a little more time on the job mapped out, but there's still the waiting game of a show being renewed. As it turns out, Hamilton on Broadway was Leslie Odom Jr.'s longest job ever. Here's what he told CinemaBlend of hitting this milestone:
So Hamilton is the only job Leslie Odom Jr. had for an entire year! Sounds like a short stint for someone's longest job to those of us working that 9 to 5, but for an actor this is quite the surprise and what an accomplishment. Those of us re-watching the show on Disney+ (opens in new tab) over and over are so happy Odom Jr. was convinced to sign on that dotted line. Between acting and music, I expect him to have a very long career in entertainment. Leslie Odom Jr. is one of my absolute favorites, and how can he not be with talent like his?
Leslie Odom Jr.'s latest film, One Night in Miami, is available January 15 on Amazon Prime Video (opens in new tab). He depicts the legendary Sam Cooke, and Hamilton fans will not want to miss this performance. Directed by Regina King, One Night in Miami tells of one incredible night where Sam Cooke, Cassius Clay (Eli Goree), Malcolm X (Kingsley Ben-Adir) and Jim Brown (Aldis Hodge) meet to celebrate together. Odom Jr.'s portrayal of Sam Cooke is so spot on, and his musical performances definitely blow us all away.
When looking for something to watch, keep an eye on CinemaBlend's 2021 movie release schedule and winter/spring TV schedule. We are always updating these as new shows and dates are announced so you don't miss a single thing.
Your Daily Blend of Entertainment News
Obsessed with Hamilton and most things Disney. Gets too attached to TV show characters. Loves a good thriller, but will only tolerate so much blood.
Your Daily Blend of Entertainment News
Thank you for signing up to CinemaBlend. You will receive a verification email shortly.
There was a problem. Please refresh the page and try again.