The 10 Best Stephen King Adaptations Of The Last 10 Years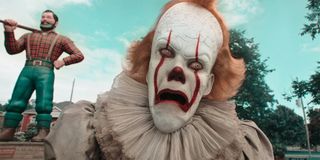 The relationship between Stephen King and Hollywood has been symbiotic for nearly half a century at this point. Since the release of Brian De Palma's Carrie in 1976, there have only been six calendar years that didn't see a studio adaptation either debut in theaters or air on the small screen. As the author keeps writing novels and short stories, filmmakers continue to generate ideas how to bring them to life.
In this regard, the last 10 years have been quite special. Since 2011, 23 new Stephen King movies, TV shows, and miniseries have launched, and while they haven't all been what could be described as "winners," the period also delivered us some of the best King adaptations of all time. This ranking is a celebration of those latter titles.
Under The Dome, Mercy, and Cell won't be the focus here, and A Good Marriage, A Creepshow Animated Special, and Bag Of Bones just missed the cut. But separating the wheat from the chaff, what we're left with is a collection of titles that both do justice to the literary Master of Horror's work, and stand independently as examples of great movies and TV. From exciting thrillers, to big blockbusters, to underrated shows, here are the 10 best Stephen King adaptations of the last 10 years.
10. In The Tall Grass
When it comes to Stephen King's short stories, there are plenty of adaptations that wind up struggling as a result of needing to expand on the source material, but Vincenzo Natali's In The Tall Grass is a solid example of a film being largely successful in that venture. It adds new narratives, characters, and a number of fresh sequences to the simple set up, and they very much add to the creep factor inherent in the creepy tale of travelers getting lost in a supernaturally-charged field of tall grass. It's not what one would call a top tier King movie, but it secured its spot on this list by featuring what is easily one of the more horrific sequences we've seen in the canon.
9. 1922
Tom Jane has made quite a mark on the world of Stephen King adaptations – and while in that conversation most people will instantly point to Frank Darabont's The Mist, not to be overlooked is Zak Hilditch's 1922. It's definitely a grim story, following a father (Jane) and son (Dylan Schmid) in the wake of plotting to kill their wife/mother, but it creates a fantastic horror atmosphere that sees guilt act like a curse and consume their lives. It's not quite on the level of the third awesome Netflix King movie that you'll find later in this list, but it's certainly well done and a solid, faithful take on the original novella.
8. Castle Rock
It's really a shame that Castle Rock has come to an end, because it was built on such a wonderful concept that felt like it had unlimited potential. Named for and set in the fictional Maine town that Stephen King first created writing The Dead Zone, the idea was to use the author's books to build a background and atmosphere that would support original stories, and both seasons of the Hulu series do a great job doing just that. As leads of their respective arcs, André Holland and Lizzy Caplan do wonderful work, and every episode's final moment compels deeper interest in the bigger mysteries. Sadly it looks like we'll never actually see the full explanation of what the hell was going on with Bill Skarsgard's enigmatic The Kid, but between the time-shifting excellence of Season 1's "The Queen," the haunting Season 2 finale, and more, there's plenty to appreciate in what does exist.
7. IT Chapter Two
It's very clear from watching Andy Muschietti's IT Chapter Two that it was an extremely challenging film to make. In the making of it, the movie had the job of concluding the story that began with its predecessor, but, like any sequel, it also had to handle the minefield that is replicating success. As far as the latter goes, the follow-up doesn't quite function on the same high level as IT (more on that coming below), and its delivery is a bit muddled – but as far as the former it certainly is an epic conclusion. From the murder of Adrian Mellon to the Paul Bunyan statue sequence to the summoning of Henry Bowers, its scariest moments remain effective even upon rewatch, and it's successful as a faithful adaptation and in introducing original elements to the story.
6. The Outsider
With its winding, twisting mystery, The Outsider was perfectly suited to be adapted as a series, and the miniseries made by Richard Price is a dark and intense journey. It quickly grabs you by the throat with its gruesome inciting incident, and while the pacing is a touch slow in its first few episodes, when Cynthia Erivo's Holly Gibney arrives it hooks you to the end. El Cuco is one seriously scary monster that gets explored in some ways with even more depth than in Stephen King's book, and the show does impressive work slowly revealing him. It's too bad that it doesn't sound like it's going to be expanded beyond its current form, with HBO passing on a second season, but it's a first rate adaptation as is.
5. Mr. Mercedes
Mr. Mercedes, created by David E. Kelley for the Audience Network, is a show that many Stephen King fans may only now just be starting to discover thanks to the deal with Peacock that closed in the fall of last year. If you haven't already started watching, however, consider this your call to action. Brendan Gleeson and Harry Treadaway are perfectly cast as retired Det. Bill Hodges and monstrous serial killer Brady Hartsfield, and the show does a particularly great job (for the most part) updating and expanding the original book trilogy. Season 3 isn't quite as strong as the first two (the author evidently disagrees with me on that), but Season 1 and Season 2 – based on the books Mr. Mercedes and End of Watch – firmly earn this series fifth place on his list.
4. 11.22.63
Stephen King has long had a remarkable talent for taking simple ideas and turning them into epic, thrilling stories, and 11.22.63 is a perfect example. Almost like a sister concept to "If you could travel back and time and kill Hitler, would you?" the plot poses a kind of reverse question about the assassination of John F. Kennedy and the conspiracy that surrounds it, and weaves what ends up being an exciting and surprisingly romantic ride. The clever sci-fi approach is applied well in the perfectly-paced miniseries, and the performances are outstanding – with James Franco doing stellar work as Jake Epping, but also getting killer support from co-stars Sarah Gadon and breakout George McKay. The story makes for a compelling ride through one of the most cataclysmic events of the 20th century, and once it hooks you with its excellent premise, you're left entranced for the next eight hours.
3. Gerald's Game
How do you make a movie out of a story that centers on a single character handcuffed to a bed? In a sense, Stephen King offered up that impressive challenge to filmmakers when he published Gerald's Game in 1992 – and while it took 25 years for someone to get it done, it now exists as one of the best King adaptations ever. Mike Flanagan's Netflix film is basically 103 minutes of high tension, as Carla Gugino puts on a stunning performance with limited mobility but extreme emotion. Even if you know the story, either from the book or previous viewings, it's a movie that always gets your heartbeat racing, particularly because of its unforgettable and nightmarish climax. It's also proved to be an awesome teeth-cutting feature for its writer/director, as I'll further discuss in a moment…
2. IT
As noted earlier, IT: Chapter Two is a film that wasn't quite able to reach the bar that was raised by its predecessor, but in full defense of the sequel, that's partially because Andy Muschietti's IT is practically perfect. The production deserves endless applause for assembling a spectacular group of young actors to play the members of The Losers Club – characters you love to spend time with even when they're not being terrified by a killer clown – and the way in which it's able to capture the energy of childhood and the general era is phenomenal. The horror of it all is the most satisfying treat, as Bill Skarsgard's Pennywise instantly installed himself in thousands of nightmares when the blockbuster first hit screens in 2018, particularly thanks to genius sequences like his introduction in the sewer and his leap from the projector screen. It's an endlessly satisfying movie that will be enjoyed for generations.
1. Doctor Sleep
It's absurd how brilliant Mike Flanagan's Doctor Sleep actually is. Between following up The Shining (considered one of the best horror films of all time), and navigating the complex conflict between Stephen King and Stanley Kubrick's visions, the 2019 movie very easily could have been a total mess. Instead, it's one of the best King adaptations ever made. It obviously helps that the author wrote a novel that is very much a worthy sequel to his original book, and made for excellent source material, but the way the big screen version is able to dovetail it with Kubrick's iconic masterpiece is simply remarkable. Rebecca Ferguson's Rose The Hat can immediately be recognized as being among the great villains in the deep legacy, and the closure that Ewan McGregor is able to provide Dan Torrance is beautiful. Every change that's made to the original text is a benefit to the story, and as amazing as the theatrical version is, the director's cut is even better.
It's always thrilling to look back at the legacy of Stephen King adaptations, and reflect on their massive pop culture impact… and even more exciting to recognize that his impact is not going away any time soon, as the author continues to write new books and have new movies and TV shows based on his works produced. All that in mind, check out our feature highlighting upcoming Stephen King projects, and answer the poll below with your favorite King film or show since 2011:
This poll is no longer available.
NJ native who calls LA home; lives in a Dreamatorium. A decade-plus CinemaBlend veteran; endlessly enthusiastic about the career he's dreamt of since seventh grade.
Your Daily Blend of Entertainment News
Thank you for signing up to CinemaBlend. You will receive a verification email shortly.
There was a problem. Please refresh the page and try again.