Another Jumanji Star Will Join Kevin Hart In The Borderlands Movie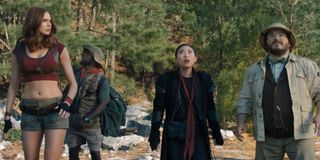 The Borderlands movie is putting together an impressive cast that so far includes Kevin Hart, Cate Blanchett, and Jamie Lee Curtis. Now, following Hart, a second member of the recent Jumanji reboot cast will making their way to Pandora (not that one), as it's been announced that Jack Black will voice the role of what is probably the game series' most iconic character: the robot Claptrap.
While Claptrap isn't usually a playable character in the Borderlands franchise, the little robot who resembles a garbage disposal on wheels is essentially the face of the franchise. He'll hand out missions to the player and is armed, if not with guns, then with some of the best dialogue in the franchise. Borderlands has always been a humorous game series but Claptrap is often the funniest character of them all making Jack Black a somewhat obvious choice.
Claptrap is such a popular part of the franchise that he's occasionally made appearances in other franchises. You can pay poker against him in Poker Night at the Inventory II and he has a brief cameo in Steven Spielberg's Ready Player One. If you're not familiar with Claptrap, here's a brief sampling of what you tend to see from him in the Borderlands games, which will likely be an indication of what we can expect from the upcoming film.
This won't only be a reunion for Jack Black and Kevin Hart Additionally director Eli Roth will reunite with Black and co-star Cate Blanchett, all of whom appeared in 2018's The House with a Clock in Its Walls. That was a surprisingly family friendly, and remarkably good, production for Roth. Borderlands being a first person shooter, will certainly be more in line with the director's usual output. Although Borderlands has always been humorous and stylized, so don't expect violence on horror movie levels.
Jack Black joins Kevin Hart in the role of Roland and Cate Blanchett as Lilith, two of the four playable characters from the first Borderlands video game. With that we're expecting at least two more significant casting announcements, for the roles of Mordecai, the Hunter class character, and Brick, the Berserker. One assumes that with the caliber of actor that the Borderlands movie is looking too for the roles that have been cast, we can expect at least two more major names to be joining the cast. Jamie Lee Curtis will be playing the role of Tannis, a character that players will come across and work with in the first game.
Video game movies have continued to try and find critical and box office success despite numerous missteps in the last few decades. Based on the way this cast is shaping up, it looks like we're in line for a Borderlands movie which is going to try to be quite faithful to the first game-- a strategy which doesn't always pay off in the theater. Having said that, few video game movies have had a cast like this, so perhaps Borderlands will be the video game movie that fans have really been waiting for.
CinemaBlend's resident theme park junkie and amateur Disney historian. Armchair Imagineer. Epcot Stan. Future Club 33 Member.
Your Daily Blend of Entertainment News
Thank you for signing up to CinemaBlend. You will receive a verification email shortly.
There was a problem. Please refresh the page and try again.