Avengers: Endgame Director Joe Russo Clarifies Captain America's Time Travel Trip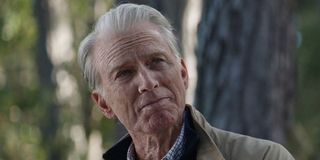 CinemaBlend participates in affiliate programs with various companies. We may earn a commission when you click on or make purchases via links.
When Avengers: Endgame hit theaters in 2019, fans had a lot to say about the way Captain America's story ended. Many wished we'd been able to see more of Steve Rogers' time travel trip, because it would have helped provide more closure with his character. Joe Russo has acknowledged this feedback before -- now he's once again clarifying how that last trip fits into the overall MCU narrative.
One of the biggest questions MCU enthusiasts had after Avengers: Endgame was how Steve Rogers was able to both give Sam Wilson his shield as a symbolic move toward his retirement and time travel to be with Peggy. In an interview with the Lights Camera Barstool podcast, Joe Russo talked about the logistics behind the decisions regarding that somewhat convoluted narrative choice. He said that he and his brother thought long and hard about how it fits into past and future MCU stories:
This answer may lead to another question for fans. However, Joe Russo then clarified that they do have a strong handle on how it was possible for Steve to seemingly be in multiple realities:
This is an important detail, especially since the premiere of The Falcon and the Winter Soldier is rapidly approaching. The limited series is going to be one of our first real glimpses at how the MCU will move forward without Steve Rogers (at least for now). Since we know the series will directly tackle what it means for Sam Wilson to bear the Captain America mantle, it's very necessary for all of the details to line up logically.
Of course, it would have been nice if we'd been able to see some of that behind-the-scenes thinking on screen -- if nothing else, it would have saved MCU fans months of head-scratching speculation. Still, it's good to have clarity surrounding what led up to those pivotal moments at the end of Avengers: Endgame.
It still remains to be seen whether we've really seen the last of Steve Rogers, but we do know we'll get to see Sam Wilson and comrade Bucky Barnes in action when Falcon and the Winter Soldier premieres on March 19 on Disney+, which you can sign up for with this link.
Your Daily Blend of Entertainment News