Doctor Strange 2's Addition Of Danny Elfman Is Cool, But I'm Still Bummed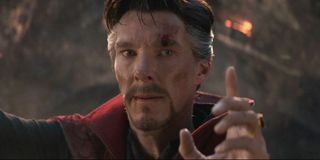 When friends get together, there's no telling what sort of fun and games can be had by all involved. So the news that the iconic duo of composer Danny Elfman and director Sam Raimi are reuniting for Doctor Strange in the Multiverse of Madness is pretty cool. With their heads together on such movies as Darkman, the first two Spider-Man movies, and Oz: The Great and Powerful, it's a partnership that's had a fantastic track record throughout decades of shared history. But despite the good news, I'm still rather bummed out about this announcement, because there's a flip side to its announcement. It means that previous franchise composer Michael Giacchino isn't returning.
This isn't an unconfirmed piece of news either, as Inverse scored this vital piece of information when speaking with Mr. Elfman about another project. In fact, he's doing some "bits of pre-work" right now on the music for Doctor Strange in the Multiverse of Madness, so the ball is already rolling. But there's an interesting paradox of feelings when it comes to this whole scenario. So I'd like to talk out why it's cool, but also why it's kind of sad. So let's start off with the positive, as again, this isn't a deal breaker in the slightest.
Perhaps the best part about Doctor Strange in the Multiverse of Madness bringing Danny Elfman into the fold is that, much like Michael Giacchino, he's a man of musically eclectic tastes. His work isn't afraid to swing for the fences and use some uber-trippy material as inspiration, which goes hand in glove with Mr. Giacchino's work on Doctor Strange. So if this is one of those scenarios where the latter composer's work on Spider-Man 3 , as well as his gig scoring Matt Reeves' The Batman, prevent him from tackling both works, then grabbing Danny Elfman is making the best out of this particular situation.
Circling back to the Danny Elfman/Sam Raimi machine, there's some amazing work that comes from that particular pairing. You're probably thinking of the Spider-Man theme right now, and I wouldn't blame you. In the early days of that crucial era of comic book movies, two themes arguably reigned triumphant at the box office: the Elfman Spider-Man theme, and John Ottman's X-Men theme that originated in X2: X-Men United. For the first time ever, Peter Parker's high-flying heroics and personal perils had a musical voice, and it was through the work done with this very tune:
So with all of the good in Danny Elfman's hiring for Doctor Strange in the Multiverse of Madness, why am I so bummed? Well, it's not the fact that I'm not a Danny Elfman fan, because I do love the man's work. No, it's because of one simple concept I was really hoping would come to fruition through Michael Giacchino's potential work on both a Doctor Strange sequel, as well as Spider-Man 3. Which, if the current story links between both films are accurate, could have made for the ultimate double album experience in the Marvel Cinematic Universe.
As Dr. Stephen Strange and Peter Parker are supposed to be venturing into the multiverse in their own specific journeys, they're also set to appear in each other's respective franchises. It also just so happens that Michael Giacchino, in addition to doing work on Doctor Strange, dove into the latest era of Spider-Man music, starting with Spider-Man: Homecoming. With both worlds crossing over with one another, one gigantic musical experience was on the table for the taking; and it could have tied these movies together even tighter. Especially since Giacchino's first Doctor Strange score played out so well, as you'll hear in the selected cue below, that it could have gotten bigger and weirder.
I'm not mad that Danny Elfman and Sam Raimi are coming back together for Doctor Strange in the Multiverse of Madness, and I'll certainly await the first listen to Maestro Elfman's latest cinematic opus. And there will probably still be a strong bridge between the Elfman/Giacchino realms that just might surprise us all when the time comes. I mean, it did work out well when Henry Jackman took over the Captain America franchise after Alan Silvestri shifted away post The First Avenger.
But the thought of two Michael Giacchino scores making for a true multiversal musical masterpiece will always sit in the back of my mind, and it's hard not to miss what could have been; even if it's just a little bit. I guess until there's a streaming service that taps into the multiverse of musical scores that could have been, this still sweet victory will have to do.
This poll is no longer available.
Up next: Michael Giacchino Talks Star Wars, Spider-Man, Pixar And More
CinemaBlend's James Bond (expert). Also versed in Large Scale Aggressors, time travel, and Guillermo del Toro. He fights for The User.
Your Daily Blend of Entertainment News
Thank you for signing up to CinemaBlend. You will receive a verification email shortly.
There was a problem. Please refresh the page and try again.