Doctor Strange Score: 8 Tunes We Can't Stop Listening To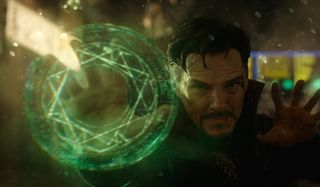 With a huge weekend at the box office, it's safe to call Doctor Strange a success at the box office. The film managed to be a great entry into the Marvel Cinematic Universe canon, complete with an outstanding score from MCU newcomer Michael Giacchino. While you've heard his music in plenty of places before his Strange debut, it has to be said that his entrance into the Marvel fold is quite spectacular, with several stand out tracks on the film's soundtrack.
In particular, there were eight cues from the score that have caught our ears, and haven't let go; and we're about to share those eight with you. Sadly, as much as we want to include Giacchino's new Marvel Studios Fanfare, it's not on the official soundtrack, so it's not on our official list. You'll just have to consult the parallel universe version of this list that does if you want to know our thoughts, but other than that, here's our favorite musical beats from Doctor Strange.
Ancient Sorcerer's Secret
It's important that a film's opening both convey the spirit of what's to come, as well as provide an intriguing anchor for the adventure ahead. "Ancient Sorcerer's Secret" is the sort of track that definitely does that, as Michael Giacchino weaves what we learn to be the Doctor Strange theme into a fast-paced piece that invokes both past glories of the composer's body of work, as well as a little bit of the influence of Phillip Glass. The beat at the 01:50 moment, in particular, sounds like something that could have come out of Koyaanisqatsi, and leads into the Strange theme's first statement.
A Long Strange Trip
Just as the first astral plane sequence in Doctor Strange is a total acid trip and a half, the music accompanying it wouldn't disappoint if you decided to close your eyes, summon some chemical / non-chemical encouragement, and plunge yourself into the void beyond time and space. By the end of this short, but rich song, you'll probably want to come up for air, as this is a tune that was born for noise canceling headphones.
The Eyes Have It
Another quick, but effective, piece of Michael Giacchino's work from Doctor Strange is "The Eyes Have It," which accompanies the moment Kaecilius and his zealots decide to invoke the ritual to summon Dormammu, thus leading to the attack on the London sanctum. Old fashioned gloom and doom are the order of the day on this track, as Giacchino uses this opportunity to build an appropriate atmosphere of dread, which gives way to total aural panic by the end of the proceedings. Throw in the magnificent choral work the entire score thrives on, and it's a complete portrait of overwhelming darkness.
Sanctimonious Sanctum Sacking
For the most part, Michael Giacchino is a pretty traditional composer, though he still likes to mix it up by branching onto the road less traveled. "Sanctimonious Sanctum Sacking" not only sees the musical world of Doctor Strange going towards the futuristic sound of the electronic sections of this particular track, it also highlights another star out-of-time: the harpsichord. If you're a fan of the theme to The Addams Family, then you're definitely familiar with this instrument that takes center stage towards the latter half of this selection. Think of it as music to wear a cape to.
Smote and Mirrors
Acting as the musical backdrop to the impressive Inception inspired rearranging of New York City, "Smote and Mirrors" keeps pace with the action that takes place on screen during its moment in the sun. If you're looking for the song that depicts the fracturing and bending of reality in the mirror dimension, then this track does not disappoint, as you've got the otherworldly sound of the sitar mixing in with a full orchestra, which only gives way to the amazing voices of the choir featured prominently throughout Giacchino's score for Doctor Strange. A lot is going on in this track, but it doesn't overwhelm the listener, instead getting their hearts racing for a rip-roaring good time.
Ancient History
As fast paced and bombastic as some of the most memorable moments in Michael Giacchino's discography are, he's also a master of the slow burning emotional moment. If Up's "Married Life" didn't convince you of that so many years ago, then "Ancient History" should. Being the piece that is showcased during Tilda Swinton's touching monologue as The Ancient One, it's a track that simmers with the energy needed to focus a scene, without totally stealing it from the performances on display. Never has a sitar been more mournful and serene.
Strange Days Ahead
In case you missed its heroic statement throughout the film, the soundtrack to Doctor Strange certainly won't let its audience go home without a grand, end-credits tune to be hummed on the way out the door. "Strange Days Ahead" starts off with the closing moments of the film, as the mounting anticipation of the journey ahead builds into the full fledged hero theme that every good Marvel character needs. And to those of you who are wondering, no it's not just you that can hear the theme to Star Trek in this song, though it's reworked enough to stand as its own beast in this instance.
Go For Baroque
For our last pick, we decided to go with something that embodies both Michael Giacchino's experimental side, as well as his love for puns with his track names. As sure as a Giacchino album will have a "World's Worst" inspired track name, there's some fun to had with "Go For Baroque," which busts out the harpsichord once again, and uses it to great effect. If you're as much of a fan of the Doctor Strange theme as we are, then you're probably going to love the sound of this classically inclined approach to that same said tune. Though if your tastes run closer to the stylings of Pink Floyd, then may we recommend "The Master of the Mystic End Credits," which embraces its more groovy qualities to cap off an impressive album's worth of work.
Doctor Strange is in theaters now, with the Michael Giacchino score being set for release on November 18th. You can pre-order that album through Amazon, here. While we did give you a list of the eight best tracks we felt really stood out, the entire album is a gem in and of itself. Enjoy!
Your Daily Blend of Entertainment News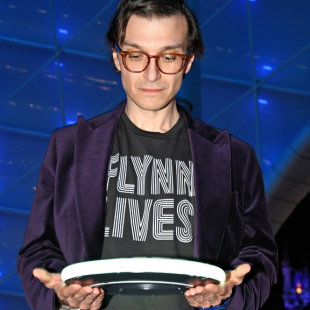 Senior Movies Contributor
CinemaBlend's James Bond (expert). Also versed in Large Scale Aggressors, time travel, and Guillermo del Toro. He fights for The User.