Anne Hathaway Spilled The Tea That She Wasn't The First Choice For The Devil Wears Prada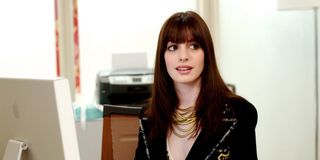 Throughout her career, Anne Hathaway has had a knack for making her roles her own. Whether she originated a part, like Mia in The Princess Diaries, or brought her own unique spin to an iconic role, like Selina Kyle in The Dark Knight Rises, she's shown us time and again why she's one of Hollywood's biggest stars. So it might be shocking to learn that one of her most prominent roles ever, Andy in The Devil Wears Prada, wasn't supposed to be played by her. In fact, it's not even that she wasn't the first choice -- she wasn't even the second or third.
During a surprise virtual appearance on RuPaul's Drag Race, Anne Hathaway took some time to answer questions from the contestants. Rose asked the actress if there was ever a momentshe had to fight "tooth and nail" for during her career, and her answer (via Harper's Bazaar) was pretty shocking:
While this revelation is definitely a great reminder that perseverance can pay off big time, it's also pretty shocking. Harper's Bazaar notes that we already knew Rachel McAdams was the top pick to play junior personal assistant (and bad boyfriend magnet) Andy in The Devil Wears Prada, but she turned the role down.
That still means there were seven other actresses that were in line for the iconic role before Anne Hathaway. That may seem a little hard to fathom, but The Devil Wears Prada was released a few years before the actress won the Oscar for Les Miserables. While she'd already proven herself to be a box office draw with the Princess Diaries series, she was only just beginning to make the transition into the more adult phase of her career.
Of course, it's impossible not to be curious about who the other actresses were and why the casting team for the movie ended up choosing Anne Hathaway. Whatever the reason, it was the right choice -- The Devil Wears Prada instantly won over critics and fans when it was released in 2006. It was a huge box office success and, to this day, fans are clamoring for a sequel.
Even if Anne Hathaway hasn't had a chance to revisit the role that helped solidify her role in Hollywood, she's clearly carried the role as an important part of her career. She even got to revisit some of her fondest Devil Wears Prada memories recently when she reunited with co-star Stanley Tucci on the set of their movie The Witches. There, she admits, she realized how much both their lives and careers have changed since their first movie together was released.
Your Daily Blend of Entertainment News