Anne Hathaway's Best Movies, Ranked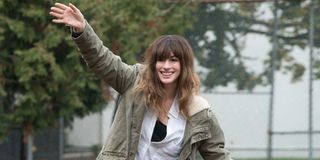 Whether people recognize it or not, Anne Hathaway is one of our more distinguished acting talents. Catapulted into superstardom through her ever-impressive acting skills and tremendous range, the Oscar-winning A-list actress has lent her strengths to a number of different genres and projects. From Disney movies like The Princess Diaries to mature R-rated dramas like Rachel Getting Married, and critically-acclaimed musicals like Les Miserables to culturally beloved studio comedies like The Devil Wears Prada, Hathaway has brought her talents to a diverse number of adored movies.
The actress has been seen in a number of quality films throughout the years, and her talents only continue to impress. If you love the accomplished entertainer, these are just a few Anne Hathaway movies that you definitely don't want to miss.
10. The Intern (2015)
The latest film from writer/director Nancy Meyers (seriously, where the hell has she been?), The Intern unites Anne Hathaway with Robert De Niro for a loose work dramedy. Though the screen pair make for an unlikely duo – in a strictly platonic sense, we should note — their warm father/daughter-esque chemistry and charming on-screen rapport smooth out The Intern's flaws and help the film serve as well-liked comfort food cinema. The plot follows a 70-year-old widower (De Niro) who becomes a senior intern for an online fashion website, founded by Jules Ostin (Hathaway), an emotionally distant workaholic who learns a thing or two from her elder.
The stakes are comfortably low, despite its commentary on the global economy and age discrimination in the workplace, and its view of online office culture is ... curious. But with its warm heart and hearty laughs, it won many viewers over.
9. The Princess Diaries (2001)
In her first leading role (and first movie to boot), Anne Hathaway played Mia Thermopolis, a socially awkward teenage girl who is shocked to discover that she is royalty and heir to the throne of a European kingdom, in Garry Marshall's winning coming-of-age comedy, The Princess Diaries. Based on Meg Cabot's novel of the same name, this Disney movie has a fun premise and a starry supporting turn from Julie Andrews, but it could've been another disposable Disney flop if it didn't have Hathaway's magnetic early star power.
In this appealing and glamorous role, Hathaway's performance is sharp and keenly considered, bringing an affectionate authenticity to this fantastical premise. She also shows the complexities of an American teenager living in this precarious position in a humorous and emotionally honest way. It was clear from this early role that we were watching a new star on the rise.
8. The Dark Knight Rises (2012)
The third and final chapter in Christopher Nolan's Dark Knight trilogy, The Dark Knight Rises doesn't reach the same impossible heights as its predecessor, but it has a lot worth valuing. Namely, it features an excellent performance from Anne Hathaway as Selina Kyle, i.e. Catwoman. Although she had to compete with the legacy of other great performers like Eartha Kitt, Julie Newmar, and Michelle Pfeiffer, to name a few, Hathaway's marvelously mischievous take on the familiar character is delightfully her own.
She indulged in the intrigue and playful depravity of Catwoman's personality while also bringing out a softer, sadder aspect in a few key scenes. It showcases the rich depths of Hathaway's talents, allowing Catwoman to be funny, anarchistic, sexy, and sympathetic in equal measure. For all the film's well-discussed faults, this is one part of The Dark Knight Rises that really shines bright.
7. Dark Waters (2019)
A starkly muted, yet nonetheless meaningful, critique of corporate capitalism, particularly in the rotten ways it can seep unwanted residue into the lives of everyday Americans, Dark Waters is the sort of commendably calculated, smartly crafted mature drama that seem to be more and more rarefied as the years go on. While some folks were quick to criticize Dark Waters as being more workmanlike and procedural than Haynes' other films, the dialed-back approach is deliberately subdued, allowing the stark reality of this gravely drastic situation to ring true, haunting and sincere. As a result, this is an effectively reserved movie, though certainly not an artless one.
Richly shot by Edward Lachman and made with Haynes' signature filmmaking expertise, this is a direct, urgent movie, but one that was sadly and sorely overlooked last year. It's also bolstered by strong performances from Mark Ruffalo and Anne Hathaway.
6. Interstellar (2014)
In her second collaboration with Christopher Nolan, Anne Hathaway played Amelia Brand, a NASA astronaut and scientist who travels with Joseph Cooper (Matthew McConaughey) to search for a new home for humanity in the far recesses of the galaxy, in 2014's introspective Interstellar. Possibly serving as Nolan's most personal and reflective work yet, Interstellar is lengthy and detailed in its massive scope and scale.
But, it captures — with radiant awe and cinematic wonder — a captivating look at legacy and humanity in the grand scheme of our unknowable universe, and how our inherent desire to be at the forefront of humanity's greatness can make us forget what makes us human in the first place. While McConaughey is the lead in this beautiful, devastating sci-fi story, Hathaway's assured, quietly commanding performance shouldn't be dismissed. While she doesn't get as many stand-out moments, it's still a piercing performance.
5. Les Miserables (2012)
In what would become her Oscar-winning role, Anne Hathaway played Fantine in Tom Hooper's epic, visceral adaptation of the hit Broadway musical, Les Miserables. While the director's work in the musical genre left something to be desired with last year's misbegotten Cats, this expansive, extravagant cinematic spectacle was elevated tremendously by its starry cast, notably Hathaway's harrowing performance.
In the role that her mother originally once played in the National Tour production of the show, Hathaway's bold, passionate portrayal is haunting and spellbinding, particularly her moving rendition of "I Dreamed A Dream," which was the key scene that likely led to Hathaway's Oscar glory. It's well-deserved, too. For all the film's bold, grandiose achievements, this tender, intimate rendition of this famous song is a clear highlight, showcasing Hathaway's undeniable talents and providing one of the most memorable and heart-wrenching musical moments in recent cinematic history.
4. The Devil Wears Prada (2006)
While The Princess Diaries and other Disney productions paved the way for Anne Hathaway's success, it was 2006's The Devil Wears Prada that solidified the A-list actress' star power in adult-driven vehicles. Adapted from the novel by Lauren Weisberger, the fashion comedy follows Andrea Sachs (Hathaway), a college graduate who moves to NYC and lands a job as the assistant to Miranda Priestly (Meryl Streep), a fashion magazine editor with a fierce attitude and high demands.
While Streep, Emily Blunt, and Stanley Tucci steal the spotlight at times, and understandably so, The Devil Wears Prada rides on Hathaway's charming performance. Not only does she stand on her own compared to Streep, which is certainly no easy task, but she balances the tonal shifts well and keeps a grounded, relatable sincerity and wit to our lead. The devil is in the details, and Hathaway is revelatory.
3. Colossal (2017)
In the brazenly original, deeply inspired dark comedy Colossal, Anne Hathaway plays Gloria, an alcoholic unemployed writer whose life is completely failing apart due to her addiction and personal hang-ups. Forced to move back to her hometown, Gloria continues to drink her days away. Until, one day, Gloria notices something intriguingly ... bizarre. Every time she gets hammered, she wakes up from her drunken slumber to discover a giant monster in Seoul has ravished the town. And, strangely enough, she's the one who unwittingly manifested it.
It's a kooky, outlandish premise for a movie, particularly one with a comedic tone, but it proves to be a singular, surprising genre mash-up which explores the cycles of self-destructive behavior, abuse, and one's need to learn and understand the devastation of their own actions. At the center is Hathaway, providing one of her most enrapturing, fearless performances yet.
2. Brokeback Mountain (2005)
There has been a lot said about Ang Lee's graceful, elegant romantic drama, Brokeback Mountain. Once the source of controversy among select audiences for its subject matter, which chronicles the complex emotional and sexual relationship between two lovelorn cowboys in the American West, Brokeback Mountain was still hailed as one of 2005's finest films, and it continues to gain more admiration and appreciation from audiences — notably for its moving performances from Jake Gyllenhaal and the tragically late Heath Ledger.
Among the many reasons why it's acclaimed, including its captivating filmmaking and stirring emotional pathos, it's celebrated for its character-focused approach, admiring the tender, layered humanity of these nuanced characters — particularly in relation to their sexuality and their labored same-sex romantic feelings. It's a sweeping, ultimately heartbreaking, tale of love and loss, and it also features strong supporting turns from Michelle Williams and Anne Hathaway.
1. Rachel Getting Married (2008)
With Jonathan Demme's Rachel Getting Married, Anne Hathaway received her first Oscar nomination. It was a well-deserved honor, for this naturalistic, deftly-handled lead performance might remain her best into the future. Though it doesn't have the same grandiose lavish as Hathaway's astonishing Les Miserables performance, her brittle, disarming performance is authentic, powerful, and unabashed. She portrays a gritty, grounded sincerity, dark undercurrent, and unflinching realism that's rarely ever portrayed so believably, nor with so much impactful emotional gravitas, from an A-list actress of Hathaway's stature.
Though its directly unpolished, Rachel Getting Married is an intense, claustrophobic, yet also inviting low-budget drama which captures how raw and visceral Hathaway's talents can be when channeled into the right role. It captures the same emotionally-charged energy as Hathaway's other performances, but the moody, tender emotions at play here are vividly, wonderfully stripped down and utterly arresting.
What are your favorite Anne Hathaway performances? Be sure to let us know in the poll below!
This poll is no longer available.
Your Daily Blend of Entertainment News
Will is an entertainment writer based in Pittsburgh, PA. His writing can also be found in The Playlist, Cut Print Film, We Got This Covered, The Young Folks, Slate and other outlets. He also co-hosts the weekly film/TV podcast Cinemaholics with Jon Negroni and he likes to think he's a professional Garfield enthusiast.