Why Doctor Strange's Benedict Cumberbatch Likes Working On Multiverse Of Madness More Than The Avengers Movies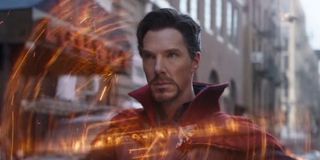 Benedict Cumberbatch joined the Marvel Cinematic Universe in 2016 with the origin film Doctor Strange, which makes him one of the franchise's relatively newer heroes. With Phase One heroes like Captain America and Iron Man now having made their exit from the MCU, it can be expected that Benedict Cumberbatch will have a bit more focus put on him in the MCU. Indeed, he's showing up in the next Spider-Man film and will naturally star in Doctor Strange in the Multiverse of Madness, which is set for release next year. Apparently being Doctor Strange is getting more fun for Cumberbatch, as he explained why working on Sam Raimi's Multiverse of Madness is so much more enjoyable than, say, the Avenger films.
This seemingly comes down to two key components for Benedict Cumberbatch: being in more of a collaborative environment and working under Sam Raimi. He stated to Collider that Multiverse of Madness is less of doing the best with what is asked of him, and more of being able to put his own input in the project. In his words:
There honestly could be a lot of factors in play here. Where the Avengers films put so many working parts together cohesively, Multiverse of Madness is pretty much just one of those parts, which gives it more creative freedom to work within itself. Also, Benedict Cumberbatch has much more experience with being Doctor Strange now, as he's played him for half a decade. As we've seen with other actors playing Marvel heroes, the actors grow pretty close to their on-screen personas over time.
Another factor, of course, is the great Sam Raimi, who's a legend. That's not knocking the Russo Brothers - they've blown it out of the water with pretty much everything they do. However, Sam Raimi is an old school, cult classic legend who has also proven himself in the superhero genre with the first Spider-Man film series. In the same interview, Benedict Cumberbatch praised Raimi and says he is humble, but an incredible force nonetheless. Here's how Cumberbatch put it:
While fans of both the MCU and Sam Raimi have pretty high expectations for Multiverse of Madness, this new insight from Benedict Cumberbatch sounds even more promising. We've come to know what to expect from the new-age Marvel and the director separately, but putting them together sounds even more epic than the two forces on their own. If you weren't excited before for the match, you should be now. Multiverse of Madness is still filming, but we don't have too long to wait, as the Doctor Strange sequel is set to release on March 25, 2022. If only we had a fraction of Doc's time-shifting abilities!
Constantly thinking about books, coffee, and the existential dread I feel from Bo Burnham's Inside. While writing I'm also raising a chaotic toddler, who may or may not have picked up personality traits from watching one too many episodes of Trailer Park Boys.
Your Daily Blend of Entertainment News
Thank you for signing up to CinemaBlend. You will receive a verification email shortly.
There was a problem. Please refresh the page and try again.