Ben Affleck: What To Watch On Streaming If You Like The Justice League Star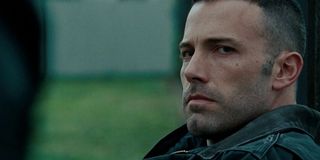 In a career filled with hills and valleys, Ben Affleck doesn't always land on his feet, but the actor-director has proven his talents enough to let us know that he's the real deal. The A-list star has a 30-year career filled with soaring triumphs and bombastic failures, but his filmography showcases an artist who's constantly pushing himself in dramatically compelling ways, while also demonstrating an actor who knows how to highlight his strengths — especially when he's at the helm.
Now that we've seen Zack Snyder's Justice League, in which he provides a far richer performance than he gave in the heavily-butchered theatrical version, we wanted to take this moment to highlight a number of high points in Ben Affleck's inconsistent career — providing a decades-spanning look at a wavering star who has often demonstrated his hard-proven talents, even when audiences took them for granted. With that said, here's what you should watch on streaming if you love the Batman star!
Zack Snyder's Justice League (HBO Max)
Following the death of Superman, a team of mismatched superheroes must band together to defeat an intergalactic terror.
Why It's A Good Option for Ben Affleck Fans: DC fans, rejoice! The long-delayed, long-promised Snyder Cut is here, and it's surprisingly (or, perhaps, unsurprisingly) good. By restoring Zack Snyder's intended vision for this behemoth of a superhero team-up blockbuster, this four-hour HBO Max exclusive was a satisfying conclusion to this long-winded story, filled with countless bumps and unexpected victories along the way. Among the many things that Snyder's Justice League does considerably better than the theatrical cut, it allows the talented ensemble to shine, particularly with Ben Affleck providing a much more dignified and appropriately sorrowful performance. His weighted, heavy-hearted Batman carries this unlikely team with poised guidance and grave intensity, letting us accept the seriousness of the film's convictions through his thoughtful, subdued portrayal of the grieving Caped Crusader.
Stream it on HBO Max here.
Gone Girl (Hulu)
Following his wife's disappearance, a seemingly ordinary man winds up in the middle of an intense media circus when his presumed innocence is under scrutiny.
Why It's A Good Option for Ben Affleck Fans: David Fincher is great at casting the right people in the right roles, and the director knew what he was doing when he put Ben Affleck at the center of Gone Girl. Recognizing that the tabloid-friendly A-list superstar would know a thing or two about being hurdled into the media spotlight, Fincher channeled Affleck's media-savvy persona to great use, providing one of the actor's most layered performances. Affleck's Nick Dunne is a multifaceted personality who bounces between being unassuming (seemingly) and being deceitfully devious, with the actor selling every twisty turn in this surprising narrative. It creates one of the most complex characters in Affleck's filmography, and what remains one of his best performances.
Stream it on Hulu here.
Good Will Hunting (Starz)
Through the help of a widowed psychologist, a young M.I.T. janitor with a gifted mind for mathematics finds direction in life.
Why It's A Good Option for Ben Affleck Fans: In the movie that would shape and define the withstanding careers of Ben Affleck and Matt Damon, two hard-working Boston actors who wrote their own screenplay to get their feet in the door, Good Will Hunting became an impressive, rewarding investment for its two leads, resulting in an Oscar win for their script, along with an Academy Award for Robin Williams in his dramatic, against-type supporting turn. While the movie itself is a better acting showcase for Damon than Affleck, there's no denying — especially in the years to come — that Affleck's thoughtful, emotional influence is apparent, particularly as he'd continue to impress as a screenwriter later in his career. That said, his performance is commendably layered and smartly handled, demonstrating his developing star power.
Stream it on Starz here.
The Town (HBO Max)
When a thief catches feelings for a bank teller, the stakes are raised for his next heist.
Why It's A Good Option for Ben Affleck Fans: Proving that Gone, Baby, Gone's surprise success wasn't a beginner's fluke, The Town, Ben Affleck's pulpy, Boston-based thriller, was a rousing follow-up feature, allowing the sophomore director to expand his filmmaking talents while also letting the veteran actor provide one of his strongest dramatic performances — especially under his own direction. But this stylish second feature also brought out great supporting turns from Rebecca Hall, the late Pete Postlethwaite, and Jeremy Renner, who was Oscar-nominated for his brooding, bruising performance. Admittedly, the actor-director favors a traditional narrative framework in this genre-friendly studio venture, but it's a credit to Affleck's commendable filmmaking that he keeps this story constantly gripping and emotionally investing.
Stream it on HBO Max here.
Hollywoodland (Showtime)
A detective explores the untimely death of troubled TV star George Reeves.
Why It's A Good Option for Ben Affleck Fans: Before he became Batman, Ben Affleck was Superman. Or, at least, he was the man who played Superman — if only for a tragically short while. In his commendable, carefully crafted take on the late actor, Affleck provided an intriguingly elusive, refrained cinematic portrayal of the TV star. Following a few years of career turbulence, Hollywoodland proved that Affleck could impress in the right role, conveying the depth and despondency of this real-life celebrity while also capturing his mystique as a small-screen legend. He brings out Reeves' humanity while also respecting his legacy — a tricky balance, but one that Affleck handles admirably well. It proved that, in the right hands, Affleck could truly soar.
Stream it on Showtime here.
Dazed and Confused (Amazon Prime)
A variety of Texas-based high school seniors and juniors celebrate their last day of school in 1976.
Why It's A Good Option for Ben Affleck Fans: Admittedly, Dazed and Confused, Richard Linklater's influential and career-defining hangout classic, isn't remembered for Ben Affleck's supporting turn, necessarily. Nevertheless, this warmly affectionate, hilariously precise, and just totally chill high school movie remains one of the best movies on the A-list actor's filmography, even in a career filled with notable highlights. This nostalgic, emotionally accurate, but also historically sound, portrayal of fast-and-loose teenagers caught in the moment between their fading childhoods and their rapidly-approaching adulthood is one groovy film, propelling the careers of its talented young cast — including Affleck.
Stream it on Amazon Prime here.
Gone Baby Gone (HBO Max/Pluto TV)
A private detective searches for a kidnapped girl in Boston. During his investigation, he must deal with some entangling personalities from all corners.
Why It's A Good Option for Ben Affleck Fans: After years of audiences (and critics) assuming that it was Matt Damon's creative influence — not Ben's — that resulted in Good Will Hunting being a major commercial success, Affleck proved once-and-for-all that his skills extend behind-the-camera with 2007's outstanding Gone, Baby, Gone, a gritty, gripping dramatic thriller that remains Affleck's finest work as a filmmaker — at least, in my view. Staying strictly behind-the-camera (the only time he didn't pull double duty as an actor-director), the freshman shot-caller's early assurance is commanding, particularly as it allows Casey Affleck, Michelle Monaghan, and Oscar nominee Amy Ryan to shine under his confident, steadfast guidance. The result is a stirring working-class chronicle filled with tension and pathos.
Stream it on HBO Max here and Pluto TV here.
Triple Frontier (Netflix)
Five former special forces operatives reunite to take down a South American drug lord, only to find their loyalties tested when a series of unintended consequences ensue.
Why It's A Good Option for Ben Affleck Fans: Bringing a hefty, sorrowful gruff to this over-the-hill special force operative who wants to prove himself once more and return to his glory days, Ben Affleck's weighted, sad-eyed performance in Triple Frontier was perhaps not-so-incidentally influenced by his real-life struggles following a heavily-publicized divorce. Nevertheless, this moody, melancholic performance became an appropriate fit for this meaty, dad-friendly streaming drama, allowing Affleck to lead this ensemble piece with gravitas, while also providing an emotionally honest performance that allows you to buy into the dramatic stakes of the heist-based narrative.
Stream it on Netflix here.
The Way Back (Rental)
A washed-up athlete gets a shot at redemption when he reluctantly agrees to coach his alma mater's basketball team.
Why It's A Good Option for Ben Affleck Fans: In what's not-so-subtlety a personal, cathartic bit of on-screen soul-searching from the troubled star, Ben Affleck took the traditional framework of a high school sports drama and provided an introspective, well-made acting showcase —one unafraid to show the inherent darkness of grief and addiction — in The Way Back. Thoughtfully constructed and thematically mindful, the movie doesn't contain too many surprises, but it's respectfully made and refreshingly refrained in its storytelling, trusting its audience to be patient with such a challenging character. Thus, it captures not only one of Affleck's best performances, but one of the actor's most rewarding as well.
Rent it on Amazon here.
To The Wonder (Amazon Prime)
Following an affair sparked in Paris, two lovers test their romance when they move to Oklahoma.
Why It's A Good Option for Ben Affleck Fans: While Ben Affleck's largely dialogue-free lead performance frequently bounces from weighted doubt to general insecurity, director Terrence Malick uses his actor's uncharacteristic hesitation to paint a domesticated protagonist uncertain about himself and his countryside surroundings. He's constantly at odds with himself, particularly as his character questions his romance, his connection to others, and who he wants to be. Understandably, Malick's pensive style won't wow everyone, but To the Wonder is one of his most curious works.
Stream it on Amazon Prime here, Tubi here, PlutoTV here, and SundanceNow here.
The Company Men (Starz)
Three businessmen try to survive a round of corporate downsizing at a major company.
Why It's A Good Option for Ben Affleck Fans: Communicating the day-to-day struggles of a promising businessman who's swiftly caught off-guard by his shortened career, Ben Affleck dutifully channels the inner turmoil of a once-promising corporate yes-man in a surprisingly believable and dramatically sincere way in writer/director John Wells' commendable drama, The Company Men. Aided by strong supporting performances by Chris Cooper and Tommy Lee Jones, Affleck captures the emotional difficulties of this burdened protagonist without it feeling condescending or inauthentic, allowing us to believe the recession-based hardships of this hard-luck character in an investing way. It's another well-acted character piece from Affleck, who has a knack for playing downtrodden guys who want the best for themselves.
Stream it on Starz here.
Argo (HBO Max)
A CIA agent goes undercover as a Hollywood producer to rescue six Americans in Tehran during the U.S. hostage crisis in Iran.
Why It's A Good Option for Ben Affleck Fans: Turning the actor/director into an Oscar winner twice-over, Ben Affleck's Best Picture-winning Argo was a triumphant success, proving definitively that Affleck could hold his own as a filmmaker while also providing a dramatically compelling, broadly accessible movie for critics and audiences alike. In a strong ensemble, Affleck's lead performance isn't as strong as his direction, but he holds his own as a determined CIA agent who does everything he can to bring American hostages home safely, even if that means putting together a fake Hollywood production. The result was one big, splashy smash, build on well-realized stakes, well-developed characters, a tight screenplay, and some fine attention to period detail.
Stream it on HBO Max here.
It's also worth noting that Shakespeare in Love is available to stream on Starz.
Your Daily Blend of Entertainment News
Will is an entertainment writer based in Pittsburgh, PA. His writing can also be found in The Playlist, Cut Print Film, We Got This Covered, The Young Folks, Slate and other outlets. He also co-hosts the weekly film/TV podcast Cinemaholics with Jon Negroni and he likes to think he's a professional Garfield enthusiast.