The Town: 9 Behind-The-Scenes Facts About Ben Affleck's Movie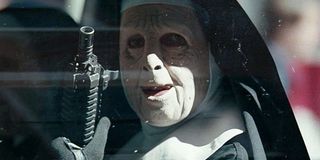 In a career full of inconsistencies, 2010's The Town proved to be a defining moment for Ben Affleck. Following a few notable missteps after his incredible early success with Good Will Hunting, Ben Affleck's second-life as a captivating director started out exceptionally with 2007's debut, Gone, Baby, Gone. But it was ultimately more of a critical success than a commercial one, preventing the actor/director's accomplished first film from finding a wide audience (at least, during its theatrical run).
Through The Town, Ben Affleck proved to the masses that he was the real deal. The crime film served as a rock-solid introduction for the tabloid-friendly celebrity as a triple threat and revved his career as a leading man. As a result, Affleck continued to prove himself with his follow-up, the Best Picture-winning Argo, but The Town was what established his career for the decade to follow. Now, close to ten years later, we're here to explore a few fun facts about Affleck's second film.
The Film Was Originally Supposed To Be Directed By Adrian Lyne
While Ben Affleck went to great lengths to make The Town his own movie, going so far as to co-write, star, and direct the Chuck Hogan adaptation, he wasn't initially involved from the get-go. In 2006, Adrian Lyne was originally signed on to helm the movie, which would've been his follow-up to 2002's Unfaithful. While Lyne was passionate, the studio and the director were at odds with how to handle the material. Specifically, Lyne couldn't keep the movie under $40 million and under two hours, opting to include an extended additional romantic subplot.
Eventually, Lyne and WB departed, and the studio turned to Affleck, having been impressed with his work in Gone, Baby, Gone. While you might think there would be bad blood between Affleck and Lyne, Affleck stars in Lyne's latest film, Deep Water, alongside Ana de Armas.
Ben Affleck Almost Didn't Make The Town Because He Didn't Want To Be Typecasted To Crime Movies
While Ben Affleck's feature directorial debut, 2007's Gone, Baby, Gone, wasn't a commercial smash (The Town's opening weekend box office eclipsed Gone, Baby, Gone's entire theatrical run), it did earn a warm critical reception — even among some of Affleck's harshest critics. Specifically, this debut made it apparent that Affleck had the goods to be a top-tier Hollywood director, which made it very intriguing to see where he'd take his next step.
When Warner Bros. proposed taking over the reins of The Town, Affleck was initially hesitant. He wasn't worried about the material. Rather, he was concerned that he would be typecast in Hollywood if he directed yet another Boston-based crime drama/thriller. Nevertheless, Affleck became engrossed in this intense tale and decided to pursue it anyway. Here's what Affleck told EW:
Ben Affleck Claims He Directed His Performance In The Editing Room
Every director has their own style. Certainly, when you're a confident-but-relatively-inexperienced novice filmmaker who is still figuring out your approach, you can find yourself trying out different things and hoping to discover what you need in the editing room — assuming, of course, you'll have the right footage when it comes time to stitch it together. Unlike his directorial debut, Affleck served as both an actor and director on The Town, which presents a whole new set of challenges. What's the best approach? How can you get the best performance out of yourself?
After taking advice from other actors/directors who've split their time in front and behind the camera, including Warren Beatty and Kevin Costner, Ben Affleck opted to explore as an actor and director, trying out different things as a performer on his own set and eventually "directing" his performance in the editing room. The actor/director later learned from another source that this approach is similar to the one that Robert De Niro employed when he both acted and directed in his own sophomore feature, 2006's The Good Shepherd. Ultimately, this dynamic directing approach worked out pretty well for Affleck, as The Town features one of the actor's most uniformly strong performances.
Jeremy Renner Met With Real Professional Bank Robbers To Prepare For His Role In The Town
While The Town was widely praised upon release, particularly for its arresting filmmaking, there was one aspect of the crime thriller in particular that received nearly unanimous applause: Jeremy Renner's fiercely compelling performance. The Hurt Locker actor's richly menacing supporting turn was one of the movie's most compelling components. So much so that his performance earned the film's sole Oscar nomination for Best Supporting Actor.
Although Renner's intensely authentic character felt real, like many professional actors (and professional robbers, one supposes), Renner only made it look easy. In truth, Renner went to great lengths to prepare, including prison visits and interactions with ex-cons to get into the mindset of this criminal character. The information he gleaned not only informed his performance but also shaped the film's dialogue. Here's what Renner told the L.A. Times:
Blake Lively 'Fought' To Get Her Part In The Town
As an up-and-coming actress on the rise, particularly with her prominent role in Gossip Girl, you might think that Ben Affleck would've sought out Blake Lively for her standout role in The Town, but the actress claims it was the other way around. In an interview with The Film Review, Lively notes that she "fought" for her part in this crime-thriller, notably as "everybody" said she wasn't right for the character, who was written to be 37-years-old. Here's what the actress said:
Lively was persistent, and she eventually persuaded Affleck, it seems, as he told the actress to "live" in the town, spend time with the locals, and experience Charlestown for herself in order to get immersed in the character and learn what she needed to know. She did that, spending time with people in Charlestown and getting to know them, rather than relying on books. As a result, Lively gave one of her best performances to date.
Ben Affleck Did Some Deep Research In Charlestown And With The FBI Before Making The Town
Similarly, Ben Affleck did his own deep dive in Charlestown, MA, particularly during pre-production. While Affleck grew up not-too-far from the city in Cambridge, he was relatively unfamiliar with the harsh inner-city environment of Charlestown. Feeling the need to make the movie his own, Affleck did a script rewrite and researched the area and its history of crime heavily.
According to THR, this research process included hitting the streets, talking to residents, and even holding mass auditions. He also consulted with the FBI Violent Crimes Task Force in Boston, which gave him the inspiration for the film's AK-47-wielding crew of bank robbers. His research process also included prison visits. From this copious intel, Affleck and Aaron Stockard, his co-writer, drafted a new version of the script in three weeks, robust with more action.
Ben Affleck Recruited Ex-Cons To Be Extras In The Town
Throughout several interviews during the promotional rounds for The Town, Ben Affleck made it clear that, as a director, screenwriter, and actor, he was striving for authenticity in his work. He wanted the characters to feel real. He wanted his audience to feel immersed in the action, as though it were really happening in front of them, and to get into the mindset of these criminals. Beyond all the work Affleck and his cast/crew did to prepare, including jail visits to talk to actual professional bank robbers, the filmmaker also sought out ex-cons to be extras in his movie, in order to fill the screen with real tough guys who bring a sense of realism to the world-building. Ultimately, this decision got Affleck in trouble for handing guns to felons, though he notes that all the weapons were obviously fake.
The Crew Got Access To Shoot In Fenway Park Mid-Season, Which Was Unprecedented
When you're an Oscar-winning A-list star like Ben Affleck, you get a few extra perks in life. One of them, it seems, is the opportunity to film in Fenway Park mid-season, which was unprecedented at the time. Affleck has made it no secret that he's a diehard Red Sox fan, but even still, this feat isn't one afforded to many people. Affleck and his crew shot these scenes quickly over the course of 13 days whenever the baseball team was on the road or playing away games. While they were willing to let Affleck shot his movie in their stadium, it was initially a hurdle to get them to agree to film an explicitly R-rated movie in their park. Nevertheless, the stadium loosened up and let Affleck have this amazing opportunity, which definitely made the movie better.
Ben Affleck Sought Inspiration From Many Famous Films, Including Heat, The Departed, And More
As a director learning to get his feet wet, Ben Affleck took inspiration from many noteworthy directors during the filmmaking process for The Town. It's clear throughout the film that Michael Mann's Heat played a major influence on Affleck's crime-thriller, though Affleck also openly admits that Clint Eastwood's Mystic River, Martin Scorsese's The Departed, and Peter Yates' The Friends of Eddie Coyle, all of which were shot in Boston, inspired him as he was putting his sophomore film together.
In addition to these fun facts, it's also worth mentioning that Ben Affleck felt it was important to be involved in the casting of every actor involved in this project, including the extras, and that this movie allowed Affleck to feel comfortable acting again, notably after an extended period of being a paparazzi punching bag. Do you Ben Affleck's The Town? Do you know any additional fun facts about the making of this crime-thriller? Be sure to let us know in the comment section below.
Your Daily Blend of Entertainment News
Will is an entertainment writer based in Pittsburgh, PA. His writing can also be found in The Playlist, Cut Print Film, We Got This Covered, The Young Folks, Slate and other outlets. He also co-hosts the weekly film/TV podcast Cinemaholics with Jon Negroni and he likes to think he's a professional Garfield enthusiast.
Your Daily Blend of Entertainment News
Thank you for signing up to CinemaBlend. You will receive a verification email shortly.
There was a problem. Please refresh the page and try again.