How The Family Of Mickey Mouse's Co-Creator Feel About His Legacy And Relationship With Walt Disney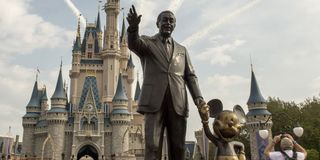 The name Walt Disney is one of the most recognized in the world. The only name associated with the Walt Disney Company that might be even more recognizable is Mickey Mouse himself. However, there was another man who was just as instrumental in the creation of the mouse, and his name was Ub Iwerks. Those familiar with Disney history will certainly know the name of the animator who worked alongside Disney, but the general public is perhaps less familiar with the man. Iwerks not only helped create Mickey but he was also a creative inventor, instrumental in helping WED Enterprises, the precursor to today's Walt Disney Imagineering, create many of Disneyland and Walt Disney World's key attractions.
Today would have been the 120th birthday of Ub Iwerks, who passed away 50 years ago, and to commemorate the occasion I had the opportunity to speak with both his son, Don Iwerks, a Disney Legend and former Imagineer just like his father, and author of the book Walt Disney's Ultimate Inventor. Joining him was his daughter Leslie Iwerks, a documentary filmmaker responsible for, among other things, The Imagineering Story on Disney+, as well as the documentary film The Hand Behind the Mouse. I spoke to the father and daughter about the life of Ub Iwerks and the fact that so many aren't that familiar with his contributions to the Disney company, but Leslie Iwerks says she's happy with the credit that he has received and the relationship Ub had with Walt Disney that spawned such an incredibly output of creativity. And she admits part of the reason Ub's credit may have been delayed was that it was never something he sought. Leslie Iwerks said...
Leslie Iwerks told me that a big part of the inspiration for her documentary film, The Hand Behind the Mouse, was the fact that the stories that she knew about her grandfather from inside the family didn't match what was publicly known and she wanted to bridge that disconnect. The entire world knows about the connection between Walt and Mickey, but not as many know about Ub's contribution, but Leslie Iwerks says she feels no ill will toward anybody for that, she continued...
At this point, the only humans that have statues inside Disney parks are named Disney. Walt can be found in several of the parks, including the famous Partners statue at the hub of both Disneyland and the Magic Kingdom. Walt's brother Roy O. Disney also has a statue at Magic Kingdom, the park he put off his retirement to complete following the death of Walt.
I floated the idea that maybe Ub Iwerks deserved one as well, considering his significant contributions to the parks and the company as a whole. But if we were to get an Ub Iwerks statue inside the theme parks, where should it go? While neither Don nor Leslie seemed to feel there was a specific need for such a statue, they both had thoughts on where such a thing could be located if the company were so inclined. Don told me that, since Mickey's history is now so strongly connected to Walt, Ub's statue should go someplace near his other great contribution to the Disney parks, the CircleVision theaters...
While the original CircleVision theater at Disneyland is no more, there are several of the theaters in use every day at Epcot. And all of them have received fairly new CircleVision shows, so they're likely not going anywhere any time soon. Perhaps a statue outside one of them would be a good spot.
For her part, Leslie Iwerks suggested an Ub Iwerks statue would look great on Main Street U.S.A, just outside the Main Street Cinema, which is perpetually advertising a screening of Steamboat Willie.
Even if a statue never happens, Ub Iwerks, and his son, are recognized inside Magic Kingdom, with the name Iwerks on a window on Main Street U.S.A. a place where many in Imagineering have been immortalized. So here's to a happy 120th birthday to Ub Iwerks the, at least somewhat, unsung hero of the Walt Disney Company. Maybe someday he'll get that statue, and then more people will begin to learn just how important he was the movies and the theme parks they love.
CinemaBlend's resident theme park junkie and amateur Disney historian. Armchair Imagineer. Epcot Stan. Future Club 33 Member.
Your Daily Blend of Entertainment News
Thank you for signing up to CinemaBlend. You will receive a verification email shortly.
There was a problem. Please refresh the page and try again.