Batman v Superman: Zack Snyder On The 'Hatred' The Studio Had For Ben Affleck's DC Debut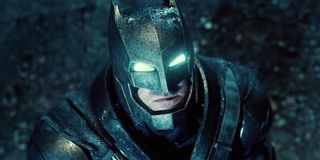 It's fair to say that the DC Extended Universe has had an interesting road since it kicked off with Zack Snyder's Man of Steel in 2013. While the franchise has had highs, there have been times during which things didn't go so smoothly. This was especially the case during the release of 2016's Batman v. Superman: Dawn of Justice, which drew mixed responses from audiences. Now, according to Snyder, the studio behind the film had some "hatred" towards the movie that marked Ben Affleck's DC debut.
Zack Snyder, who was recently able to release the Snyder Cut, says Warner Bros. held quite a bit of contempt for Batman v. Superman: Dawn of Justice. And as the filmmaker explained, this almost had an effect on his work on Justice League:
Zack Snyder was pretty honest in his recent interview with Games Radar. Working on a massive, DC film can't be easy as is, but it definitely had to have been draining for him to be in a situation filled with that much pressure. As the director recently revealed, the studio actually had "rules" for what could and couldn't be in Justice League.
Though as Zack Snyder points out, he didn't succumb to the stress while he was developing his version of Justice League. Many DC fans likely know that Snyder intended for Man of Steel, Batman v. Superman and Justice League to form a cohesive story arc. And as he continued to explain in the interview, Snyder really wanted to hold firm to the narrative he was planning for his five-film saga.
To say that Batman v. Superman: Dawn of Justice had a polarizing effect on critics and general audiences would be an understatement. The film opened to mixed reviews, with many critics praising the scope and some of the performances while criticizing the screenplay and tone, among other things. And while there were fans who gravitated toward the film, others took issue with some of its creative choices.
Zack Snyder doesn't go too much deeper into the hatred he mentions, but one would imagine that it might have stemmed from the financial and critical performance of Batman v. Superman. At the time, Warner Bros. did appear to be set on moving on from the film, though they did authorize the release of Zack Snyder's original cut of the film (the Ultimate Edition) after the theatrical version underwent editing changes.
Warner Bros.' response to Batman v. Superman: Dawn of Justice may not have been what Zack Snyder probably hoped it would be, but the public did get to see the movie the way he intended. And because of that, fans had full insight when they witnessed the next chapter of the story in Zack Snyder's Justice League.
Batman v. Superman: Ultimate Edition and Zack Snyder's Justice League are both available to stream on HBO Max.
Your Daily Blend of Entertainment News
Covering superheroes, sci-fi, comedy, and almost anything else in film and TV. I eat more pizza than the Teenage Mutant Ninja Turtles.