Aaron Taylor-Johnson's Happy He Didn't Get An Oscar Nomination, And His Reason Makes Sense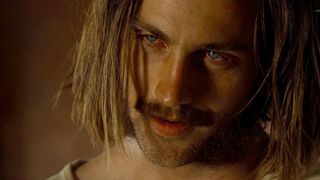 Gaining an Oscar nomination is supposed to be the pinnacle of an actor's career. But Aaron Taylor-Johnson has now admitted that he's actually relieved he hasn't been tasked with attending the Academy Awards after missing out on an Oscar nomination, even though he actually picked up the Best Supporting Actor Golden Globe back in January for his performance in Nocturnal Animals.
Because of his success at the Golden Globes, as well as the fact that he has received BAFTA Award for Best Actor and San Diego Film Critics Society Award for Best Supporting Actor nominations, too, Taylor-Johnson was considered a veritable shoo-in for similar recognition from the Oscars. They instead decided to share the wealth, as Michael Shannon was nominated for his turn in Nocturnal Animals. Speaking to Vulture, Aaron Taylor-Johnson admitted that he was rather thankful because he had long grown tired of promoting Nocturnal Animals.
That's not just an understandable train of thought, but it also reflects just how long and hard a slog awards season can be for a thespian. Of course, gaining recognition as an actor is proof that you're heading in the right direction, while I'm guessing it makes you feel all nice and warm and gooey inside, too, but promoting and helping to make as many people as possible aware of a smaller, less mainstream film is now almost as integral as their actual performance.
It was actually a little bit of a surprise that Aaron Taylor-Johnson won the Golden Globe for Best Supporting Actor. Not because his performance wasn't worthy. I mean, just check out the scene below to get a sense of his uneasy and creepy portrayal as Ray Marcus, which really brought a rich sense of dread to Nocturnal Animals.
It was a surprise because Mahershala Ali's performance as Juan in Moonlight was deemed the front-runner, with Johnson, Jeff Bridges (Hell Or High Water) and Dev Patel (Lion) regarded as his nearest competitors, while Simon Helberg (Florence Foster Jenkins) was just happy to make up the numbers. Still, Aaron Taylor-Johnson was a worthy winner, and you can check out his grateful acceptance speech below.
Michael Shannon will go up against Jeff Bridges (Hell Or High Water), Dev Patel (Lion), Mahershala Ali (Moonlight), and Lucas Hedges (Manchester By The Sea) for the Academy Award for Best Supporting Actor, in what's probably the closest run category of the whole night. We'll find out who actually leaves with the Oscar gong on February 26, 2017.
Your Daily Blend of Entertainment News