How To Watch Godzilla Vs. Kong Streaming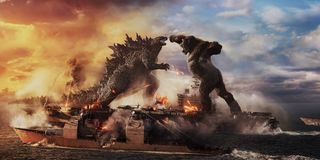 CinemaBlend participates in affiliate programs with various companies. We may earn a commission when you click on or make purchases via links.
The time has come and Godzilla and King Kong are finally about to duke it out for the title of "King of the Monsters" in the highly anticipated fourth installment in Legendary's MonsterVerse. But before the two iconic monsters finally cross paths on Wednesday, March 31, you probably want to know just how you can go about watching Godzilla vs. Kong streaming.
Even though it has taken us years (and multiple delays) to get to the point of finally seeing two of cinema's greatest monsters use the planet as an oversized wrestling ring, I can honestly say that the hard part is over and all you need to do is sit back, relax, and watch the two go at it. Enough with the introductions, let's get started on three rounds of useful information about how to watch Godzilla vs. Kong streaming, things to remember, and how to watch previous Godzilla and King Kong movies.
Where Is Godzilla Vs. Kong Streaming
If you don't want to venture out to one of the recently reopened theater chains to take in all that Godzilla vs. Kong has to offer, you can see it from the comfort of your home by watching the legendary battle go all out on HBO Max. Included in Warner Bros.' 2021 release strategy, which will see the studio's films land in theaters and on HBO Max simultaneously, the showdown of monsters (with some human elements in between) will be available on the streaming service for 31 days upon its release on March 31, 2021. This gives you plenty of time to watch the epic battle for supremacy before Mortal Kombat swoops in two weeks later.
If you're not an HBO Max subscriber, you can sign up here (opens in new tab).
Watch Godzilla Vs. Kong streaming on HBO Max (opens in new tab).
Will Godzilla Vs. Kong Be On Netflix?
Since Godzilla vs. Kong is making its streaming debut on HBO Max the same day it opens in theaters, don't count on watching the movie on Netflix for quite some time, if at all. It still remains unclear how the streaming situation will be handled for the latest MonsterVerse installment when the movie lands on home release, but considering it's showing up on HBO Max now it will probably return there at some point.
Things To Remember About The MonsterVerse And How To Watch Previous Installments
Godzilla vs. Kong is the ultimate showdown between the titular monsters (and some other major kaiju), a fight that has been teased since Godzilla landed in theaters in May 2014. Recently, CinemaBlend's Rich Knight broke down six of the most important things to remember about the MonsterVerse ahead of the film's March 31 release. That should serve as a nice refresher for those who have seen the movies but may have forgotten minor details, as well as those who are going into the movie blind.
If you do have the time, however, and you want to watch the Godzilla and King Kong movies in order, all three MonsterVerse titles are currently streaming on HBO Max.
Stream Godzilla on HBO Max. (opens in new tab)
Stream Kong: Skull Island on HBO Max. (opens in new tab)
Stream Godzilla: King of the Monsters on HBO Max. (opens in new tab)
This should all be more than enough to get you all ready to go before Godzilla vs. Kong debuts in theaters and on HBO Max, Wednesday, March 31. And before you watch, don't forget to check out CinemaBlend's updated list of 2021 movie premiere dates so you don't miss any of the year's big releases.
Philip grew up in Louisiana (not New Orleans) before moving to St. Louis after graduating from Louisiana State University-Shreveport. When he's not writing about movies or television, Philip can be found being chased by his three kids, telling his dogs to stop yelling at the mailman, or yelling about professional wrestling to his wife. If the stars properly align, he will talk about For Love Of The Game being the best baseball movie of all time.
Your Daily Blend of Entertainment News
Thank you for signing up to CinemaBlend. You will receive a verification email shortly.
There was a problem. Please refresh the page and try again.