With HBO Max's Green Lantern Series Coming, Is The Green Lantern Corps Movie Still Happening?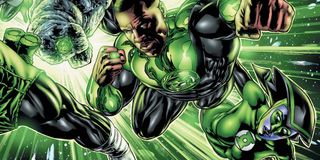 Ryan Reynolds' sole outing as Green Lantern 10 years ago failed to launch the film series Warner Bros and DC had planned to deliver to the public, but the 2011 movie didn't kill the Emerald Knight's live-action prospects entirely. HBO Max has a live-action Green Lantern series on the way, and years back, it was announced that a Green Lantern Corps reboot was in development. However, we haven't heard any major updates about the latter project in nearly two years, and with the Green Lantern mythology about to be explored in the streaming realm, is the movie even still happening?
If a new report is to be believed, yes, Green Lantern Corps is still on the proverbial table. In THR's article about The Trench and New Gods being scrapped, the reboot is mentioned as one of the movies that's still part of the DC film slate, alongside Blue Beetle, Batgirl, Supergirl and Static Shock, to name a few. Granted, this doesn't constitute an official confirmation on Green Lantern Corps' status, but assuming the information is true, there's no need to put it in the shelved pile just yet.
We first heard about the Green Lantern property getting a second chance at cinematic glory back in late 2014, when a then-untitled Green Lantern reboot was announced as one of the forthcoming DC Extended Universe movies. A year later, the reboot was officially titled Green Lantern Corps, and the plan was for it to come out in 2020. By 2018, it was confirmed that Hal Jordan and John Stewart would be the starring characters, and Green Lantern Corps was once reportedly described as a "Lethal Weapon in space"-type story.
But the direction of the DCEU has changed significantly after the theatrical cut of Justice League critically and commercially underperformed, and evidently Green Lantern Corps was de-prioritized. Geoff Johns, whose run on the Green Lantern comic book for nearly a full decade scored critical acclaim, was hired to rewrite the Green Lantern Corps script in June 2018, and by November 2019, he was expected to turn in that script, but there hasn't been any official word on the project's progress since then.
Meanwhile, HBO Max's Green Lantern series has been coming together nicely, with Seth Grahame-Smith (who was once supposed to direct The Flash) being hired as showrunner and the Arrowverse's Marc Guggenheim producing. Geoff Johns will also be a producer on the show, and between that, his duties on Stargirl and his various other professional endeavors, it's hard to say if Green Lantern Corps is even on his radar anymore. Frankly, I don't fault any fault anyone for thinking that the reboot was no longer happening given the resources and attention being poured into this HBO Max offering.
However, one reason I've been skeptical that Green Lantern Corps was scrapped is because of who the Green Lantern series is featuring as its main characters. It was announced in October 2020 that this show would focus on multiple human Lanterns, including Alan Scott, Guy Gardner, Jessica Cruz and Simon Baz, with Kilowog and Sinestro also playing key roles. All these characters are unquestionably worthy of the spotlight, but as far as Earth's lineup of Green Lanterns goes, there are three important names missing: Kyle Rayner, Hal Jordan and John Stewart.
These three are arguably the most famous Green Lanterns, so the fact that they're not participating in the Green Lantern series is puzzling. While I suspect Kyle Rayner is being saved for Green Lantern Season 2 (assuming there are plans to feature him in live-action at all), in Hal Jordan and John Stewart's case, there's a good chance they're off limits because of Green Lantern Corps. Let's also not forget the recent revelation that Zack Snyder originally intended for John Stewart to visit Bruce Wayne at the end of his version of Justice League, but the DC brass blocked this because they had their own plans for John, so Snyder used Martian Manhunter instead.
All this isn't to say that Green Lantern Corps is suddenly back to being a high-priority DC project, but thanks to THR's update and the lack of Hal Jordan and John Stewart in the Green Lantern series, it does seem there are still plans to adapt the Green Lantern property for the big screen again. Who knows, maybe like how the Peacemaker show is spinning out of The Suicide Squad and the GCPD series takes place before The Batman, Green Lantern Corps and the Green Lantern series might end up being set in the same universe, allowing for all sorts of crossover opportunities. More importantly, with how much success Marvel has had with cosmic stories like the Guardians of the Galaxy movies and Thor: Ragnarok, the Green Lantern corner of the DC universe definitely deserves another shot to be explored in a theatrical setting.
But what do you think? Are you happy that Green Lantern Corps is reportedly still in the works, or will HBO Max's Green Lantern series be enough for you? Let us know in the poll below, and stay tuned to CinemaBlend for more updates about DC's film plans.
This poll is no longer available.
Connoisseur of Marvel, DC, Star Wars, John Wick, MonsterVerse and Doctor Who lore. He's aware he looks like Harry Potter and Clark Kent.
Your Daily Blend of Entertainment News
Thank you for signing up to CinemaBlend. You will receive a verification email shortly.
There was a problem. Please refresh the page and try again.