Why HBO Max's Green Lantern Series Will Be A 'Step Up' From The Arrowverse Shows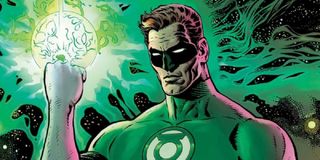 CinemaBlend participates in affiliate programs with various companies. We may earn a commission when you click on or make purchases via links.
HBO Max has officially launched. The new streaming service already offers a plethora of content like HBO's Game of Thrones, The Big Bang Theory, DC Universe's Doom Patrol and the entire Studio Ghibli library of animated films. However, one of HBO Max's most anticipated TV shows is the upcoming Green Lantern series from mega producer Greg Berlanti. HBO Max content chief Kevin Reilly recently revealed why the Green Lantern series will be a "step up" from the Arrowverse shows.
The folks at HBO Max are really taking the next batch of superhero shows to the next level when it comes to production value. As the streaming service continues to develop new shows, viewers should expect much bigger funding for superhero series like Green Lantern and the upcoming Justice League Dark. Kevin Reilly told Business Insider this about Green Lantern and other originals:
That's certainly not to say that The CW's Arrowverse is of bad quality at all, but it seems like the HBO Max budget is much bigger and can offer viewers more of a cinematic feel when it comes to visuals and the like. Stargirl, which was originally produced by DC Universe before being picked up to air concurrently on The CW, is the most recent example of that cinematic production value. Showrunner Geoff Johns explained how the visuals for Stargirl are reminiscent of Wonder Woman and Aquaman's productions, and it sounds like the same will be the case for HBO Max's Green Lantern series.
Having a higher production value doesn't necessarily mean that the Green Lantern series will be completely separate from the Arrowverse shows. Oa, the Green Lantern Corps' base planet, was seen in the "Crisis on Infinite Earths" crossover. What's more, Arrow's series finale teased David Ramsey's John Diggle finding a mysterious box that glowed green when he opened it. The verdict's still out on whether Diggle will be joining the Green Lantern series at all, but the ties are all there should HBO Max execs decide to formally link Green Lantern with the Arrowverse. You can sign up for a free HBO Max trial (opens in new tab) here.
The Green Lantern series does not yet have a scheduled release date on HBO Max, but stay tuned to CinemaBlend for updates. In the meantime, be sure to check out our 2020 summer TV premiere guide for more on what to watch.
Your Daily Blend of Entertainment News
Thank you for signing up to CinemaBlend. You will receive a verification email shortly.
There was a problem. Please refresh the page and try again.