What's Going On With The Green Lantern Corps Movie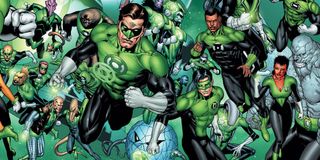 In 2011, having already taken part in the Marvel movies Blade: Trinity and X-Men Origins: Wolverine, Ryan Reynolds made the jump to DC with Green Lantern, where he played Hal Jordan, who inherited the emerald ring of willpower from Abin Sur and fought both the telepathic Hector Hammond and monstrous Parallax. Sadly, the Green Lantern movie was a critical and commercial dud, resulting in a sequel being scrapped and Reynolds returning to Marvel's corner to play Deadpool several years later.
However, Warner Bros and DC haven't given up on spotlighting the Emerald Knight mythology on the big screen a second time. Green Lantern Corps is among the many DC movies that's in development, although it's been a while since we were updated on its progress. Still, there is a fair amount that's been revealed about Green Lantern Corps over the years, so let's go over what we do know about the project.
Green Lantern Corps Will Be A Reboot
Sorry to those of you who wanted to see the further adventures of Ryan Reynolds' Hal Jordan, but that proverbial book's been closed. Instead, Green Lantern Corps will be a reboot taking place within the DC Extended Universe continuity. That's not to say that the starring characters will necessarily team with heroes like Flash or Wonder Woman given how the DCEU landscape looks a lot differently compared to what was being planned pre-Justice League, but I suspect similar to what Shazam! did, there will be some references to other corners of this continuity.
Hal Jordan And John Stewart Will Be The Main Characters
Rather than focus on only one human Green Lantern again, this time two will be at center stage. Back in 2018, it was confirmed that Hal Jordan and John Stewart will be Green Lantern Corps' main protagonists. As the first human member of the Green Lantern Corps in the comics (as opposed to Alan Scott, who operates separately from the Corps and whose ring is based more in magic and science), it makes sense to bring Hal back into play, and John Stewart, the third human Green Lantern Corps member, also has a sizable fanbase, particularly because of his time on animated shows Justice League and Justice League Unlimited. We've barely seen these two interact outside of the comics, so it'll be interesting to see what their dynamic is like in a theatrical tale… more on that later.
Geoff Johns Is Writing The Script
Geoff Johns spent nearly a decade writing Green Lantern stories, with that run including seminal moments like bringing Hal Jordan back to life, introducing the Emotional Spectrum, the Sinestro Corps War, Blackest Night, the list goes on. Johns unquestionably revitalized the Green Lantern property, so he's among the most qualified people to tackle Green Lantern Corps. He was a producer on the last Green Lantern movie, but this time around, he has more creative control as the screenwriter, so one would imagine that the chances of this being a better product are significantly improved.
Green Lantern Corps Will Be A More Cosmic Story
Although the first Green Lantern movie saw Ryan Reynolds' Hal Jordan being transported to Oa and later battling Parallax out in space, the majority of the action was Earthbound. Not so for Green Lantern Corps. That's not to say there won't be any scenes set on Earth in the movie, but years ago, Green Lantern Corps was described as "Lethal Weapon in space," with Hal and John Stewart's differing methods of policing the universe and opposing personalities leading them to frequently bicker as they fight the forces of evil.
Now granted, the script might be quite different compared to back then, but it still seems like Green Lantern Corps will primarily be set in space, which would be a good way for this DC property to stand out from the rest of its ilk.
It Was Supposed To Have Come Out In 2020
In October 2014, nearly a year and a half after Man of Steel came out, the first DCEU film slate was unveiled, with the already announced Batman v Superman: Dawn of Justice being the next movie out and Green Lantern Crops filling the final spot on the timeline with its June 19, 2020 date. Green Lantern Corps was later pushed back to July 24, 2020, but that never came to pass. While movies like The Flash and Black Adam have release dates, Green Lantern Corps remains undated. With Zack Snyder's Justice League expected to include a Green Lantern who wasn't seen in the theatrical version of Justice League, maybe that will help reignite interest in pushing forward with Green Lantern Corps rather than it continuing to linger in development hell.
It's Unclear If The Movie Will Tie Into HBO Max's Green Lantern Series
Green Lantern Corps isn't the only chance the Green Lantern mythology is getting to shine in live-action again. In October 2019, it was announced that a Green Lantern TV series was in development for HBO Max. Geoff Johns will produce through his company Mad Ghost Productions alongside Arrowverse heavyweight Greg Berlanti.
In January 2020, Sarah Aubrey, HBO Max's Head of Original Content, revealed that the series will span several decades and focus on two stories about Green Lanterns on Earth, as well as delve into a story centered on Sinestro out in space. This series sounds like it has a lot of potential, but it hasn't been clarified if it's a standalone affair or if it'll somehow tie into Green Lantern Corps. Honestly, there's even the possibility that Green Lantern Corps was sidelined in favor the Green Lantern show, though there's been no official indication that's the case yet.
As far as Green Lantern Corps is concerned, the only emerald construct it's forming is a big ol' question mark, but keep checking back with CinemaBlend on if that changes. In the meantime, look through our DC movies guide to learn what else this corner of the superhero movie market has coming down the creative pipeline.
Your Daily Blend of Entertainment News
Connoisseur of Marvel, DC, Star Wars, John Wick, MonsterVerse and Doctor Who lore. He's aware he looks like Harry Potter and Clark Kent.