Of Course A Liam Neeson Film Is The Highest-Grossing Indie Of The Year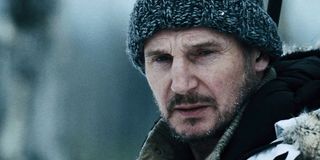 Liam Neeson is one of those actors that's just box office gold. Over the course of his impressive career, he's earned a number of prestigious nominations in addition to becoming one of the highest grossing actors of all time. So, it may come as no surprise that his latest project is the highest grossing indie flick of the year.
According to data pulled from Box Office Mojo, Liam Neeson's The Marksman is comfortably sitting atop the indie box office throne with a little over $14.8M. That's pretty impressive, all things considered. We are still in the midst of a pandemic, after all.
Not only is The Marksman performing well compared to other notable indie movies, such as Oscar nominees Minari ($1.6M) and Nomadland ($1.3M), it's actually the fifth highest grossing film of this year. It's only beaten out by Wonder Woman 1984 ($19.3M), The Croods: A New Age ($23.7M), Raya and the Last Dragon ($29.7M) and Tom and Jerry ($31.1M).
Talk about some impressive company. Of the top five highest grossing movies of the year, four out of five were distributed by major studios. The only exception is Liam Neeson's The Marksman, which was distributed by Open Road Entertainment.
The Marksman follows Jim (Liam Neeson), a rancher who protects a young Mexican boy (Jacob Perez) from cartel violence on the Arizona border. The film was initially released in theaters on January 15, 2021. While Liam Neeson is an undisputed box office draw, I imagine the timing helped out here as well. Because frankly, there's just not that much to see in theaters right now.
On the one hand, I'm surprised that The Marksman has done so well. On the other hand, it makes sense given the current climate of the theater industry. Over the last year, the box office has been decimated by the ongoing pandemic. Whether it's a major blockbuster or small-scale indie flick, almost every project has been delayed in some capacity. On top of that, theaters have only recently been allowed to reopen their doors in certain parts of the country.
That being said, it's looking more and more like the box office is slowly, but surely returning to its former glory. Godzilla vs Kong had an impressive debut domestically and overseas. Reportedly, the monster movie is doing so well that Warner Bros. has decided to push back Mortal Kombat by a week, allowing more time for both to breathe at the box office.
Looking at the impressive Godzilla vs. Kong numbers and the surprising position of The Marksman, I can't help but find myself getting excited for a return to normal. Surely I'm not the only one who is ready to safely return to a theater to watch the latest blockbuster on the big screen. Whether that includes Liam Neeson or monsters duking it out, I don't care. I'll seriously watch anything at this point.
Into tracksuits by Paulie Walnuts, the Criterion Channel and Robert Eggers.
Your Daily Blend of Entertainment News
Thank you for signing up to CinemaBlend. You will receive a verification email shortly.
There was a problem. Please refresh the page and try again.