Get Over Here! Mortal Kombat Just Pushed Its Release Date Again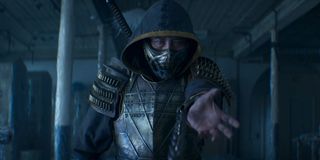 Movie delays are all too common these days. Whether it's a major blockbuster or a direct-to-streaming flick, no project is completely safe from a change of release date. The upcoming Mortal Kombat reboot is the latest to have its release date pushed back. Sorry, residents of Earthrealm.
The news of the Mortal Kombat delay comes just two and a half weeks before the film's initial release date of April 16, 2021. Now, it's looking like fans of the beautifully brutal franchise will have to wait just a little bit longer to catch Sub-Zero and company in action.
First reported by Variety, Mortal Kombat has pushed its release date back by a week, to April 23rd, 2021. According to Deadline, the reasoning behind the delay reportedly has to do with the short amount of time between the release of and Godzilla vs. Kong and Mortal Kombat.
It makes sense, the Mortal Kombat delay would allow Godzilla vs. Kong to spend more time at the box office before competing with the highly anticipated video game adaption. On one hand, I just want to watch my favorite fighters duke it out on the big screen. On the other hand, I get it. Times are tough for theaters and studios alike, so they need to make sure release strategies bring home as much money as possible.
Despite Warner's industry shattering decision to bring all of its films to HBO Max and theaters simultaneously, the Mortal Kombat delay seems to prove that the studio still has high hopes for in-person ticket sales. After all, the box office is where the big money is at. I'm sure that the impressive overseas debut of Godzilla vs. Kong had something to do with Mortal Kombat's delay, as well.
While it's certainly not the ideal situation for Mortal Kombat fans, the week-long delay is small potatoes compared to some of the year-long delays that we've seen over the past year. One thing is for certain, the hype for director Simon McQuoid's reboot is real. The cast and fans alike have been having a blast reacting to the brutal trailer released earlier this year.
We've already identified a few of the major characters that showed up in the violent red-band trailer, but I'm still holding out for a secret character or two to make an appearance. After all, there's no shortage of fighters that Simon McQuoid could pull into the violent affair.
Who knows, maybe the studio will even release another tease to keep fans satiated in the meantime. If not, there's always Godzilla vs. Kong, which is basically a Mortal Kombat movie, just with two giant monsters fighting instead of ninjas and demons. Either way, there will be plenty of on-screen fights to go around in the coming month. Just don't let the recent Mortal Kombat delay test your might.
Into tracksuits by Paulie Walnuts, the Criterion Channel and Robert Eggers.
Your Daily Blend of Entertainment News
Thank you for signing up to CinemaBlend. You will receive a verification email shortly.
There was a problem. Please refresh the page and try again.