The Best DMX Acting Performances In Movies And TV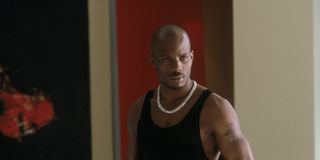 It has been a rough year for fans of rap music. A few months back, we mourned the passing of MF DOOM, and now, we mourn the passing of DMX. As the de facto leader of the Ruff Ryders, DMX will undoubtedly be most remembered for his music, as It's Dark and Hell Is Hot, Flesh of My Flesh, Blood of My Blood, and …And Then There Was X are certified rap classics, while The Great Depression and Grand Champ are mighty good albums, too. But X was also a pretty decent actor as well, and DMX movies shouldn't be forgotten, either.
In fact, a day or two before the news broke about DMX being hospitalized, I wrote an article about Belly. And the news hit me especially hard because I just re-watched the film before writing the article, and DMX was so alive in that movie. So intense. But that's the power of art, right? Even with X's recent passing, I can still go back and watch Belly or any of the movies (and one TV show) on this list and remember what an amazing presence DMX was in my life when it came to entertainment. There will never be another X, and wherever my dog's at right now, I hope he's at peace.
Exit Wounds (Latrell Walker/Leon Rollins)
Exit Wounds is a really silly movie where Steven Seagal gets to play a tough guy cop who (I kid you not) actually saves the Vice-President's life from a militant right-wing group. It was directed by Andrzej Bartkowiak, who must have really liked DMX since he also directed him in Romeo Must Die as well as Cradle 2 the Grave, which are both much better movies that I'll talk about next.
But for the sake of this article, we don't care about Steven Seagal. We care about DMX, and he stars as a drug dealer named Latrell Walker in Exit Wounds. Or so we think. I'm not going to spoil the twist here since I'm well aware that a lot of people might actually want to check out these movies now that DMX has died, but this is an especially good role for X since it takes the stereotype of a black man being a drug dealer and turns it on its head. And guess what. DMX actually pulls it off. It's not a great movie, to be sure, but it's a pretty good performance from the Dark Man X.
Cradle 2 The Grave (Anthony Fait)
As just mentioned, Polish director, Andrzej Bartkowiak, also directed Romeo Must Die and Cradle 2 The Grave. Both films star Jet Li, but only the latter gives DMX top billing alongside the martial artist. In this film, DMX plays a jewel thief who steals some black diamonds… but (tell me if you'd heard this one before) they're not what they seem.
DMX is awesome in this film as an action star. While Jet Li handles all the butt kicking martial arts, DMX makes for a believable thief who can ride one hell of an ATV on city streets. Add to the fact that my favorite DMX song, "X Gon' Give It to Ya" plays during this scene, and you have a match made in cheesy, early 2000s Heaven.
Fresh Off The Boat (Himself)
Here's the great thing about DMX that I and many of his fans will definitely miss—his ability to play against type. When listening to his records, X would literally bark and growl like a dog. That was pretty much his thing. He'd also have gunshot noises and talk about killing people if they got in his way. So, he's not the kind of guy you would expect to wear a front harness for a baby. He's also not the kind of guy you would expect to care for orchids or give advice on young love, but he did just that on the episode "We Done Son" on Fresh Off the Boat.
This is such a great performance since it's so unexpected, but it still works. Throughout his career, DMX showed that he was anything but one dimensional. He was the kind of guy who often displayed humility and would even say legit prayers on his albums that people could genuinely close their eyes and pray to. So, his somewhat silly performance on Fresh Off the Boat definitely feels genuine and earnest. A part of me hopes that this was the real DMX behind all the growling and barking.
Top Five (Himself)
As I just mentioned, DMX could pull off comedy just as well as he could pull off bravado and aggression. If you need proof, then look no further than his brief, but crucial, cameo in the Chris Rock comedy, Top Five. In this movie, we find him in a jail cell, which, according to him, is where he lives. Jail is his home.
But like the rapper himself, you can't just pigeonhole the man, and in this great scene, DMX says he wants to be a singer, to which he belts out "Smile". Chris Rock, of course, watches on in horror at just how horrible it sounds. But DMX never takes himself seriously and again plays against type. It's actually a pretty sweet scene, and you can't help but smile when you see it.
Belly (Tommy "Buns" Bundy)
Last but not least, I want to talk about his major acting debut in Belly. I mentioned in my article on the film that I think the acting is pretty good for a movie mostly starring rappers. But I also want to focus on DMX in particular since his was the performance that really stuck with me and made me want to write the article in the first place. While Nas acts as the straight man who carries the story, DMX's character, Tommy, acts as the agent of chaos.
In so many ways, DMX is terrifying in this role. Tommy is a character who you can tell has the heart to be good, but he repeatedly chooses the wrong path because it's the only one he knows. DMX is fantastic in the role since the gruffness and darkness we saw on his records resonated here. But it also solidifies the fact that this was really all just an act. The real Earl Simmons was closer to the man taking care of his orchids on Fresh Off the Boat than Tommy, which makes his loss all the more depressing.
In the end, DMX will definitely be missed, but at least we will always have his music and his movies to remember him by. RIP, Earl.
Your Daily Blend of Entertainment News
Rich is a Jersey boy, through and through. He graduated from Rutgers University (Go, R.U.!), and thinks the Garden State is the best state in the country. That said, he'll take Chicago Deep Dish pizza over a New York slice any day of the week. Don't hate. When he's not watching his two kids, he's usually working on a novel, watching vintage movies, or reading some obscure book.
Your Daily Blend of Entertainment News
Thank you for signing up to CinemaBlend. You will receive a verification email shortly.
There was a problem. Please refresh the page and try again.