That Time Kill Bill's Lucy Liu Had To Have Surgery Right Before Filming Iconic Tarantino Scene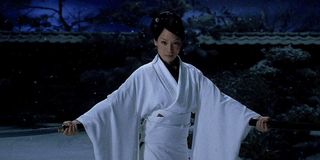 Movie stunts are no joke. That's why some actors choose to have body doubles or stunt professionals do the more dangerous scenes. But, some of the best in the business are adamant about doing their own stunts, even if they are coming off a major surgery. Lucy Liu recently revealed that she had a pretty big operation just weeks before filming an iconic scene in Quentin Tarantino's Kill Bill Vol. 1.
In an interview Lucy Liu, who played O-Ren Ishii in Tarantino's famous Kill Bill franchise, shared that she was fresh off back surgery ahead of filming the iconic showdown between her character and Uma Thurman's The Bride. In her own words:
In the interview with Women's Health Magazine, Lucy Liu went on to note that while she was fresh off surgery, the scene didn't require a lot of movement from her newly repaired back:
That being said, she still had to take breaks to make sure she didn't further injure her back, which makes sense, given the quick turnaround between the operation and shooting:
Fortunately, Liu was able to finish the iconic showdown between Cotton Mouth and Black Mamba. The thrilling, yet brutal finale to Kill Bill Vol. 1 has become one of Tarantino's more memorable scenes over the years, no doubt due to Lucy Liu's incredible performance.
Since starring in Kill Bill Vol 1. Lucy Liu has gone on to have a successful career across film, television and even video games. Recently, it was announced that she'll have a chance to get back in on the action game, as she's been cast as a villain in the upcoming Shazam 2.
Fans of Lucy Liu can revisit the legendary showdown once more by checking out the first entry into Tarantino's epic saga on HBO Max (opens in new tab), where Kill Bill Vol. 1 is now streaming.
Into tracksuits by Paulie Walnuts, the Criterion Channel and Robert Eggers.
Your Daily Blend of Entertainment News
Thank you for signing up to CinemaBlend. You will receive a verification email shortly.
There was a problem. Please refresh the page and try again.