5 Reasons Why Kill Bill Vol. 3 Should Be Tarantino's Next And Last Movie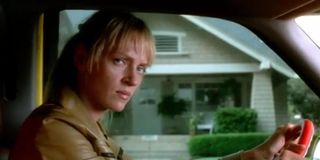 Quentin Tarantino has said on numerous occasions that his tenth film will be his last. And with the excellent Once Upon a Time... In Hollywood being movie number 9, a lot of fans have wondered what the heck the famed-director could cap off his career with. Might I be one of the many to suggest the oft-rumored, "Kill Bill 3" as his final picture?
While it's interesting to imagine what a Quentin Tarantino Star Trek would have looked like, the truth is, if Tarantino is going to go out on a bang, it would have to be with one of his own stories. And I really can't think of a better franchise to cap off his incredible career with than a sequel to Kill Bill. But why Kill Bill, you ask. Well, I have five reasons why the Bride would be the perfect character to end it all with.
There's A Thread Left Open In Kill Bill Vol. 1 That Was Never Answered
Is Kill Bill even 2 movies? Not according to Tarantino, it isn't. In his mind, since he wrote it as one film, both movies are really just 2 parts of the same whole. That said, while Kill Bill Vol 2. feels complete as it is, there's a thread that was left wide open in Vol. 1 that really feels like it needs to be addressed.
And you've probably already guessed what it is. It's Vernita Green's daughter, Nikkia "Nikki" Bell, walking into the kitchen to see her mother murdered by the Bride. The Bride even tells her that if Nikki still feels "raw" about the death of her mother, that she'll be waiting for her. It's one of the film's most famous moments, and a scene that has stuck with fans for almost 2 decades now. Vivica A. Fox, who played Vernita Green, has even suggested that Zendaya play the role of Nikki. Come on, Tarantino. The fans crave this conclusion. Please make it happen!
A Trilogy Is A Good Way To Round Out A Career
As mentioned earlier, Quentin Tarantino doesn't really consider Kill Bill to be two separate movies. If he did, then that would technically make Once Upon a Time in Hollywood his 10th film. But when it comes to most fans, there's Kill Bill Vol. 1, and there's Kill Bill Vol. 2. So, what many fans want, is "Kill Bill Vol. 3."
Because ending on a trilogy just makes so much sense. The Bride's story was wrapped up nicely in Kill Bill Vol. 2, but number 2's just never feel complete. Think about Ghostbusters 2, or Gremlins 2 as an example. Both are excellent films, but they don't entirely feel complete as a franchise since a trilogy just feels so much better. And for Tarantino to end his career without adding a 3 to the only "sequel" in his career, well, it just feels a little incomplete in a way. Especially since Nikki's story is still left wide open. Yup, a trilogy just feels like the way to go.
Kill Bill Was A Turning Point For the Director
Think about Tarantino's career prior to Kill Bill. And think about it afterwards. Before it, we got three phenomenal movies in Reservoir Dogs, Pulp Fiction, and the underappreciated Jackie Brown. All three have a distinct flavor to them that are distinctly Tarantino, but aren't over-the-top or really "genre" pictures (unless you count Jackie Brown as a homage to blaxploitation flicks).
But Kill Bill Vol. 1 was a turning point for the director. Here was a film that was distinctly different from his earlier work, as it was action-heavy, an origin story, and a homage to martial arts movies. And Kill Bill Vol. 2 was pretty much his direction into making westerns, which is another genre that Tarantino loves and wound up sticking with for a while. Gone were the hit men in suits, and in were the genre bending movies and revisionist history stories. It would only be fitting if Tarantino closed off his filmography with the movie that seriously pivoted his career in a fascinating new direction.
Quentin Tarantino Has Teased A Few Projects Over the Years That He Never Made, And This Should Be the One He Does
How awesome was the Inglorious Basterds spin-off, "Killer Crow," where black soldiers in WWII got back at the white officers who treated them like dirt? What's that? You never heard of that movie? Oh, yeah. It's because Tarantino scrapped it. But what about that "Double V Vega" movie where Vincent Vega from Pulp Fiction and Vic Vega from Reservoir Dogs had a long weekend in Amsterdam together? Wait, that was scrapped, too? Man, Tarantino sure does have a lot of cool ideas that never make it past the drawing board.
But "Kill Bill Vol. 3" would be the perfect way to rectify that and close out that chapter of his life. Because unlike in "Double V Vega" where the only similarity would be the characters, or with "Killer Crow" where the only similarity would be the backdrop of World War II, "Kill Bill Vol. 3" is already set up with a story thread ready and waiting to be written. This should be the movie that has been swirling around in Tarantino's head that finally gets turned into a screenplay and put onto the big screen. Then, at least one of his amazing teased projects will finally go from being a dream to a reality.
Kill Bill Has Always Been A Celebration Of Multiple Genres, And A Third Movie Could Be A Culmination Of All Of Tarantino's Loves
Lastly, "Kill Bill Vol. 3" could potentially combine all the genres that Tarantino hasn't experimented with yet to make one enormous love letter to cinema. Because he's already done westerns, crime films, a war epic, a historical drama (of sorts) and martial arts, but what about that oft-rumored horror movie that he wanted to make? What about sci-fi like his Star Trek movie would have been? Kill Bill Vol. 1 and 2 are unique in Tarantino's filmography in that the first movie is distinctly a martial arts film, and Vol 2 is pretty much a western.
So, since Kill Bill was the film that Tarantino experimented with the most, it would only be fitting that his final film would be an overstuffed hodgepodge of all of the different genres that Tarantino loves so much but hasn't gotten a chance to toy with. And since this would be his last hurrah, fans would be open to seeing the full landscape of everything Tarantino's mind has yet to offer. And what better movie would that be than a capper to one of his most ambitious movies ever? He has said that he wanted to do something "epilogue-y" for his final picture. So why not a third Kill Bill film? For Tarantino, an epilogue doesn't necessarily have to be quiet. It can be as loud as he wants it to be.
And that's the list. I do understand the desire for Quentin Tarantino to close his career off with an original project, but a third Kill Bill could still feel fresh in the hands of Tarantino. But what do you think? Should Kill Bill Vol. 3 close out Tarantino's career? Sound off in the comments.
This poll is no longer available.
Your Daily Blend of Entertainment News
Rich is a Jersey boy, through and through. He graduated from Rutgers University (Go, R.U.!), and thinks the Garden State is the best state in the country. That said, he'll take Chicago Deep Dish pizza over a New York slice any day of the week. Don't hate. When he's not watching his two kids, he's usually working on a novel, watching vintage movies, or reading some obscure book.
Your Daily Blend of Entertainment News
Thank you for signing up to CinemaBlend. You will receive a verification email shortly.
There was a problem. Please refresh the page and try again.