Fast And Furious 9 Director On The Difficulty Of Writing Around Paul Walker's Character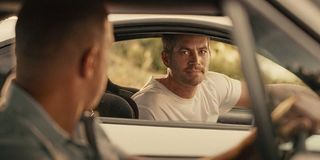 The Fast & Furious franchise has come a long way. We've seen Vin Diesel's Dominic Torreto and crew go from small-scale street racer to international powerhouses throughout the franchise's run, upping the stakes and scale with every new movie. It hasn't been without difficulty, though, as the death of Paul Walker, who played an integral part since the beginning, was difficult for all involved. Now, F9 director and architect Justin Lin has opened up about how challenging it's been to write around Walker's character.
After Paul Walker's tragic passing, his character, Brian O'Conner, received a send-off, retiring him from the escalating escapades of the family he had been so important to. Brian is still alive in the movies, and this situation has proven to be a logistical hurdle for the filmmakers. Director Justin Lin recently spoke to EW about the difficulty in maneuvering around Paul Walker's character:
Justin Lin describes how he wants to be respectful of Paul Walker's memory while acknowledging his character's legacy and continued presence in the movies. It is commendable that so much thought and care have gone into handling Walker's character, starting with the last ride scene in Fast and Furious 7, which enlisted Paul Walker's brother to help bring his character's beautiful send-off to life.
The Fast & Furious franchise is wrapping up its last chapter, starting with Fast 9, bringing its main series to an end with Fast 11. Justin Lin and the crew have been able to push the limits of what it's capable of with every new entry, even making the idea a potential Jurrasic Park crossover sound realistic. In addition, the series continues to add to its cast with stars like John Cena, who Vin Diesel says Paul Walker told him to cast.
Paul Walker will always be a major part of the franchise, and his portrayal of Brian O'conner was a major reason for the success of the franchise, allowing it to continue to grow after his passing. Honoring the memory of Walker while pushing the story forward is a tall task but has been done with care and consideration. F9 is one of the most anticipated movies of 2021, and Justin Lin and company are poised to deliver another boundary-pushing installment.
F9 roars into theaters on June 25, 2021.
Movie and TV obsessive. A good Heist movie is the way to my heart. Enjoyer of everything from Marvel Movies to Rom-coms.
Your Daily Blend of Entertainment News
Thank you for signing up to CinemaBlend. You will receive a verification email shortly.
There was a problem. Please refresh the page and try again.