Jason Momoa, Oscar Isaac And Javier Bardem Tease The Weird Suits That Kept Them Cool Filming Dune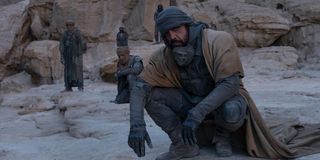 Despite being delayed and being at the forefront of a conflict among filmmakers, studios, and streaming companies, Dune is still one of the most anticipated films of the year. The otherworldly technology and world of the franchise have fans as well as its cast geeking over the sci-fi epic. With that, some of the film's stars, Jason Momoa, Oscar Isaac, and Javier Bardem, have recently teased the weird suits that kept them cool while filming Dune.
The cast of Dune sat down to discuss the themes of the film and what it was like making it. The brief interview clip from WSVN Miami gives some insight into the making of the movie, which is set primarily in a desert. Jason Momoa, Oscar Isaac, and Javier Bardem spoke out about their varying experiences with the special suits designed to keep them cool while working in the heat:
Javier Bardem explains how the suit he wore had a sort of air conditioning system to cool him down in the desert. It seems his co-stars weren't as lucky, with Oscar Isaac jokingly replying he didn't get a suit like Javier. Jason Momoa describes his suit as a bowl for an Aquaman soup, so I take it the sweating was real on the set of Dune. With the cast spending so much time in the desert, a special suit like the one Javier Bardem describes seems essential.
Given the conditions they worked under, you can't help but express admiration for the three stars and their co-stars and crew. Filming in the desert surely wasn't easy, but they seem to have made the most of the experience.
Jason Momoa is playing Duncan Idaho, self-described in the clip above as "basically the greatest fighter in the fucking world.". Oscar Isaac is playing Leto Atreides, the father of Timothee Chalamet's Paul Atreides, and Javier Bardem is playing Stilgar, a leader of a desert tribe. Being in the elements of the desert seems to have brought out some great performances or at least performances accurately depicting severe heat.
Dune is one of the movies we're willing to wait to see on the big screen. It's a sci-fi epic with a fantastic and deep cast that will have collectively already filmed many more projects by the time the Denis Villeneuve-directed film finally comes out. Here's hoping there are no more delays and we can all experience this highly anticipated film sooner than later.
Dune is currently set to hit theaters and HBO Max on October 1.
Your Daily Blend of Entertainment News
Movie and TV obsessive. A good Heist movie is the way to my heart. Enjoyer of everything from Marvel Movies to Rom-coms.