The Major Projects The Dune Cast Will Have Already Filmed By The Time Dune Comes Out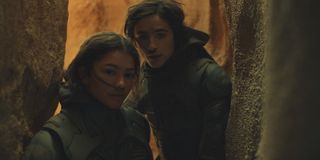 Fans have been waiting an exceptionally long time for the new blockbuster adaptation of Frank Herbert's Dune. To say nothing of the decades of failed attempts at getting the project off the ground, Denis Villeneuve's movie wrapped production all the way back in July 2019, and it has required quite a lot of patience anticipating the film's big screen arrival. We'll finally get our chance to see the movie in October, as it will be released simultaneously in theaters and on HBO Max, but if one wanted to illustrate how long it has been since principal photography was completed, one could point to all of the major projects that the cast will have already filmed by the time Dune comes out.
In this case, that "one" happens to be us, and you'll find said illustration below. Stars Timothee Chalamet, Zendaya, Rebecca Ferguson, David Dastmalchian and Dave Bautista have definitely kept busy since the sci-fi epic wrapped, and they've been working on some films that we're exceptionally excited to see.
Don't Look Up (Timothee Chalamet)
Writer/director Adam McKay has an impressive knack for putting together spectacular ensembles, and one could make a solid argument that he has assembled his best yet for the new Netflix movie Don't Look Up. The movie, which is already in post-production after filming started last November, is as star-studded as they come, with a cast that includes Leonardo DiCaprio, Jennifer Lawrence, Cate Blanchett, Meryl Streep, Mark Rylance, Jonah Hill, Gina Gershon, Tyler Perry, Ron Perlman, and more. Oh, and also Dune star Timothee Chalamet
.
We're terrifically excited to see what kind of role Chalemet plays in Don't Look Up, which follows a pair of scientists who travel the globe trying to warn people about a meteor on a course to destroy the planet, but Dune should be a film that sees the actor hit a new stratosphere in his career. He plays the lead in the blockbuster – a young man named Paul Atreides who travels with his family to a vast desert planet and finds himself at the center of an expansive conflict and a powerful prophecy.
Spider-Man: No Way Home (Zendaya)
It's no easy task to film a Spider-Man movie, as the production schedule is stretched over multiple months, and yet Zendaya had the opportunity to complete one while the world still awaits her performance as Chani in Dune. In Jon Watts' Spider-Man: No Way Home she will be reprising her role as MJ in the Marvel Cinematic Universe, and while we know going into the blockbuster that her relationship with Peter Parker will be "official," there hasn't been anything else revealed about her part in the plot.
As for Dune, Zendaya has admitted that we won't actually see a lot of her in the upcoming blockbuster – but that makes plenty of sense when you consider that Chani doesn't really become a central character in the story until the second half of the book (and the new movie will mostly be focusing on the first half). Just because she doesn't have a ton of screen time doesn't mean that she's not incredibly important, though, as she is literally the girl of Paul Atreides' dreams.
Mission: Impossible 7 (Rebecca Ferguson)
There was a long stretch of time when the Mission: Impossible franchise would essentially rotate out all of its female leads – with Emmanuelle Béart, Thandiwe Newton, Maggie Q, and Paula Patton each only having one go on missions deemed impossible – but Rebecca Ferguson broke that unfortunate trend when Mission: Impossible – Rogue Nation'sIlsa Faust returned for more action in Mission: Impossible – Fallout. Soon we'll get to see her back again in Christopher McQuarrie's upcoming and untitled Mission: Impossible 7… which actually managed to start and complete production (delays and all) in the time between the last day on the Dune set and now.
Though Rebecca Ferguson is in reality only 12 years older than Timothee Chalamet, she'll be playing Paul Atreides' mother, Lady Jessica in Dune. A rebellious member of the order known as the Bene Gesserit (a group of women with superhuman abilities resulting from years of physical and mental conditioning), Jessica is a determined and strong-willed maternal figure with a massive role in her son's journey.
The Suicide Squad (David Dastmalchian)
When it comes to comic book adaptations, few have a resume as impressively diverse as David Dastmalchian, whose credits include The Dark Knight, Gotham, The Flash, and the Ant-Man And The Wasp movies. As such, it's not really all that surprising that he's added yet another one to his filmography with the upcoming The Suicide Squad, but what is surprising is that the upcoming James Gunn blockbuster will have gone through production, editing and release all in the time since Dune wrapped filming.
What makes this particular section particularly fun is the fact that David Dastmalchian's roles in The Suicide Squad and Dune are vastly different. Based on the footage we've seen, the actor's performance as weirdo supervillain Polka-Dot Man in the former seems Eeyore-esque, while we expect that the latter will see him make for an extra creepy and sinister Piter De Vries (a key advisor to the movie's central antagonist, Baron Harkonnen).
Army Of The Dead (Dave Bautista)
Unlike Zendaya, Dave Bautista hasn't had the opportunity to film his next movie in the Marvel Cinematic Universe (mostly because James Gunn has been busy working with David Dastmalchian on The Suicide Squad), but that doesn't mean he hasn't kept busy in the time since Dune completed production. Zack Snyder's Army Of The Dead actually started shooting the same month that Denis Villeneuve's movie finished, and it will be arriving for audience consumption a little over four months earlier.
Army Of The Dead will feature Dave Bautista as one of the protagonists, but that very much won't be the case in Dune, where he will be portraying the brutish Glossu 'Beast' Rabban. The nephew of Baron Harkonnen, he operates as a kind of enforcer, and he has a particular love of violence and cruelty. Don't expect to see much of Bautista's charm and charisma on display.
We're looking forward to all of the movies mentioned here, but we're also very much keeping our eyes on the prize. Dune, at long last, will be playing day-and-date in theaters and on HBO Max on October 1, and you can get all of the details about the adaptation from our What We Know So Far guide.
Your Daily Blend of Entertainment News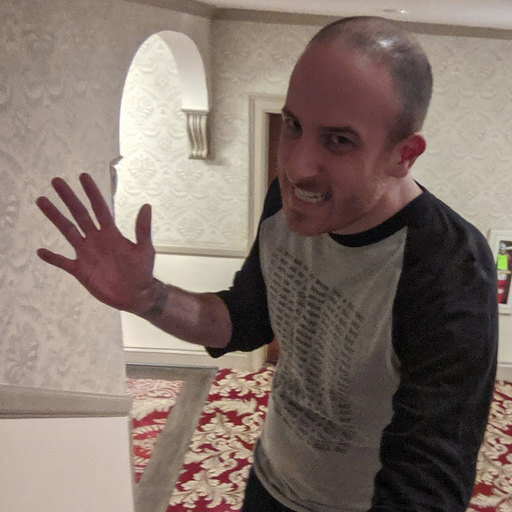 Assistant Managing Editor
NJ native who calls LA home and lives in a Dreamatorium. A decade-plus CinemaBlend veteran who is endlessly enthusiastic about the career he's dreamt of since seventh grade.