Spider-Man: Why I'm Concerned About Alfred Molina's Doctor Octopus In No Way Home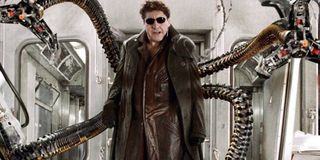 Alfred Molina will return as Doctor Octopus in Spider-Man: No Way Home, and if that weren't interesting enough, the actor recently dropped an even bigger bombshell that I'm sure Marvel wished he hadn't. Molina revealed that the Doc Ock seen in the upcoming Sony film isn't just similar to the one featured in 2004's Spider-Man 2, it's going to be the exact same one.
Part of me is really excited about this because it gives more weight to the theories that Tobey Maguire and Andrew Garfield will appear in the upcoming film as their respective versions of Spider-Man. But part of me is also worried. If what Alfred Molina has said about his character in Spider-Man: No Way Home is true, then what exactly does it mean for the character's arc in Spider-Man 2?
How Alfred Molina's Doc Ock Will Enter Spider-Man: No Way Home
It's shocking enough that Alfred Molina's Doctor Octopus will be the exact same one from Spider-Man 2, but the moment he is plucked from is downright unbelievable. According to the actor, the villain will be plucked from the exact moment in which the character allegedly sank to his death after stopping his fusion reactor from destroying New York City. Director Jon Watts told Molina that "no one really dies," which means, in this upcoming movie, he survived that moment.
From what will happen from that point on, we have absolutely no idea, and I'm sure Sony and Marvel won't allow Alfred Molina to further spill secrets after these latest comments. With that said, the mind can't help but reel from the possible implications this would have on his character arc in Spider-Man 2. Doctor Octavius had some less than desirable moments in the Sam Raimi epic, but he ultimately redeemed himself when he sacrificed his life in order to prevent a cataclysmic disaster.
That redemption arc may seemingly be destroyed in Spider-Man: No Way Home, in which Alfred Molina revealed that his action scenes weren't much of a problem in the new movie, as all he had to do was glare and let the tentacles do all the work. So we know the tentacles still work and that Doc Ock will fight, but why?
Would A Villanous Doc Ock Tarnish The Character's Spider-Man 2 Arc?
Before I get into this, I should note that we don't know how Doctor Octopus will react following his rescue from his universe. In the original Spider-Man 2, it was believed that Doctor Octavius died a redeemed man. So if he is rescued in the eleventh hour once out of sight and is in Spider-Man: No Way Home as a villain, is that redemption still valid?
Well, one may think that the answer is 'no' because of diverging timelines. This unique Marvel mechanic introduced in Avengers: Endgame allowed for scenarios in which characters could be taken out of timelines without necessarily altering the original timeline they were a part of. It accounted for characters we knew were in a specific place and time in the MCU, but what does it do for the ones we had no clue about?
The implication is that Doc Ock died at the end of Spider-Man 2, and I'm assuming his body was never recovered from the watery depths. With that said, there's a very real possibility that the villain was scooped from the exact moment viewers saw in Spider-Man 2, and no one noticed because he was presumed dead.
So if it's the exact same Doc Ock and he turns back into an evil villain, what the hell? It kind of messes up a key plot for one of the greatest Spider-Man movies of all time and could retroactively change how a lot of people feel about Spider-Man 2 in the future. Usually I'd like to say that's of little consequence to me, but as I've thought about it, I realize it could very well alter how I feel about Spider-Man 2 as well.
If the legacy of Spider-Man 2 is on the line going into Spider-Man: No Way Home, it's safe to say my expectations have risen significantly. I'd expect Doc Ock's appearance both to acknowledge the previous events of Spider-Man 2, but also present more to the story that enhances or expands on the tale. I'd also like this to be a diverging timeline to preserve the original film, but with the present information and Tom Holland's insistence Tobey Maguire won't be in Spider-Man: No Way Home, it's completely possible the villain was swiped from under the sea when we weren't watching, and we missed it.
Will It All Be Worth It If Spider-Man: No Way Home Pulls This Off?
There's obviously a scenario where Spider-Man: No Way Home takes Doctor Octopus out of Spider-Man 2 and somehow enhances what is already a perfect superhero movie. At the very least, it could renew interest in the Sam Raimi trilogy for a new generation (opens in new tab) and remind the world of an era in which we weren't spoiled with a handful of superhero blockbusters a year.
I'm not necessarily doubting that Kevin Feige and Sony can integrate the older Spider-Man movies into its current saga and make it work, but I think we should all acknowledge there's a lot at risk if they screw it up. The Doc Ock that comes into Spider-Man: No Way Home shouldn't whiplash back into a villain without explanation or reason. Hey, he could even be a hero this go-around.
So while I am still very worried about how Spider-Man: No Way Home could impact the legacy of characters like Doc Ock or even the past Spider-Man movies, I'm not so shaken up about the information that I'm going to demand this movie not be made or change course immediately. Not that doing so would matter anyway; this movie is made, and, for better or worse, it sounds like it's going to change the world of Spider-Man in a big way.
Spider-Man: No Way Home will be in theaters on Friday, December 17. Readers should be warned there are a ton of rumors floating around about the upcoming movie. However, if you're into that sort of thing, then maybe check out this latest rumor about a beloved MCU character set to return in the upcoming adventure.
Your Daily Blend of Entertainment News
Mick likes good television, but also reality television. He grew up on Star Wars, DC, Marvel, and pro wrestling and loves to discuss and dissect most of it. He's been writing online for over a decade and never dreamed he'd be in the position he is today.
Your Daily Blend of Entertainment News
Thank you for signing up to CinemaBlend. You will receive a verification email shortly.
There was a problem. Please refresh the page and try again.