Every Major Spider-Man: No Way Home Rumor (And How Likely They Are To Be True)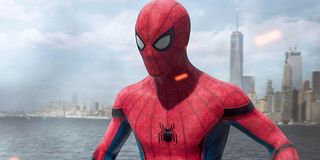 For a movie that's due to land in theaters in less than a year, there's still an ocean of uncertainty regarding Jon Watts' upcoming Spider-Man: No Way Home. Filming on the third Tom Holland Spider-Man film recently wrapped in Atlanta, and the shoot certainly has been plagued by an ample amount of Spider-Man 3 rumors, which the production chose not to address and the Internet chose to fan until the fires of speculation raged.
Marvel Studios fans tend to do this. Do you remember the staggering number of rumors that swirled around WandaVision as that television series approached its season finale? Mephisto was supposed to show up, the multiverse was supposed to be explored, and Doctor Strange (Benedict Cumberbatch) was rumored to save Wanda (Elizabeth Olsen) from the mess she had created. None of these came true. So, we take Spider-Man 3 rumors with a grain of salt, and figured it was time to dive into each juicy story we've heard regarding Spider-Man: No Way Home and decide whether it sounds real… or really phony.
Rumor: Tobey Maguire And Andrew Garfield Show Up
We have to start with the Mack Daddy Rumor of them all, which is that original Spider-Man actors Tobey Maguire and Andrew Garfield are expected to reprise their roles and join current Spider-Man Tom Holland in what amounts to a live-action Spider-Verse movie. Both actors have been finished with the Spider-Man franchise for some time now, and Garfield actually left on semi-bad terms, with Sony pulling the plug on his series in favor of turning the character over to Marvel Studios. When it comes to Spider-Man 3 rumors, none are quite as big, or as beloved, as this one.
Status:
Possible, but not quite in the way that fans hope. There has been little to no credible evidence suggesting that Tobey Maguire or Andrew Garfield will appear in Spider-Man: No Way Home. The hints that fans online have used to prove this rumor include a DoorDash driver who claims he served "that guy" who played Spider-Man, and social media posts from Garfield's former stuntman. If Sony really got the original Spider-Man actors back, I think they'd be screaming it from the rooftops. The reveal is too massive to keep hidden until opening day. What I imagine is that we may see a cameo of the actors hinting at a team up down the road, but I don't think we'll get full-on action scenes with Holland, Garfield and Maguire fighting side-by-side.
Rumor: Peter Parker Is On The Run In The Movie
Seeing as how Spider-Man's true identity was revealed by Mysterio (Jake Gyllenhaal) at the very end of Spider-Man: Far From Home, this sequel has to pick up that plot thread and see it through. The rumor is that Spider-Man will essentially be in hiding as Spider-Man: No Way Home begins (and plays out), and the title of the movie suggests this is true. The last thing he'd want to do is endanger Aunt May (Marisa Tomei) and Peter Parker's friends.
Status:
This feels solid. The "secret identity" reveal is such a bombshell, we can't see Spider-Man: No Way Home ignoring it. Set photos from Atlanta have even suggested that society is choosing sides in the conversation, teaming up with Mysterio and/or supporting Spidey in the controversy. It feels like Spider-Man: No Way Home will have to address the aftermath of this happening right after Peter's summer trip, but set photos also suggest that Spider-Man: No Way Home occurs around Christmastime, so there will be a time gap that will have to be accounted for. Is Spidey missing that whole time?
Rumor: Jake Gyllenhaal Returns As Mysterio
When last we saw Quentin Beck (Jake Gyllenhaal), the master of illusion appeared to be dying at the feet of Spider-Man (Tom Holland), having failed to fool the hero one last time. Beck, after being shot by his own drones, issued a fateful warning about people being willing to "believe" anything. The villain said he had contingency plans. Do you really believe him to be dead?
Status:
I believe this one, though I'm putting a caveat on the term "returns." As you will see when you continue reading, Spider-Man: No Way Home already is a stuffed affair. And we have seen more than a few Spider-Man sequels struggle under the weight of having too many villains. So while I think it's extremely possible that we will see some indication that Mysterio survived that confrontation in London -- especially with the presence of these "Mysterio Spoke Truth" flyers spotted around Atlanta -- I'm not sure Gyllenhaal ever went to set and filmed original scenes for Spider-Man 3.
Rumor: Alfred Molina Returns As Doctor Octopus
The Hollywood Reporter shook up the Spider-Man 3 rumor game when they reported that Spider-Man 2 star Alfred Molina was joining the cast of Spider-Man: No Way Home as Dr. Otto Octavius. Naturally, this caused confusion, as Octavius was the villain in Tobey Maguire's second Spider-Man movie, so how is he able to be part of Tom Holland's Spidey films?
Status:
Very credible, and I say this because of the reports in a major trade. This isn't a movie blog. It's The Hollywood Reporter, and the trades most often are fed news items by the studios themselves when they want to get major rumors confirmed. Now, the studio going radio silent on the Alfred Molina casting is suspicious. Perhaps we'll see a glimpse of his Doc Ock in the first Spider-Man: No Way Home trailer? But given the fact that reliable outlets comfortably reported this, I'm betting good money on it.
Rumor: Willem Dafoe Also Returns As The Green Goblin
The Spider-Man franchise never seemed fazed by the fact that Norman Osborn (Willem Dafoe) was killed by his own Goblin Glider in the closing minutes of Sam Raimi's original Spider-Man. Dafoe returned for all three Raimi films, so the rumor that he'd revive The Green Goblin for this upcoming Spider-Man: No Way Home has Raimi fans salivating.
Status:
I'm calling this one unlikely. No legit source ever confirmed Willem Dafoe as being part of the Spider-Man: No Way Home casting call, and his Green Goblin was attached to a flurry of villain names (like Thomas Hayden Church's Sandman and Dane DeHaan's Goblin) that sprung from a 4chan rumor thread that was wrong about WandaVision. Since the source was wrong, this rumor feels wrong, so I wouldn't count on Dafoe getting back into the Green Goblin armor.
Rumor: Jamie Foxx Plays Electro Again
Part of the idea of Spider-Man: No Way Home being a massive multiverse movie -- with Tobey Maguire and Andrew Garfield stepping into the Marvel Cinematic Universe -- is that the sequel also will pull villains from those existing Sony Spider-Man movies. It's an extremely ambitious fan theory, and one of the seemingly credible reports state that Jamie Foxx, who played Electro in Marc Webb's The Amazing Spider-Man 2, will revive the villain for this crossover event.
Status:
This seems very likely, particularly because Jamie Foxx addressed the rumor shortly after it started making the rounds, and commented specifically that this time, his version of the character wouldn't be all blue. The comments were removed from Foxx's Instagram, though not before quick fans screengrabbed it for posterity. Because we can confirm one Raimi villain and one Webb villain, I'm betting on the fact that Doctor Strange will show MCU Spidey the multiverse, and we'll get a shot of Doc Ock and Electro fighting their different Spider-Men, teasing a team up that will happen in a different movie.
Rumor: Charlie Cox Will Play Daredevil In This Movie
Matt Murdock (Charlie Cox) and his costumed alter ego, Daredevil, were part of Netflix's Marvel universe, and NOT part of the MCU. But that hasn't stopped some fans from speculating online that Murdock will appear in Spider- Man: No Way Home, possibly as an attorney defending Spider-Man in court for the murder of Mysterio, for which he has been accused.
Status:
This isn't happening. There's so much heavy lifting that would have to happen behind the scenes to make Matt Murdock fit into the MCU. The Netflix world always has been separate from what was happening in the MCU. There's so much going on in Spider-Man: No Way Home as it is. Do you really think we're going to detour into a legal drama, and have Charlie Cox play Murdock but not play Daredevil opposite Tom Holland's Spider-Man? Personally, I'm not buying it.
Rumor: Spider-Man: No Way Home Will Introduce The MultiVerse
Keep in mind that this one now circulates because WandaVision did not fully introduce the concept of the Multiverse, as fans thought would happen. As it turns out, Evan Peters playing Quicksilver was more of a joke (people are still mad about that), so now Spider-Man: No Way Home is being looked at as the MCU movie that will open the door even further on the multiverse concept.
Status:
Probable. The idea of the multiverse has been around in the MCU, mentioned in movies like Doctor Strange and Avengers: Endgame. Its potential hasn't been properly explored, and that might be tabled until Sam Raimi's Doctor Strange in the Multiverse of Madness, which hits theaters on March 25, 2022. But Marvel Studios President Kevin Feige has stated that WandaVision, Spider-Man 3 and Doctor Strange 2 connect under the umbrella of the multiverse, so it makes a lot of sense for Spider-Man: No Way Home to expand on the existence of parallel existences.
Rumor: Jacob Batalon Will Become the Hobgoblin
Since 2017's Spider-Man: Homecoming, actor Jacob Batalon has played Peter Parker's best friend, Ned Leeds (even though he's much closer in comparison to Miles Morales' best friend in the Marvel comics, Ganke Lee). The rumor suggests that at some point in Spider-Man: No Way Home, Ned will "freak out" and assume the role of the Hobgoblin, a famous villain from the Spider-Man comics.
Status:
There is zero percent chance this is happening. Yes, Ned Leeds ends up becoming the Hobgoblin in the comics. But nothing about Batalon's portrayal of Ned on screen suggests he'd ever snap and become a villain. Also, the Hobgoblin only happened because the Green Goblin already had been established for decades, and there's no way the MCU is going to leapfrog over that history to get right to another villain without exploring Norman and/or Harry Osborn. This rumor never made any sense. It will not happen.
How many of these rumors do you think are true? Thankfully, we don't have to wait very long to find out. The final quarter of 2021 is loaded with Marvel content, including Shang-chi and the Legend of the Ten Rings, Chloe Zhao's Eternals, and Spider-Man: No Way Home. Stay up to date on all of the upcoming Marvel movies by bookmarking our guide and checking it often.
Sean O'Connell is a journalist and CinemaBlend's Managing Editor. He's frequently found on Twitter at @Sean_OConnell. ReelBlend cohost. A movie junkie who's Infatuated with comic-book films. Helped get the Snyder Cut released, then wrote a book about it.
Your Daily Blend of Entertainment News
Thank you for signing up to CinemaBlend. You will receive a verification email shortly.
There was a problem. Please refresh the page and try again.