Why James Cameron Has A Bigger Concern Than How Much Avatar 2 Will Make At The Box Office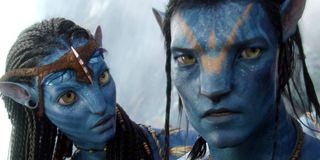 CinemaBlend participates in affiliate programs with various companies. We may earn a commission when you click on or make purchases via links.
James Cameron's Avatar is the highest-grossing movie of all time after retaking its throne from Avengers: Endgame earlier this year. The sequels to Avatar have been habitually delayed and seemed like they would never see the light of day on numerous occasions. Despite that, Avatar 2 continues to inch forward, adding Kate Winslet to its roster of actors. James Cameron still has his concerns, though, but they aren't about how much Avatar 2 will make at the box office.
How much a movie can make at the box office is a driving force in the film industry, and the reason we see such a premium put on franchises like the Marvel Cinematic Universe and Avatar. James Cameron made the biggest move of all time concerning box office, creating a property that will always be the at the pinnacle of giant event movie making. James Cameron can't worry about how much Avatar 2 will make when he's really worried about people getting back to theaters. During his appearance on The Tonight Show Starring Jimmy Fallon, he said:
James Cameron is correctly worried about the state of movie theaters, and if people will be willing to attend theaters to see movies in the near future. With iconic theaters and major theater companies closing all over the country due to the pandemic, filmmakers like Cameron are concerned about the future of their life's passion. Surely though, big event movies like Avatar 2 will be a driving force in the continued importance of the movie-going experience.
The production Avatar 2 has provided adorable motion capture images, as well as James Cameron threatening to fire the entire writer's room. The sequel is also juggling bringing back already deceased characters and filming underwater. Whatever the final outcome, Avatar 2 is shaping up to be another innovative record-breaking James Cameron movie.
James Cameron is synonymous with box office success. The future of movie-going is a big concern for filmmakers and theaters, and hopefully, there is light at the end of the tunnel during this time of crisis in the movie industry. Whenever it does, James Camerons Avatar 2 is at the forefront of some normalcy for movie fans.
Avatar 2 is currently slated to hit theaters on December 16, 2022.
Your Daily Blend of Entertainment News
Movie and TV obsessive. A good Heist movie is the way to my heart. Enjoyer of everything from Marvel Movies to Rom-coms.