Does Russell Crowe's Thor 4 Character Mean A Major Marvel Hero Is On The Way?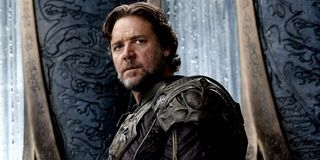 The Asgardians aren't the only "gods" on the Marvel Cinematic Universe block anymore. Although we've known since late March that Russell Crowe will appear in Thor: Love and Thunder, it wasn't until a few days ago that we finally learned who he's playing: Zeus, king of the Greek gods, or Olympians if you prefer. While the DC Extended Universe already showed off Zeus and some other Greek deities in Wonder Woman and Justice League, this will mark the first time this branch of mythology is being explored in the MCU.
Now granted, Russell Crowe's role in Thor: Love and Thunder was previously described as a cameo. So assuming that's true, we might not be spending that much time with his version of Zeus. However, with Christian Bale's Gorr the God Butcher causing trouble in the movie, it makes sense that he wouldn't only be targeting the Asgardian God of Thunder. But Zeus' inclusion in the next Thor movie poses an interesting question: does this mean that Marvel's version of Hercules is also on the way?
Who Is Marvel's Hercules?
Based on the Greek god Heracles (which is who Hercules from Roman mythology was adapted from), Marvel Comics' Hercules debuted in 1965's Journey into Mystery Annual #1, the series that Thor was leading. Like other Olympian gods, Hercules has powers like super strength (he's actually the strongest Olympian), super speed, super durability, super stamina and immortality. In addition to being a recurring character in Thor's stories over the decades, Hercules has also been a longtime member of the Avengers, as well as served on teams like the Champions, the Defenders and the Heroes for Hire. Hercules has also struck up a close partnership in recent years with Amadeus Cho, another hero who has yet to grace the MCU.
Although he's rather boastful and can sometimes come across as arrogant, Hercules is a noble hero who's always willing to stand up for what he believes is right. It's also worth noting that while Hercules usually battles his opponents with his hands, he's occasionally wielded a golden mace that's just as durable as Thor's hammer Mjolnir, though it doesn't have any additional magical abilities. Outside of the comics, Hercules has appeared on animated shows like Hulk and the Agents of S.M.A.S.H. and video games like Marvel: Ultimate Alliance 2 (as an NPC).
Could Hercules Be Heading To The MCU?
Needless to say that Thor: Love and Thunder is a Thor story first and foremost, although in this instance, that means Chris Hemsworth's character will share the spotlight with Natalie Portman's Jane Foster, as she will transform into The Mighty Thor. Regardless, even if Russell Crowe's Zeus is doing more than cameoing, it's unlikely he'll have a major role in the movie. As already noted, it's likely he's been thrown in to clue in folks unfamiliar with Marvel Comics lore that there are other deities out in the cosmos aside from the Asgardians who inspired Norse mythology, and Gorr the God Butcher had made it his mission to eliminate all who classify themselves as gods.
All this being said, it's hard to imagine that Zeus' appearance in Thor: Love and Thunder is a one-and-done affair. It's easy enough to imagine him popping back up in the MCU, whether that's in a hypothetical Thor 5 or another cosmic MCU project. Why go to the trouble of featuring a Greek god if you don't plan on exploring this mythos further? More importantly, if you're bringing Zeus in, you might as well introduce his mighty son too, as Hercules is a far more well-known player in the Marvel universe. Before Russell Crowe's character Love and Thunder character was identified, I would have said that Hercules' chances of appearing in the MCU weren't terribly strong, but now that Zeus is on the table, I'm confident we will eventually see Hercules in this franchise.
How Could Hercules Be Featured In The MCU?
So assuming Hercules is indeed heading to the MCU, where could we see him? Well, considering his history with Thor, my first bet would be the aforementioned Thor 5, which hasn't been announced (though Chris Hemsworth has expressed interested in reprising Thor after Love and Thunder). It's easy enough to imagine a story where Thor and Hercules join forces to defeat an enemy that neither of them can handle on their own. But if another Thor movie isn't an option, perhaps one of the more cosmically-charged MCU movies could be a good platform for him to debut, like Captain Marvel 3, Fantastic Four. Hell, while this is more of a long shot, I could see Hercules somehow factoring into the Secret Invasion series.
It's also possible that Hercules could be the lead of his own movie or TV series, but given how crowded Marvel's film and Disney+ slate is, I'm guessing he'll either be kept strictly as a supporting character in other protagonists' stories or take part in some sort of ensemble adventure we haven't heard about yet. (Who's game for a Champions movie or TV show?) Plus, with Disney developing a live-action remake of 1997's Hercules, I doubt the Mouse House wants to have two same-named movies coming out within just a few years of each other. As for who'd be a good pick to bring Hercules to life in the MCU, I've never been good at fan-casting, so I'll leave it up to you readers to share your top picks with your friends and on social media.
Thor: Love and Thunder storms into theaters on May 6, 2022, and other things fans can look forward to from the movie are the Guardians of the Galaxy showing up, Valkyrie searching for her queen, Lady Sif returning and the God of Thunder riding around on some spacefaring goats. In addition to reprising Korg, Taika Waititi is back in the director's chair following his time helming Thor: Ragnarok, and he also co-wrote Love and Thunder's script with Jennifer Kaytin Robinson. As for Hercules, rest assured that if it's announced that he's joining the MCU, we'll let you know.
In the meantime, don't forget to look through our upcoming Marvel movies guide to learn what else the MCU is sending to the big screen.
Connoisseur of Marvel, DC, Star Wars, John Wick, MonsterVerse and Doctor Who lore. He's aware he looks like Harry Potter and Clark Kent.
Your Daily Blend of Entertainment News
Thank you for signing up to CinemaBlend. You will receive a verification email shortly.
There was a problem. Please refresh the page and try again.