Marvel's Kevin Feige Makes Eternals Sound Gorgeous Thanks To Chloé Zhao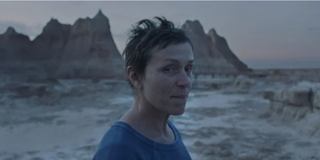 Chloé Zhao is fresh off winning Best Director and Best Picture for her incredible film Nomadland. Zhao is one of the most talented and now decorated directors in the industry, and her next movie, Eternals, is poised to change the Marvel Cinematic Universe. In his recent remarks about Eternals, Marvel's Kevin Feige makes the film sound gorgeous, and it's all thanks to Chloé Zhao.
Kevin Feige was asked about Chloé Zhao, and her ambitious work on Eternals following her recent Oscar wins. Pegged initially to direct Black Widow, Zhao would eventually be given the green light to make Eternals after an impressive and inspiring pitch. The vision of Zhao has impressed Feige and changed the way the film was approached as opposed to other MCU movies telling Variety:
Kevin Feige, who has recently updated fans on Doctor Strange 2, was impressed by the practicality and beautiful on-location shots that a filmmaker like Chloé Zhao is capable of. Feige and Marvel had to be convinced by Zhao that on-location shooting would benefit the movie and create a visually striking experience, and it seems the trust Feige and Marvel gave Zhao has resulted in a gorgeous film, unlike anything that has come before in the MCU. And with characters like Iron Man and Captain America in the rear view, the timing couldn't be better.
Marvel movies are heavily CGI-focused, and for a good reason. Depicting superpowered beings and environmental destruction is difficult, so CGI is a way for creators to overcome physical limitations. One big complaint about the MCU is the heavy amounts of CGI and background environments that don't always feel real. Chloé Zhao is looking to add her breathtakingly beautiful style to the MCU, and it might influence the way future MCU movies are approached.
Eternals will feature a super ripped Kumail Nanjiani, plus Godzilla Vs. Kong star Brian Tyree Henry and many others in a stacked cast. Eternals will tell a multi-millennia story about a race of immortal beings that shaped the world of the MCU as we know it. Chloé Zhao has one of the most anticipated superhero movies ready to go and is ready to break the mold of the Marvel Cinematic Universe.
Eternals will premiere in theaters on November 5. While we wait for more news about it, don't forget to visit out Marvel movies guide to learn what else the MCU is sending to theaters in the coming years.
Your Daily Blend of Entertainment News
Movie and TV obsessive. A good Heist movie is the way to my heart. Enjoyer of everything from Marvel Movies to Rom-coms.