Arnold Schwarzenegger Has A Suggestion For The 2022 Oscars Ceremony, And It's So On Brand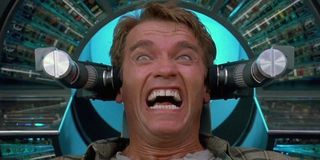 Action icon Arnold Schwarzenegger knows what excitement and entertainment require and what the audience needs. His legendary roles have resulted in him being named the celebrity most likely to fend off an alien invasion by fans. He has so many iconic one-liners that he drops them so much he annoys his family. So since Schwarzenegger is such a crowd-pleaser, he has a suggestion for next year's Oscar ceremony, and it's completely on brand.
Every year, the Oscars are the place where the movie industry comes together and puts on a show for the world to give out the highest honors to the best films, filmmakers, and actors. Over the past several years, the Oscars ceremony has been met with mixed reviews. Some people love it, some people hate it, and the award show constantly shakes up its formula to keep people interested. Arnold Schwarzenegger hilariously explained what he thought of the show and what the Oscars can do to improve, saying on Jimmy Kimmel Live!:
Arnold Schwarzenegger tells jimmy Kimmel he only watched about a third of the Oscars because it was so boring to him, jokingly saying he didn't even know if he won or not. Many stars and talented people were involved in the production, and Arnold was disappointed in how dull he thought the show was despite the amount of talent in the show. His solution, of course, is right in his wheelhouse, suggesting moving the Oscars to his old stomping grounds -- Muscle Beach.
The 2021 Oscars had a lot to overcome, mainly being held during a global pandemic and requiring everyone attending to go through rigorous quarantining and testing that allowed the show to be a maskless ceremony. The ceremony, like every Oscars, was very hit and miss, but it did have a distinct style directed by master filmmaker Steven Soderbergh and some genuinely memorable moments. Arnold was in the camp that didn't care for the show, and it's a shame he didn't stick around to see Glenn Close do "Da Butt" on live television.
Arnold Schwarzenegger might be on to something regarding the Oscars needing an infusion of entertainment, but I don't know if the solution lies at Muscle Beach. Still, the Total Recall star's legacy is undeniable, and the man knows the movie industry and what constitutes a good time. He's also been to his fair share of awards shows over the years. So if he says the Oscars were dull, he may indeed be on to something.
Your Daily Blend of Entertainment News
Movie and TV obsessive. A good Heist movie is the way to my heart. Enjoyer of everything from Marvel Movies to Rom-coms.