Arnold Schwarzenegger Responds After He's Named The Celebrity Most Likely To Fend Off An Alien Attack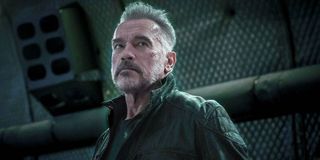 Over the course of his illustrious career, Arnold Schwarzenegger has done a lot. He's taken on the leader of a snake cult, returned from the future to battle an evil Terminator and even worked undercover as a kindergarten teacher. Of course, he only did all of this through his roles on the big screen. Nevertheless, many people do think highly of Schwarzenegger and his skills, so much so that he was recently voted the public figure most likely to fend off an alien invasion. With this, Schwarzenegger has taken to social media to respond.
In the UK, a study involving 2,000 adults was recently conducted with the goal of determining which celebrities and public figures would be best equipped to fight off an alien attack. Per Daily Express, Arnold Schwarzenegger was the top choice, followed closely by Will Smith. Other names on the star-studded list include the likes of Tom Cruise Sigourney Weaver and Harrison Ford.
Arnold Schwarzengger is many things, but one thing he's proven to be over the years is humble. And that was definitely clear when he jokingly responded to the findings of the study. Check out his A+ Instagram response down below:
While it's definitely interesting that the public would look more to celebrities for guidance in taking on an alien invasion, it's not hard to see why Arnold Schwarzenegger would be at the top of the list. His exploits on the big screen are legendary at this point, especially when it comes to dealing with extraterrestrials. Many fans will likely remember his role as Alan "Dutch" Schafer in Predator, which saw him go toe to toe with an advanced alien.
One thing that isn't quite clear from the survey is whether or not the public feels Arnold Schwarzenegger would be most suited to lead the fight against an invasion as a fighter or as a politician. Though given the other names on the list, it's possible this could be referring to his fighting skills. Because the actor is now 73, some may not be sure of what he could do now. However, based on the way he maintains his physique even now, I still wouldn't count him out in a fight.
Although Arnold Schwarzenegger hasn't actually been called upon to defend the world from aliens, he has proven to be a fighter in other ways. Last year, he underwent his second heart surgery and, after resting up properly, he was quickly out and about and enjoying life again.
It's safe to say none of us are hoping for an alien invasion to happen any time soon (at least, I hope that's not the case). But it would definitely be interesting to see how someone like Arnold Schwarzenegger would handle things.
If you need to brush up on Arnold Schwarzegger's skills or see them in action for the first time, Predator is available to stream on Hulu.
Covering superheroes, sci-fi, comedy, and almost anything else in film and TV. I eat more pizza than the Teenage Mutant Ninja Turtles.
Your Daily Blend of Entertainment News
Thank you for signing up to CinemaBlend. You will receive a verification email shortly.
There was a problem. Please refresh the page and try again.