Why Star Wars: The Force Awakens Was Michael B. Jordan's 'Worst' Audition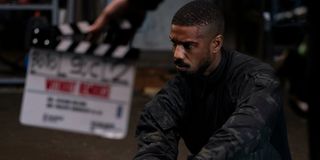 Michael B. Jordan is enjoying the release of his newest film, Tom Clancy's Without Remorse, which has had some mixed reception from fans, but all agree Jordan is the best part of the action espionage movie. The man who can't escape his sexiest man alive title and who can still dress for the red carpet at home is a veteran in the industry and has had his share of experiences, good and bad, in the search for new roles. Now, Jordan explains why Star Wars: The Force Awakens was his "worst" audition ever.
Michael B. Jordan has played some big-name characters in huge franchises like Creed and Black Panther, so he has been through some intense and high-pressure audition processes. Yet things didn't work out in Jordan's favor when he read for J.J Abrams' Star Wars: Episode VII. The actor recently talked to the Just for Variety podcast about his experience auditioning for a role in the Star Wars sequels, saying:
Michale B. Jordan says the vague nature of the audition threw him for a loop. Big-name franchises are very secretive about the details of movies that are in development, so they probably couldn't provide much context or real motivation for an actor to latch on to in an audition. Jordan says he couldn't find that connection to the material he was given and bombed the audition, resulting in his worst audition to date. Despite this, the audition doesn't seem to have deterred Jordan at all, as he still went on to establish himself as a megastar.
Star Wars: The Force Awakens was released back in December 2015, the month after the release of first Creed movie. Jordan missed out on one mega-franchise but ended up headlining one of his own and followed it up with his iconic role as Erik Killmonger in Black Panther. Maybe if he landed the Star Wars role, we wouldn't have gotten Adonis Creed or Killmonger, so perhaps it worked out for everyone.
Michael B. Jordan has a number of projects on the horizon including Denzel Washington's A Journal for Jordan and Creed 3, which he'll also direct. On top of this he's constantly been rumored to return to the Black Panther franchise as Killmonger, and he recently had some blunt thoughts about that possibility. Still, he has confidence in Black Panther director Ryan Coogler's ability to handle moving the franchise forward after Chadwick Boseman's tragic passing.
The consistent demand for Michael B. Jordan's talents are just a testament to his talent and draw as an actor. Whatever the future holds for him, it can probably be said that bad auditions are probably a thing of the past for the superstar.
Movie and TV obsessive. A good Heist movie is the way to my heart. Enjoyer of everything from Marvel Movies to Rom-coms.
Your Daily Blend of Entertainment News
Thank you for signing up to CinemaBlend. You will receive a verification email shortly.
There was a problem. Please refresh the page and try again.