Michael B. Jordan Can't Escape His Sexiest Man Alive Title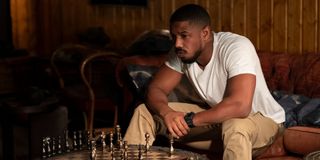 Michale B. Jordan has a lot going on for himself. His new movie Tom Clancy's Without Remorse, has just dropped. The action film required some intense training, contained some wild stunts, and forced Jordan to hold his breath for crazy amounts of time. Micheal B. Jordan is a bonafide action star and movie tough guy now, but he can't escape his sexiest man alive title.
The Creed and Black Panther star is also People's reigning sexiest man alive. It's quite the accomplishment, joining the storied ranks of previous winners and has solidified Micheal B. Jordan's mainstream appeal. Jordan can't quite escape his sexiest man title, especially with dealing with his friends and loved ones telling People:
It seems the title of sexiest man alive has become the go-to jab for Michale B. Jordan's family and friends. Everything Jordan does, there's someone in the vicinity making a funny comment about his title. There's no better way than to show your pride for someone than by busting their chops occasionally, and Michael B. Jordan is no exception.
Michael B. Jordan is a good sport in everything, taking the loving jabs from his family and friends in stride like someone rumored to play Superman should. The only way it could get worse is if he wins the award back to back. Staying humble and taking leaps in his seems to be Jordan's consistent strategy, so it's no surprise he can have some fun at his own expense.
Without Remorse is appointment viewing for any action movie fan with Michael B. Jordan playing an Ex-Navy Seal on a mission for vengeance. Without Remorse is already inspiring rumors and curiosity on a possible Rainbow Six movie as a follow-up for Jordan. More Michael B. Jordan in the Tom Clancy-verse would be a big win for fans.
Micheal B. Jordan has been tapped to direct Creed 3, marking agiant leap in the actor's career. Jordan is gearing up to come out of a lost year at the hands of the pandemic firing on all cylinders, and Without Remorse is the first of many projects in the queue for Jordan. The reigning sexiest man alive is poised to defend his title and do so much more in 2021.
Movie and TV obsessive. A good Heist movie is the way to my heart. Enjoyer of everything from Marvel Movies to Rom-coms.
Your Daily Blend of Entertainment News
Thank you for signing up to CinemaBlend. You will receive a verification email shortly.
There was a problem. Please refresh the page and try again.