Without Remorse: What Fans Are Saying About The Michael B. Jordan Movie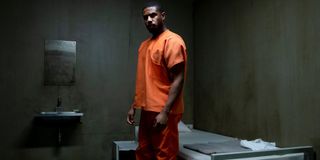 Recently, Amazon Prime Video released the long awaited film adaptation of Tom Clancy's Without Remorse. Based on the 1993 novel of the same name, there was a fair amount of hype surrounding this film, as Michael B. Jordan's entrance into the Clancyverse had a lot of expectations attached. With the film released to audiences, the reactions have been pouring in, and the results say quite a bit about what the public thinks about Without Remorse. Here's what the fans have been saying about the latest addition to Michael B. Jordan's movies.
Fan Reactions To Without Remorse's Story Are Pretty Mixed
As with any action movie, Without Remorse happens to have its fair share of supporters and detractors. There is a tendency for Tom Clancy-esque stories to feel a bit traditional in the realm of counterterrorism, especially when you consider that Clancy helped write the playbook. Which leads to our first reaction:
"Below par" is kind of sad when you think of a Michael B. Jordan movie. It should definitely be noted to put a pin in the subject of Without Remorse's lead, as he's definitely a subject fans have been talking about. But on the better side of the street, there are those who did happen to enjoy Prime Video's latest acquisition from Paramount. And it's in spite of that supposed lack of anything "new or crazy," as our next fan will point out:
So Without Remorse isn't a slam dunk that fans all over can support, but at the same time there's is a contingent of viewers that enjoyed the film. It's been a while since a Tom Clancy movie has been in theaters, and with Prime Video's Jack Ryan doing so well, it's no surprise that some people would dig into this throwback. And, of course, it helps that Michael B. Jordan is the one playing potential franchise lead John Kelly, aka John Clark.
Michael B. Jordan Is, Without Question, One Of Without Remorse's Best Features
Say what you will about Without Remorse's thematic content, but there are still certain factors that have pleased fans with the finished product. Without question, one of the film's most beloved aspects is Michael B. Jordan himself. In fact, one viewer went as far as to label Mr. Jordan with a rather important distinction. One that, if it's shared by enough fans, just might get the sequel that Without Remorse's ending teased:
That's all well and good, as Michael B. Jordan is one of those insanely popular stars that has a built in fanbase. Movies like Without Remorse depend on that to put butts in seats, or in this case, fans on streaming platforms. But there's a potential for this movie to win over some converts into the Jordan-sphere, as one particularly potent piece of praise highlighted:
If Without Remorse is enough to make people believers in the talent that is Michael B. Jordan, that's something that should be put on every poster and box art from this point on. While the reaction to the story was a little dicier, Jordan's star power is definitely still shining bright; something that the man should carry over to his directorial debut with Creed III.
Without Remorse Has Some Very Memorable Action Set-pieces
The impression of Michael B. Jordan's performance in Without Remorse is a fantastic achievement, as action movies aren't always known as acting showcases. But that doesn't mean Without Remorse lacked the firepower a Tom Clancy adventure should have in the modern age. And there's a couple of sequences that have kept people talking, starting with an insane sequence that saw John Kelly and his crew escaping from a sinking airplane:
Fun fact: to "get the gear," Michael B. Jordan learned to hold his breath for a crazy long time while making Without Remorse. That moment doesn't even hold the most memorable place in the hearts, minds, and panic attacks of viewers that beheld this particular film. Yes folks, it's time to talk about that car interrogation scene:
How do you not flip out while watching a hero like John Kelly interrogate a man in a burning car? It's literally one of the moments they used to promote the film in the trailer, and you can see why Without Remorse fans are losing their minds over it. Here's another reaction to that very same scene:
It's starting to sound like Without Remorse may have been a solid run at a new action franchise. Which is great, considering the crossover potential that John Clark has with the character of Jack Ryan. You should probably brace yourself though, as one single word in the film's mid-credits teaser clued the audience into where things are really going: "Rainbow."
That Potential Rainbow Six Movie Is Once Again On The Radar
If you weren't pumping your fists and grinning like a maniac at the mention of Rainbow, it's ok. Those in the know were probably already wondering if Rainbow Six, another Tom Clancy novel to feature John Clark as a featured protagonist, was in the cards. One fan is already in on a Without Remorse sequel, as the Rainbow brand carries quite a bit of weight:
You don't even need to be a fan of the Tom Clancy novels to know the extent of the Rainbow Six brand. And as you'll see in this next reaction, a fan of the video games from the Clancyverse was drawn to watch Without Remorse. The results were pretty fantastic, if this next tweet is anything to go by:
We'll close out with an echo of something that was previously mentioned. Now that Without Remorse seems to have further planted the flag for Prime Video to be the home of the Clancyverse, there's a chance that Rainbow Six could be the bridge between John Kelly and Jack Ryan. And the fans aren't blind to that scenario either:
Even if Without Remorse wasn't a runaway hit that had fans on the same wavelength, there's enough common ground to show that Tom Clancy's best-sellers are still fertile ground for some movie magic. Of course, that will depend on the numbers that come out of Michael B. Jordan's big debut in this universe, which means the fans need to put their support where it counts. Without Remorse is currently streaming on Prime Video (opens in new tab), but if you've already seen the film, you can check out the other 2021 movie premiere dates that await your cinematic hunger.
Senior Movies Contributor
CinemaBlend's James Bond (expert). Also versed in Large Scale Aggressors, time travel, and Guillermo del Toro. He fights for The User.
Your Daily Blend of Entertainment News
Thank you for signing up to CinemaBlend. You will receive a verification email shortly.
There was a problem. Please refresh the page and try again.