Michael B. Jordan Celebrated His Movie Premiere At His Crib But He Still Looks Dapper AF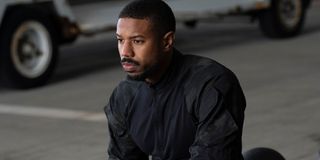 Tom Clancy's Without Remorse made its streaming this this weekend and lead actor Michael B. Jordan is taking a victory lap in a pretty smooth way. The film that forced Jordan to hold his breath for crazy long periods of time and required some intense training is an action-packed showcase for the Creed and Black Panther star. Jordan may have had to celebrate his movie premiere at his crib, but he still looked dapper AF doing it.
There was no major premiere event to go to for Without Remorse and, like a lot of us, Michael B. Jordan was forced to make it work at home. Faced with that situation, why not celebrate your new movie with a premiere at home with some family and friends, and why not be red carpet ready while doing it? That's exactly what Jordan did, as he posted his fit for his at-home premiere on Instagram:
Michael B. Jordan was clearly just looking for an excuse to bust out a fit he had been saving, and what better reason than for your new movie dropping on Amazon? The pandemic has limited the number of big celebrations and film events, so it's easy to picture actors like Jordan chomping at the bit to dress up and celebrate. Without Remorse (along with its Rainbow Six spin-off potential) is a pretty good reason to exchange sweat pants for something more dapper.
Michale B. Jordan has come a long way in his career, recently reflecting on his first movie with one of his heroes, Keanu Reeves, to now having to endure jabs about his sexiest man alive title. Jordan has become a mega-star in his own right, and Without Remorse is no better sign of an actor that's in a groove.
Michael B. Jordan has been announced as the director of Creed 3, making his directorial debut in the process. Jordan is taking big swings and is making an effort to elevate his career and establish a unique legacy of his own. The actor has already played some iconic roles, and fans cant wait to see what's in store for him in the coming years.
Without Remorse, the first project for Michael B. Jordan after 2020 was a lost year due to the pandemic, has been a success. Jordan has a lot of projects in the works as well as rumors of him taking up the mantle of Superman and speculation about his return to the Black Panther franchise. The options for Jordan seem to be endless, and fans cant wait to see what's in store because they know it will more than likely be epic.
Tom Clancy's Without Remorse is currently available to stream on Amazon Prime.
Your Daily Blend of Entertainment News
Movie and TV obsessive. A good Heist movie is the way to my heart. Enjoyer of everything from Marvel Movies to Rom-coms.
Your Daily Blend of Entertainment News
Thank you for signing up to CinemaBlend. You will receive a verification email shortly.
There was a problem. Please refresh the page and try again.