Zack Snyder's Army Of The Dead Reactions Are In, Here's What People Are Saying About The Netflix Action Thriller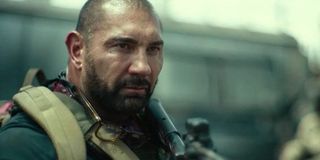 What a year for Zack Snyder! First his long-awaited Snyder Cut of Justice League finally released, and now we're getting a zombie heist action thriller from the director. He directed and co-wrote Army of the Dead, which stars Dave Bautista, Ella Purnell, Ana de la Reguera, Matthias Schweighöfer, and Nora Arnezeder. In this new movie, a group of mercenaries take the ultimate gamble after a zombie outbreak in Las Vegas, venturing into the quarantine zone to pull off the greatest heist ever attempted.
Army of the Dead will release on Netflix on May 21, but in select theaters (which is a big deal for the streaming service) on May 14. Though we have a while to wait until the film debuts, some critics have already seen it, and they've started to share their thoughts on social media.
Our very own Sean O'Connell (who knows a thing or two about Zack Snyder) got to see an early screening of the Dave Bautista-led zombie thriller, and it's safe to say that he loved it! He called the film "legit terrifying" and a total blast, while also commending the comedy. O'Connell said:
Kirsten Acuna, a correspondent at Insider, also enjoyed Army of the Dead! She commended the refreshing concept and was intrigued with the storytelling. Acuna said:
Scott Menzel of We Live Entertainment is also singing the movie's praises. He called Army of the Dead a "violent, gory, and bloody blast." Now that's what we like to hear! Menzel also commended the epic opening credits and gave a special shout out to Matthias Schweighöfer, noting that he steals every scene. Menzel says:
The positive reactions to the zombie heist thriller just keep on coming. Collider's Perri Nemiroff commended Zack Snyder's direction and called it a "downright stunning display of zombie mayhem and carnage." Nemiroff said:
Ashley Menzel, journalist for We Live Entertainment, called Army of the Dead a must-see. She commended Dave Bautista and his fellow cast members for an epic, "no holds barred" adventure, saying:
The reactions for Army of the Dead aren't completely positive across the board. While Brandon Katz from Observer enjoyed the humor and commends Snyder for the awesome opening credits (man, I can't wait to see those), he noted that the thriller is still pretty familiar. He said the movie sets up a "potentially interesting wrinkle with zombie culture" but then does absolutely nothing with it, and he wanted more. Katz said:
Well, it looks like most critics really enjoyed Snyder's Army of the Dead, but we'll have to wait until the film releases on Netflix (and in some theaters) on May 21 to see what audiences think about the Dave Bautista-led action thriller (But you don't have to wait to find out his thoughts on the movie).
In the meantime, check out everything else releasing on Netflix this month!
Your Daily Blend of Entertainment News