Indiana Jones And The Temple Of Doom: 13 Behind-The-Scenes Facts About The Raiders Sequel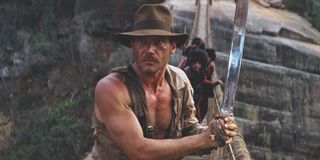 CinemaBlend participates in affiliate programs with various companies. We may earn a commission when you click on or make purchases via links.
Even a franchise as universally beloved as the Indiana Jones movies is not without its polarizing reactions - and no, I am not talking about 2008's Indiana Jones and the Kingdom of the Crystal Skull. I am, indeed, talking about the second film in the series (and the first, chronologically), 1984's Indiana Jones and the Temple of Doom, which puts Harrison Ford's heroic archaeologist on an adventure so unexpectedly and controversially dark that it would inspire a major change within the film industry. To learn more about that and other secrets of the thrilling sequel/prequel to Raiders of the Lost Ark, feast your eyes on these behind-the-scenes facts, starting with the truth behind some of its most iconic sequences.
Several Sequences Written For Raiders Wound Up In Temple Of Doom
When challenged with topping a movie like Raiders of the Lost Ark by delivering more exciting wall-to-wall action, all it took was looking at leftovers from the 1981 hit. On a behind-the-scenes featurette included on the Indiana Jones movies Blu-ray collection bonus disc, producer George Lucas and director Steven Spielberg admit that some of the most iconic sequences from Indiana Jones and the Temple of Doom were originally planned for the first film. In fact, the process of preparing the sequel actually began with picking out Raiders' best scrapped sequences before coming up with a story to build around them.
Willie Scott Was Named After Steven Spielberg's Dog
By now, it is practically common knowledge among any die-hard Indiana Jones fan that the character was named after George Lucas' dog, an Alaskan Malamute. As Steven Spielberg revealed on the making-of doc, this character naming method would carry over during the making of Indiana Jones and the Temple of Doom as Kate Capshaw's lounge singer Willie Scott was named after the director's dog. Furthermore, screenwriters Willard Huyck and Gloria Katz's dog, Short Round, inspired the name of Ke Huy Quan's character.
Ke Huy Quan Originally Accompanied His Brother To The Short Round Audition
Vietnamese actor and The Goonies cast member Ke Huy Quan made his film debut as Indy's orphaned sidekick Short Round - an iconic role he actually landed by accident. It was really his brother who had come in to audition for the part and he was accompanying him for moral support, however Temple of Doom executive producer and future LucasFilm President Kathleen Kennedy claims on the Blu-ray featurette that she and the other producers were more interested in Ke. They eventually convinced him to read for the part and history was made.
Kate Capshaw's Tight Dress Prevented Her Planned Dance Number
Speaking of making history, Steven Spielberg's West Side Story remake, one of the most anticipated 2021 movies, will see the filmmaker live out his dream of directing a feature-length musical, despite first getting his feet wet in the genre with the opening dance number from Indiana Jones and the Temple of Doom. The only one not really dancing during Kate Capshaw's Mandarin-language performance of "Anything Goes" is Capshaw herself, despite spending weeks before learning the choreography. Reason being: her sequined dress "fit like a glove" as the actress describes on the making-of doc, preventing her performing the dance she had very much looked forward to doing.
Strict Guidelines From India Forced The Crew To Shoot In Sri Lanka
The crew was very much looking forward to being able to shoot some scenes from Indiana Jones and the Temple of Doom on location in India, which ultimately did not happen, as the behind-the-scenes featurette from Indiana Jones: The Complete Adventures Blu-ray set (available on Amazon) (opens in new tab) reveals. Producer Robert Watts recalls negotiating with the Indian government for permission to film in their country, which was immediately met with demands for many major changes to the script. Not willing to conform to their wishes for the sake of artistic integrity, Watts phone George Lucas with the suggestion of moving the production to Sri Lanka in Southern Asia, which ended up still being a bit of a nightmare for one of the film's stars.
Kate Capshaw Fearfully Refused To Do A Planned Stunt Involving A Live Snake
Kate Capshaw's dance number was not the only stunt of hers that would get scrapped from Indiana Jones and the Temple of Doom. The actress admits on the featurette that she did not read the script carefully enough to know that a scene was planned which would force her to come into close contact with a live and rather large snake. Steven Spielberg recalled seeing all the color disappear from her face even through her makeup, convincing him to tell her not to worry about completing the scene, but only if she promised to film another famous sequence.
Kate Capshaw Took A Relaxant Pill Before Filming The Bugs Scene
Of course, Kate Capshaw would quickly come to regret agreeing to another scene in which she encounters a swarm of various bugs as she struggles to help Indy and Short Round escape a spike pit. However, she found solace in what she describes on the Temple of Doom featurette as a "relaxant," which put her in a more positive state of mind before the crew dumped buckets of roaches, centipedes, and all kinds of multi-legged vermin right on top of her. In reality, the one who would soon be in greater need of a relaxant drug was Capshaw's co-star.
Harrison Ford Suffered A Painful Back Injury On The Temple Of Doom Set
Harrison Ford is an actor with an extensive history of painful accidents, from a hydraulic door closing on his leg on the Star Wars: The Force Awakens set to crash landing an airplane on a Venice, California, golf course, among other aviation mishaps. One of his earliest high-profile injuries occurred while filming his fight with a Thuggee cult member in his Pankot Palace room, resulting in a herniated disc in his spinal cord. To understand the extent of the injury's pain, hear it from Ford himself on the Temple of Doom making-of doc:
Production on Indiana Jones and the Temple of Doom was shut down while Harrison Ford underwent an experimental papaya enzyme surgery that cured his herniated disc. However, he still needed time to fully recover and get himself back into shape, forcing the actor's stunt double, Vic Armstrong, to fill in for many of the action sequences you see in the third act. Believe it or not, Ford's injury was not the only one that affected production in some capacity.
Kate Capshaw Suffered A Glaring Black Eye On The Temple Of Doom Set
One moment from Indy, Willie, and Short Round's escape from the Temple of Doom sees Ke Huy Quan attack a Thuggee with a hunk of balsa wood. Kate Capshaw reveals in the Indiana Jones and the Temple of Doom featurette that a chunk of the wood flew off and hit her right under the eye, leaving her with a black mark that looked as if someone wiped a dap of makeup right underneath her eye. As a way to make her feel better, the entire crew arrived to set next day with black makeup under their eyes.
The Crew Invented Dummies With Kicking Legs For The Bridge Scene
The crew for the Indiana Jones and the Temple of Doom set were as creative as they were courteous. Case in point, the famous scene in which Indy takes a machete to a draw bridge, collapsing it and sending the surrounding Thuggees to the bottom of a ravine where they become alligator food. Robert Watts says in the making-of doc that, to create the illusion that live Thuggees were plummeting into the waters, the crew built life-size dummies that would actually "kick" as they fell.
Indiana Jones And The Temple Of Doom Helped Inspire The PG-13 Rating
These days, the sight of what appears to be live human beings falling to their deaths (among other more frightening and brutal subject matter throughout Indiana Jones and the Temple of Doom) would get an automatic PG-13, at least, but that was not the case in 1984. However, the borderline horror film's PG rating caused public outrage, especially among parents distraught over subjecting their children to the sight of a man's still beating heart pulled out of his chest. According to the Hollywood Reporter, Steven Spielberg, who had gone through similar controversy that same year as a producer on Gremlins, called up MPAA head Jack Valenti suggesting a rating between PG and R and, the next thing he knew, PG-13 was born.
George Lucas Cites His And Steven Spielberg's Romantic Troubles As What Led To Such a Dark Sequel
While some might place it above 2008's Indiana Jones and the Kingdom of the Crystal Skull, Temple of Doom is one of the lesser liked films in the Indiana Jones movies series for many fans and critics, particularly for being such an aggressively dark transition from Raiders of the Lost Ark. Producer George Lucas expressed to Grantland his own explanation for why the sequel turned out so gloomy:
Well, there you have it: Indiana Jones and the Temple of Doom was ultimately the byproduct of trouble in paradise for its filmmakers. However, for one of them, the experience had a silver lining.
Steven Spielberg Went On To Marry Kate Capshaw
Believe it or not, one of Indiana Jones and the Temple of Doom's harshest critics is its own director. On the making-of featurette, Steven Spielberg is much more reserved in describing his damning experience with the film and, especially, its reception, mainly because he does have one particularly heartwarming memory to look back on:
I would consider the love story that took place behind the scenes of Indiana Jones and the Temple of Doom between Steven Spielberg and Kate Capshaw could be key to helping any viewers overcome its darker moments. Besides, now that Logan director James Mangold has inherited the reigns of the series, just imagine how dark Indiana Jones 5 could get.
Jason has been writing since he was able to pick up a washable marker, with which he wrote his debut illustrated children's story, later transitioning to a short-lived comic book series and (very) amateur filmmaking before finally settling on pursuing a career in writing about movies in lieu of making them. Look for his name in just about any article related to Batman.
Your Daily Blend of Entertainment News
Thank you for signing up to CinemaBlend. You will receive a verification email shortly.
There was a problem. Please refresh the page and try again.