Why George Lucas Really Made The Star Wars Prequels, According To Kathleen Kennedy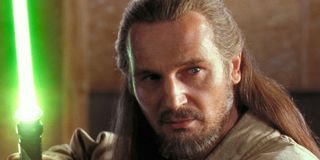 To say that George Lucas' original Star Wars trilogy made an impression on audiences would be a gross understatement. Not only did the three films win moviegoers with their action, scope, humor and heart, but they also inspired a generation. After it was completed, many wondered if Lucas would ever create a new trilogy, and he eventually did so with the prequels. The filmmaker went back and forth for years about whether he would create new films, but Lucasfilm President Kathleen Kennedy thinks she knows why he finally decided to go for them.
Kathleen Kennedy has known George Lucas for years and worked with him as a producer on the Indiana Jones films. Although Lucas wasn't actually directing the movies, she believes the innovations in filmmaking employed for the Indiana Jones franchise got Lucas thinking about what could be done for Star Wars. And as a result, he may have been a bit more motivated to return to the galaxy far, far away:
Kathleen Kennedy brought up an interesting point during her appearance on the second episode of Disney Gallery: The Mandalorian (opens in new tab). Lucas has always had an interest in technology and visual effects and had already had numerous patents when kicking off production on the original Star Wars film.
Like Star Wars, the Indiana Jones series also contributed to advances in visual effects and, based on the way Lucas' mind works, it likely would have been hard for him not to think about how those methods could be used for Star Wars movies.
Anticipation for the Star Wars Prequel Trilogy was high when it was first announced, but many longtime fans were left disappointed after the release of The Phantom Menace. Its sequel, Attack of the Clones, wouldn't achieve much acclaim either, though many were relatively satisfied with Revenge of the Sith.
In recent years, the reception to the prequels has become more positive, with many coming to appreciate what they bring to the Skywalker Saga. This not only includes fans, but Star Wars actors have also acknowledged the high points of the films.
Many may still have differing opinions on George Lucas' second trilogy, but it can't be denied that they were an achievement in filmmaking. And in the long run, Star Wars fans are probably better for having them.
The first two episodes of Disney Gallery: The Mandalorian are now available to stream on Disney+.
Covering superheroes, sci-fi, comedy, and almost anything else in film and TV. I eat more pizza than the Teenage Mutant Ninja Turtles.
Your Daily Blend of Entertainment News
Thank you for signing up to CinemaBlend. You will receive a verification email shortly.
There was a problem. Please refresh the page and try again.