West Side Story: 8 Quick Things We Know About The Steven Spielberg Musical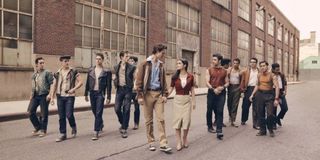 Whenever I first hear that a film I love is getting remade, I'm always a little apprehensive. Such was the case when news first came out about West Side Story, even with the knowledge that Steven Spielberg was going to be the one behind the camera. However, the more that we have learned about this new adaptation, whether it's many of Spielberg's frequent collaborators taking part, an exciting cast (Ansel Elgort and others) or just the chance to see the legendary musical on the big screen for the first time, there are certainly reasons to be optimistic about this new West Side Story.
West Side Story follows the star-crossed romance of Tony and Maria, as they try to bridge the rivalry between two teenage street gangs, the white Jets and the Puerto Rican Sharks. Stephen Sondheim wrote the lyrics and Leonard Bernstein the music for the original Broadway show and the 1961 film adaptation, which was directed by Robert Wise and Jerome Robbins and won 10 Oscars, including Best Picture.
Let's take a closer look at what we know about the film.
West Side Story Is Steven Spielberg's First Musical Directing Gig
We've seen Steven Spielberg direct almost everything from high-adventure films (Raiders of the Lost Ark, Jaws) to sci-fi (E.T., Close Encounters of the Third Kind) to dramas (Bridge of Spies, Schindler's List), but we've never seen him direct a musical.
The closest that Spielberg has ever been associated with a musical project is as an executive producer of the NBC show Smash which ran for two seasons.
Spielberg's connection to West Side Story goes back to his childhood, when he fell in love with the 1957 Broadway production album recording, the filmmaker told Vanity Fair. "West Side Story has been that one haunting temptation that I have finally given in to."
It'll be interesting to see how that connection plays out on screen as the 74-year-old director is still trying new things (amid the more familiar, too).
Tony Kushner Returns To Broadway Roots In Adapting West Side Story
When Tony Kushner crosses over into film it is to work with Steven Spielberg. However, after Oscar-nominated collaborations for Munich and Lincoln, this third collaboration with Spielberg for West Side Story fits right in Kushner's wheelhouse - Broadway.
Kushner is best known for writing the Tony-winning Angels in America, but he also has some musical experience, writing the book and lyrics for Caroline, or Change.
Kushner isn't the only frequent Spielberg collaborator working on West Side Story. The look of the film is being crafted by frequent Spielberg cinematographer Janusz Kaminski.
Ansel Elgort And Rachel Zegler Star As West Side Story's Star-Crossed Lovers
This West Side Story's Tony and Maria come in the form of a well-known young actor and a complete newcomer in Ansel Elgort and Rachel Zegler.
Most of you are likely familiar with Elgort from either the Divergent franchise, The Fault in Our Stars or Baby Driver. And, in case you have any reservations of whether or not he can carry a Sondheim tune, he showcased some of his singing chops in a Riff-Off with Jamie Foxx on The Late Late Show With James Corden.
As for Zegler, she has no other credits listed on her IMDb page, but she won the part after Spielberg had an open casting call that saw more than 30,000 Latinx actors submit videos. After she was announced as Maria, EW compiled some of her singing highlights, including a version of "Shallow" from A Star is Born that went viral.
Now we just have to wait to see if sparks fly when they're together on camera.
Rita Moreno, Oscar-Winner For Original Film, Returns For Remake
One of the 10 Oscars that the 1961 West Side Story film won was Best Supporting Actress for Rita Moreno as Anita. Maybe lightning will strike twice, because Moreno is set to appear in this version of West Side Story, too.
Moreno will play a brand new character called Valentina, who is said to be a reworking of the character Doc, who was Tony's boss in the original stage and film versions.
Talking to Variety recently about the documentary Rita Moreno: Just a Girl Who Decided to Go For It, Moreno assured us all that "It's not a cameo - it's a real part."
Unless something is being kept entirely under wraps, Moreno will be the only returning cast member from the 1961 film.
The West Side Story Supporting Cast Includes Corey Stoll, Brian D'Arcy James, Ariana DeBose And More
The rest of the cast isn't anything to sniff at either. Ariana DeBose (Hamilton, The Prom) will take over the role of Anita from Rita Moreno. The rival gang leaders Riff and Bernardo, meanwhile, will be played by newer names Mike Faist and David Alvarez.
Some other faces that people are sure to recognize include Corey Stoll and Brian d'Arcy James, who will play local policemen Lieutenant Schrank and Officer Krupke.
Much of the rest of the cast will play members of either the Jets or the Sharks, and Spielberg was conscious of making sure that Latino actors and actresses made up the Sharks.
The West Side Story Release Date Was Pushed A Year Because Of The Pandemic
In a perfect world, one where the pandemic is either long gone or, better yet, never existed, we'd have already seen Steven Spielberg's West Side Story, as, originally, the film had a release date of Dec. 18, 2020.
However, as with nearly all major films in 2020, the date got shuffled. In this instance, by nearly a full year, as West Side Story is now slated to be released on Dec. 10, 2021. It's still a long way out, so hopefully things progress as they should and we won't have to worry about any future delays.
There was one small silver lining to the delay though …
The Remake Comes Exactly 60 Years After The Original Filmed Version
Because the new West Side Story had to be pushed from its original 2020 date, its 2021 release comes 60 years after the original. Maybe it's fate, maybe it's simply a 2020-induced coincidence, but it's kind of nice symmetry. I also imagine that the team behind West Side Story will do a lot of leg work to honor both the original and build the hype for this new version.
West Side Story Is Expected To Debut In Theaters, Not On Disney+
One more thing about the release date shift. While not explicitly said, the full-year delay is likely because of the desire to have West Side Story debut on the big screen to packed theaters rather than on streaming.
West Side Story is a 20th Century Studios project, which ultimately means that it falls under Disney. Theoretically, if it wanted, Disney could have simply put West Side Story on Disney+ and done a surcharge like it did for Mulan and the upcoming Raya and the Last Dragon.
But, the December release, and the fact that Disney has been more selective as to what titles go onto streaming right away, points to a theatrical release.
That will certainly make Steven Spielberg happy, as he's been one of the biggest champions for revitalizing the theater business.
Any Steven Spielberg film is going to be a marquee event, but having it be an adaptation of an Oscar-winner and all-time classic just ramps up the excitement even more. Here's hoping a trailer comes down the pike in the not-too-distant future to help ease the wait.
Your Daily Blend of Entertainment News
D.C.-based cinephile. Will dabble in just about any movie genre, but passionate about discovering classic films/film history and tracking the Oscar race.