Star Wars At Disney World: Everything To See And Do At The Orlando Theme Park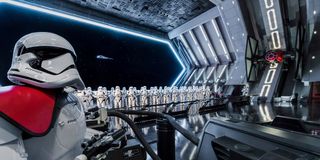 When the Walt Disney Company bought Lucasfilm in 2012 it came with the promise of a massive expansion of the galaxy far, far away. We've seen that expansion take place in film, and on television, and perhaps most impressively, in the theme parks. Of all the various corners of Disney's empire that are represented at Walt Disney World, none are quite as impressive as what has been done with Star Wars. Not only does the franchise have its own land inside one of the Orlando parks, it's one of the largest and most immersive spaces Disney has ever attempted.
While the amount of Star Wars stuff that can be done at Walt Disney World is massive, it's basically all contained inside a simple theme park. If you want to experience Star Wars at Disney World, there's really only one place to go, Disney's Hollywood Studios. You wouldn't expect to find much related to Star Wars at a place like Disney's Animal Kingdom or Epcot, the theme doesn't quite fit. And while Disneyland itself is where you find all things Star Wars in California, including some elements in Tomorrowland, its sister park in Florida, Magic Kingdom, doesn't have the same attractions. Having said that, there's enough Star Wars to be found at Hollywood Studios that you could easily spend an entire day doing nothing else. Here's a rundown of all things Star Wars found at Disney World.
Note: Due to the pandemic and the health and safety restrictions in place at Walt Disney World, not all of these items are available at time of writing. However, the parks list them as being temporarily unavailable, which means they should all be back once the resort is back up and running at full capacity.
Star Tours - The Adventures Continue
Before jumping into the core of Star Wars at Disney's Hollywood Studios, special attention should be given to the attraction that predated all of it, Star Tours. The original version of the attraction opened at what was then Disney/MGM Studios in 1989 and saw guests as tourists, taking a StarSpeeder transport to Endor, when the trip gets a little...sidetracked. Relaunched as Star Tours: The Adventures Continue in 2011, The core concept remains, but the ride itself has been completely reimagined, C-3PO is now your accidental pilot, and he flies you through a variety of show scenes from the original, prequel, and sequel trilogies. Scenes are randomly generated so no two rides are the same, and you'll need to ride the attraction multiple times in order to fully experience everything.
Star Wars Launch Bay
Another Star Wars location found outside of Galaxy's Edge is the Star Wars: Launch Bay. This was the hub of all things Star Wars before Galaxy's Edge opened up, but the area still contains a theater showing a film about Star Wars, a store selling Star Wars gear, and offers character interaction experiences as well. (This location is temporarily closed.)
Star Wars: Galaxy's Edge
Star Tours has been a great attraction for years, but just down a walkway from there at Disney's Hollywood Studios you'll find the most ambitious project that Walt Disney Imagineering has ever undertaken. It's not simply an entire land dedicated to Star Wars, but a piece of Star Wars canon made real. What we know as Star Wars; Galaxy's Edge is, within the story being told, the planet Batuu. It's a planet on the edge of wildspace where both the Resistance and the First Order can be found. Everything is set during a period of time between Star Wars: The Last Jedi and The Rise of Skywalker. Every step through the land is an attraction all itself. But of course, there's also so much more.
Millennium Falcon: Smuggler's Run
There are few things quite as iconic within Star Wars as the Millennium Falcon, and at Star Wars: Galaxy's Edge, you get to fly it. This motion simulator attraction, which takes Star Tours to another level, lets six people sit in the cockpit of the Millennium Falcon and go on a "supply run" for Hondo Onaka, a character fans of Star Wars: The Clone Wars, and Rebels will know well. Guests can act as pilots, gunners, or engineers, and each take an active role in the events of the story as it unfolds, so you can do a good job or a bad one. Each role is unique enough that you'll want to try each one.
Rise of the Resistance
If Star Wars: Galaxy's Edge is the most immersive theme park land at Walt Disney World, then Rise of the Resistance is the most immersive theme park attraction within Galaxy's Edge. It combines all the best aspects of a walk through attraction and a ride into a single cohesive story that makes each guest feel like a member of the Resistance, who has been captured by the First Order. It's massive in size and in scope and there is nothing quite like it.
How To Get A Rise of The Resistance Boarding Pass
Currently to even get on Rise of the Resistance, there's a process that you need to go through. First, you'll need to have a reservation for Disney's Hollywood Studios. Then at 7am on the day of your reservation, you can access the virtual queue through the Disney World app. You'll need to have your entire party, and their tickets and reservations, linked together in the app in order to get a boarding pass for everybody. You'll want to be in the app right at 7 am as boarding groups fill up quickly. If you miss out, there's a second opportunity to get a boarding group at 1 pm. However, you'll need to be inside the park to get access.
How To Get A Lightsaber At Disney World's Galaxy's Edge
There is no more iconic item in the Star Wars universe that the lightsaber, but up until now, the majority of lightsabers available for purchase have been of the cheap plastic variety. That is not the case at Galaxy's Edge. While you will certainly pay for your lightsaber, there are a couple of different ways to get one depending on what sort of lightsaber you're looking for. First, there are a number of lightsaber hilts available at Dok-Ondar's Den of Antiquities which are replicas of versions seen in the films and other Star Wars media. So if you want your version of Rey's saber or Luke's you can have them. Though these are just the handles, there are no blades, so these are designed strictly as decoration.
However, the real fun happens at Savi's Workshop where you can build your own lightsaber. Savi's appears to be a salvage yard, but if you know the right people, you can get access to the special workshop and build your own. You choose what color crystal you want and you can build your own custom saber from a collection of parts. There are several different themes to choose from and multiple pieces within each theme, so you can make something that really feels unique. It's a place to get a souvenir, but it's also a show unto itself as the process of building includes some elements of performance from cast members. It's very much worth the price to do it at least once.
The Best Star Wars Food At Disney World
Theme park food is always special but Star Wars food is something else entirely. All the food at Galaxy's Edge has an otherworldly feel to it, even though the actual ingredients are perfectly normal. There are, unfortunately, no table service Star Wars restaurants inside Galaxy's Edge, but there are plenty of places to get good food when you need it.
Food has been famous in Star Wars since Luke Skywalker picked up a bottle of blue milk and now, you can drink some yourself, as well as the green variety featured in Star Wars: The Last Jedi. At Walt Disney World, you can get these drinks with or without alcohol. The blue variety contains rum, and the green variety includes tequila. The blue (fruit) flavor seems to be the more popular in general, but those of us with more refined palettes know that the green (citrus/tropical) is the superior drink.
But if you just want a drink, that doesn't look vaguely like milk, then belly up to the bar at Oga's Cantina. It looks and feels as much like a real place as anywhere in Galaxy's Edge, and it has a great drink and snack menu. And while there, you can enjoy the music stylings of DJ R3X, the droid who was the original pilot of the Star Tours attraction, and now plays music for guests of the cantina.
Some additional snack options that are worth trying out include the sweet and spicy popcorn Outpost Mix which is purchasable from Kat Saka's Kettle. You can also get yourself an ice cold Coca-Cola at Galaxy's Edge, but the classic contoured bottle has been replaced with a spherical shape, and while the logo of the soda is still recognizable, it's written in Aurebesh, the alphabet of Star Wars.
If you're looking for a more substantial meal you can check out Ronto Roasters, which cooks a variety of wraps under the heat of an old podracing engine. If you're looking for a bit more variety, you can check out Docking Bay 7. Here you'll find plates of ribs, chicken, or pot roast, though they have much more exotic names. (Docking Bay 7 and Oga's Cantina are temporarily closed)
The Best Star Wars Gift Shops At Disney World
Star Wars merchandise is one thing you'll have no trouble finding at Walt Disney World, but it comes in two distinct flavors. You'll find a gift shop attached to Star Tours, and another at the Launch Bay, which will have all of your standard Star Wars logo merch. If you want a t-shirt with the name of a movie or a ball cap that says May the Force Be With You, those are the places, and basically the only places for it.
This is because all the stuff inside Star Wars: Galaxy's Edge is designed to feel like things you would buy inside the Star Wars universe. Yes, you can buy a doll of Rey, but it's designed to look like something that was made by a local artisan, not a toy store. You can also buy clothing that looks like the sort of thing they wear on Batuu, because what else would they sell? You'll also find a pair of shops, each one dedicated to the First Order and the Resistance, so you can pick your side with what you wear.
The best stuff can be found inside Dok-Ondar's Den of Antiquities. In addition to it having the widest variety of stuff, you'll also find special objects, like Jedi or Sith holocrons, which can be activated using the same Kyber crystal you get when you build a lightsaber, or you can buy the crystal itself in the shop. You can also meet Dok-Ondar himself, a massive "hammerhead" alien who is on hand to make sure everything in his shop goes smoothly.
Finally, if building a lightsaber isn't quite your speed, you can also build your own Astromech droid at the droid depot. Light lightsaber building, this is equal parts experience and merchandise, and it's pretty fun if you love droids or want to do something special for your kids but don't want to buy them weapons.
Star Wars Characters At Walt Disney World
Much like the stuff you can buy that's Star Wars related, the characters you can meet have both an in and out of universe counterpart. Over at the Star Wars Launch Bay you'll find meet and greet opportunities that will let you get your picture taken with the likes of Chewbacca, BB-8, or Darth Vader. (These meet and greet opportunities are temporarily closed)
However, the character experiences inside Star Wars: Galaxy's Edge are quite different. Here you won't find characters standing at the end of a line getting photos with everybody. Instead you'll find the likes of Rey, Chewbacca or Kylo Ren, with a Stormtrooper guard, simply walking around the space like they would if you were inside a Star Wars movie. Rey or Chewbacca are still likely to stop for a photo if they have time, but Kylo Ren is more likely to try an interrogate you in order to see if you're a member of the Resistance.
The Future Of Star Wars At Walt Disney World
Star Wars: Galactic Starcruiser
Star Wars: Galaxy's Edge is an impressive creation. For fans who want to live a Star Wars experience, it's something unique. But Walt Disney World is looking to take things to a whole new level in 2022. That's when Star Wars: Galactic Starcruiser will open. The Starcruiser is a hotel and a completely immersive Star Wars experience all rolled into one. You'll spend two nights "on board" the Starcruiser Halcyon with a host of unique experiences available to you. You can spend two days playing a character within the galaxy far, far, away, or just enjoy the experience as if you were on board an intergalactic cruise ship. A lot about this experience is still to be revealed, but it promises to be a "must do" experience for any Star Wars fan.
This is everything you'll find at Walt Disney World surrounding Star Wars, now and for the foreseeable future. Having said that, we know that Walt Disney Imagineering already has ideas about what a Phase 2 of Galaxy's Edge would look like, so this is almost certainly just the beginning of Star Wars at Walt Disney World.
Your Daily Blend of Entertainment News
Content Producer/Theme Park Beat
CinemaBlend's resident theme park junkie and amateur Disney historian. Armchair Imagineer. Epcot Stan. Future Club 33 Member.
Your Daily Blend of Entertainment News
Thank you for signing up to CinemaBlend. You will receive a verification email shortly.
There was a problem. Please refresh the page and try again.