Disney World Vs. Disneyland: How Star Wars: Galaxy's Edge Is Different At Each Theme Park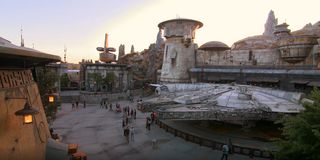 When Star Wars: Galaxy's Edge was first announced, it was a huge deal. It was an entire land dedicated to Star Wars. It was one of the largest expansions that a Disney theme park had ever seen, and even more, both Disneyland Resort in California and Walt Disney World in Florida were getting the new land, making it that much easier for guests to explore the galaxy far, far, away. We were told that the two lands would have all the same stuff, so everybody could visit whichever land was easiest for them. And yet.
While it's certainly true that both versions of Star Wars: Galaxy's Edge have Millennium Falcon: Smuggler's Run and Rise of the Resistance, and each one has a place to build a lightsaber or a droid, the truth is that these two lands aren't exactly identical. To be sure, the differences are minor and aren't likely to drastically impact your trip, but there are differences. Take a look.
The Layout At Disney World And Disneyland Is Slightly Different
Star Wars: Galaxy's Edge takes up just about the same amount of space at both Walt Disney World and Disneyland. In fact, if you were standing in the middle of Black Spire Outpost, the two locations would look largely identical; however, the further out you go, the more differences you will see. The Outpost itself is largely the same, but the surrounding countryside, and Galaxy's Edge is so big there is countryside, is a bit different.
You'll find A-wing and X-wing fighters on display in both Disneyland and Walt Disney World, but their respective locations, especially in relation to Rise of the Resistance, are slightly different. If you've been to one Galaxy's Edge and find yourself walking through the other, it feels different enough that you might feel vaguely confused. Almost as if something is in the wrong place.
The Color Scheme Is Different At Both Theme Parks
While both theme parks are supposed to be representing the same place-- a planet called Batuu -- at the same time -- a spot in the Star Wars timeline between The Last Jedi and Rise of Skywalker -- they don't actually look exactly the same. The colors used at Disney's Hollywood Studios pop a bit more, while at Disneyland the stone that makes up the exterior of Black Spire Outpost are more muted. More than likely this was done to help the land stand out more in the wildly different climates of Southern California and Central Florida.
Yet that's not all, even very specific choices, like say, the look of the podracer engine being used to cook meat at Ronto Roasters, isn't the same in both spots. Disneyland's engine, like the rest of the land, is a more pale blue, like the engine has been sitting out in the sun for a long time. The coloring at Hollywood Studios is much darker. And that's not all, they're technically not even the same engine, as the Aurebesh symbol on the two engines is not the same.
Disneyland Has An Additional Entrance
While both Walt Disney World and Disneyland's versions of Galaxy's Edge take up about the same amount of space, in an odd way the version at Disney World actually feels smaller. That's probably because the version at Disneyland actually has three exits into the rest of the park, while the one at Walt Disney World only has two. Disney World offers a tunnel from the Grand Avenue area near Muppet Vision 3D as well as a path that drops you right into Toy Story Land.
By comparison, at Disneyland there's a path from Critter Country, approximately in the same spot where the Grand Avenue entrance from Walt Disney World is, and another from the edge of Frontierland, in about the same spot where Disney's Hollywood Studios has its Toy Story Land exit. However, at Disneyland, there's a third exit, a massive doorway in Black Spire Outpost, that leads to the path between Frontierland and Fantasyland. Walt Disney's World's Black Spire Outpost has the same doorway, but the door is shut.
Disney's Galaxy's Edge At Hollywood Studios Has Alcoholic Blue And Green Milk
Star Wars: Galaxy's Edge made history at Disneyland when Oga's Cantina became the first place the general public could buy alcohol inside the park since it opened in 1955. It was a big deal, but because the alcohol was limited to the cantina, and guests couldn't take it into the park proper, it maybe wasn't quite as big of a deal as it could have been.
By comparison, Disney's Hollywood Studios, being a park built without Walt Disney's specific input, has always served alcohol, and that means that it, of course, also has a full service Oga's Cantina, but it also has more. Specifically, the major beverage option unique to the area, blue and green milk, can be purchased with or without alcohol. Blue Milk is available with rum. Green Milk can be purchased with tequila. Word to the wise, mix your alcoholic milk well before drinking.
Only Walt Disney World's Galaxy's Edge Is Getting The Galactic Starcruiser
Ok, so this one isn't a current difference, but it is on the way, and when it gets here it's going to be huge. Only Walt Disney World is getting the Star Wars: Galactic Starcruiser, a new location that is equal parts hotel and theme park in its own right. The spot will see guests take on the roles of travelers aboard a luxury starcruiser, being able to take advantage of various amenities and activities over the course of a couple of days. One of those activities will be a shore excursion to the planet Batuu.
While it's unclear what difference (if any) the Galactic Starcruiser will play for those who aren't actually staying there, it will likely be a very big difference for those who are, and its presence will certainly be felt simply by being visible. It will likely make Galaxy's Edge feel very different at Walt Disney World since there won't be a corresponding location at Disneyland.
Unless you are desperate for a shot of rum in your Blue Milk (and if you are, maybe look into that), these differences between the two lands are unlikely to really make you have a different experience. At the same time, each of these differences are very noticeable. If you go to Galaxy's Edge at both Disneyland and Walt Disney World then, much like Disneyland and the Magic Kingdom, they will feel similar, but they will also feel strangely different, like you stepped into a parallel universe and found yourself in a slightly different version of a place you thought you knew so well.
Your Daily Blend of Entertainment News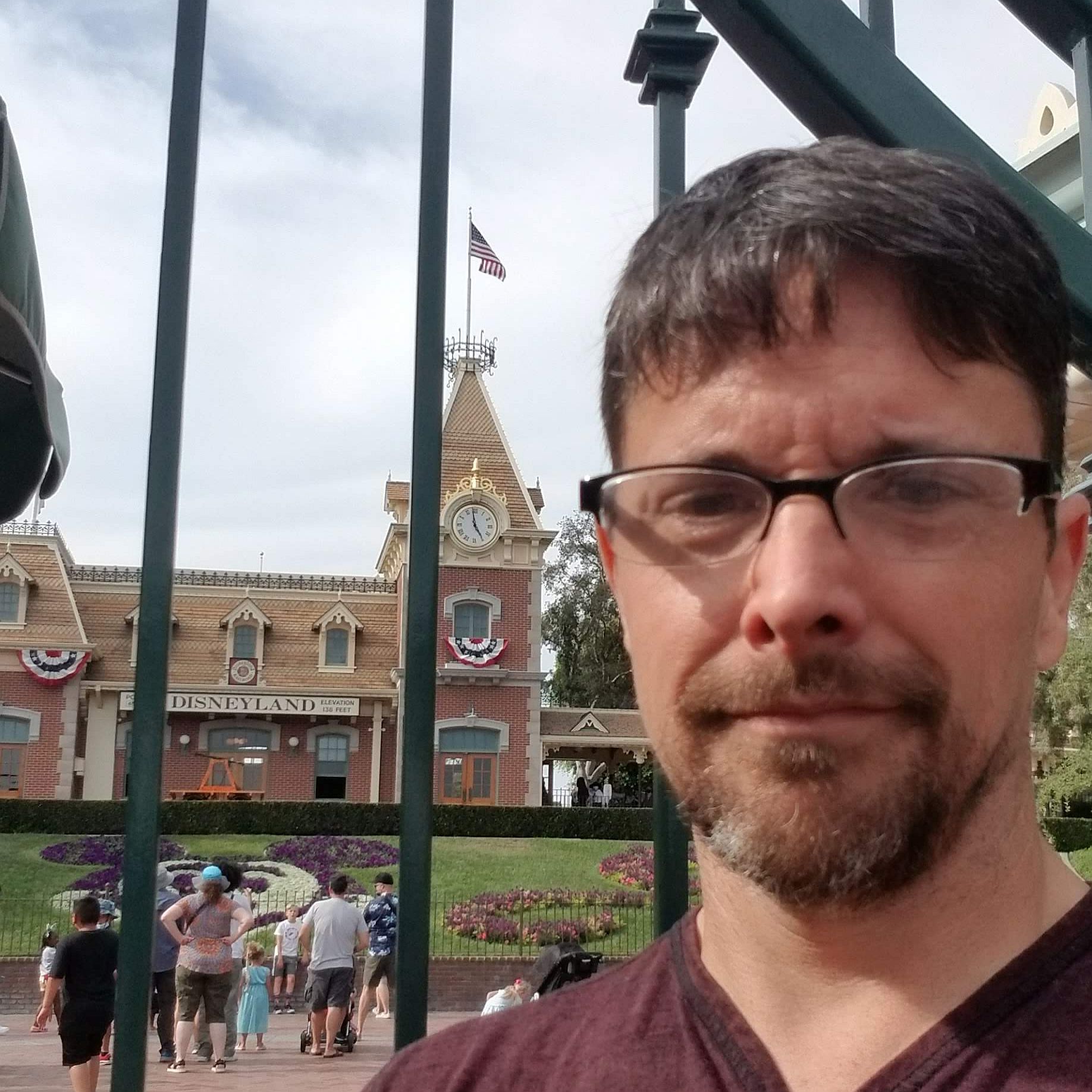 Content Producer/Theme Park Beat
CinemaBlend's resident theme park junkie and amateur Disney historian. Armchair Imagineer. Epcot Stan. Future Club 33 Member.