Space Jam: 8 Behind-The-Scene Facts About The Michael Jordan Movie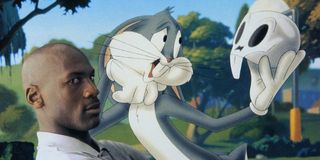 (Image credit: Warner Bros.)
For us '90s kids, Space Jam holds a special place in our hearts. Inspired by the popular "Hare Jordan" 1993 Super Bowl commercial, the 1996 movie paired Michael Jordan, Bugs Bunny and the rest of the Looney Tunes as a dream team that few knew they needed. We can debate the merits of the film all the way back to Moron Mountain, but its cultural impact was solidified long ago, even before Lebron James decided to lead a sequel/reboot.
But before King James puts his own spin on Space Jam, let's revisit the original with some behind-the-scenes facts.
Michael J. Fox And Chevy Chase Were Considered For Supporting Roles
At the time Space Jam was being made, there was possibly no bigger celebrity in the world than Michael Jordan. And of course, Bugs Bunny and the other Looney Tunes characters were Hollywood royalty, even if they were showing some rust pre-release. Still, it seemed many actors weren't too keen on the idea of sharing the silver screen with the iconic duo.
In a retrospective article in Entertainment Weekly, director Joe Pytka explained that it was difficult to cast some of the supporting parts, most notably Michael's assistant Stan. Pytka explained that actors didn't think working with an athlete and animated characters would amount to much.
Other times, when Pytka had actors he wanted to pursue, he said that Warner Bros. shot them down, including Michael J. Fox and Chevy Chase.
In the end, Wayne Knight was cast as Stan, and it now seems impossible to imagine anyone else in the role.
Bill Murray Was Only Supposed To Be In One Scene
However, one actor didn't have a problem acting alongside cartoon characters. Surprisingly, it was the notoriously hard-to-pin-down Bill Murray.
Ivan Reitman, who had previously directed Murray in Meatballs, Stripes, Ghostbusters and Ghostbusters II, was a producer of Space Jam and wanted to bring Murray in for the scene where Jordan gets sucked into Looney Tune Land on the golf course. And that was it.
Once Pytka's fears of Murray not showing up at all were eased, he found the actor curious about how they were going to film scenes with both Jordan and the animated characters. We'll get into the details of that just below, but Murray was intrigued enough by the explanation that he agreed to expand his role, making the meta reference when he arrives in the final moments of the game that the producer is a friend of his and dropped him off.
Looney Tunes Were Filled In With Actors In Green Screen Suits
We're all familiar with green screen technology today as we've heard actors talk about awkward experiences having to create deep, realistic relationships with tennis balls before the actual character is generated with CGI. With nearly half of its cast required to be added later, Space Jam devised a different strategy to make things easier for their non-actor star.
The production team decided to bring in performers from the Groundlings improvisation comedy troupe, put them in green spandex suits and have them serve as the animated characters that Jordan would be acting opposite.
Pytka explained it in Air.'s Inside The Jordan Dome article:
As mentioned above, this style for using the then nascent technology intrigued Murray enough to make him want to expand his role in the film, ensuring his scene-stealing cameo.
Space Jam Chose Billy West To Voice Bugs Bunny For The First Time
Mel Blanc is of course the creator and in many instances the singular voice of the Looney Tunes, but unfortunately he passed away in 1989, years before Space Jam was even a concept. So a new voice actor for Bugs Bunny was needed, and rather than go with someone that had experience filling in for Blanc in the past, the Space Jam team went with relative newcomer Billy West.
West, who is now best known for voicing characters in Futurama, The Ren & Stimpy Show and Doug, had never voiced Bugs Bunny before Space Jam, not even the "Hare Jordan" commercial spot, which used a combination of Jeff Bergman and Greg Burson. West also voiced Elmer Fudd in Space Jam.
Despite being a rookie with the character, West did a fine job and has even gone on to voice Bugs in other content, most often video games.
Warner Bros. Vetoed Spike Lee From Doing A Script Polish
Spike Lee's passion for basketball is well documented, he's even brought some of that passion to the big screen with his film He Got Game. But there was a chance he could have been involved in the making of Space Jam, according to Joe Pytka.
Tangentially, Lee already was a kind of inspiration for the film. It was his own Nike commercials with Michael Jordan where he played the character Mars Blackmon that were a kind of jumping board for the Jordan/Bugs Bunny commercial. Perhaps it was that previous relationship with Jordan that led him to approach Pytka on doing a script polish for Space Jam, the director told EW.
Warners Bros. said no go. From what he's said on the topic, Pytka believed it had to do with issues stemming from Malcolm X, which Lee made for the studio.
Coming full circle, Space Jam: A New Legacy is being directed by Malcolm D. Lee, Spike Lee's cousin. Maybe we'll find out in a few years that Spike finally got the chance to bring some of his ideas to the Space Jam universe.
Jordan Would Play Pick-Up Games With NBA All-Stars When He Wasn't Filming
Space Jam concludes with Michael Jordan deciding to give up his floundering baseball career and instead return to basketball, rejuvenated by his game with the Looney Tunes. It was an example of art imitating life as Jordan had already decided to restart his NBA career with the Chicago Bulls before filming got underway.
But he had to get into basketball shape, and playing against a bunch of comedians in green spandex wasn't exactly going to cut it. As a result, Jordan had it worked into his contract that Warner Bros. would build him a workout facility where he could train when he wasn't filming.
Part of that training, as detailed in The Last Dance and in numerous articles recounting the making of Space Jam, were some of the greatest pickup basketball games ever.
As ESPN's J.A. Andande detailed, beyond his Space Jam co-stars like Charles Barkley and Patrick Ewing, Jordan drew the likes of Grant Hill, Dennis Rodman, Shaquille O'Neal, Magic Johnson and Reggie Miller to his dome for these pick-up games.
Miller would even comment about Jordan's constant schedule during the production, saying he was "like a vampire."
Also, unlike in the movie, Bill Murray was not invited to show off his own skills during the pick-up games.
A Deleted Ending Had Jordan Winning Another Big Game
Because Jordan's transition from basketball to baseball and then back to basketball happened during the development and production of Space Jam, director Joe Pytka shot a different ending that sees Jordan get some baseball glory in addition to his victory over the Monstars.
In the film, Jordan returns from Looney Tunes Land just in time for his minor league team's game. He is greeted with a standing ovation, but that's not where the scene originally ended. Pytka had Jordan pull a Robert Redford-like move from The Natural, smashing a home run to win the game and trot around the bases.
Much to Pytka's chagrin, the ending was never used, and he told EW he does not know why. He believed keeping the baseball ending would have added another dimension to the film, and wondered if people found it too corny.
The Space Jam Website Is Still Active
It's crazy to look back at what the internet was in the 90s to what we have today. There is such a stark difference in the look of websites and all that they are able to do. But sometimes those old relics are built to last, and the Space Jam website just happens to be just such an example.
The Space Jam website built to promote the movie is the early internet at its peak. It features behind-the-scenes tidbits, character bios, links to the movie's soundtrack and Warner Bros. store, as well as games and the latest news (unsurprisingly empty over these last 25 years).
Other '90s movies took advantage of the nascent internet to try and promote their films, most notably Star Wars: Episode I - The Phantom Menace, but even that has been taken down. Space Jam's lives on though in all its 90s glory.
There is a website for Space Jam: A New Legacy, but like the film itself, it has a lot of work to do to reach the level of the original.
Space Jam is available to stream on HBO Max. Space Jam: A New Legacy will premiere in theaters, and simultaneously on HBO Max, on July 16.
Your Daily Blend of Entertainment News
D.C.-based cinephile. Will dabble in just about any movie genre, but passionate about discovering classic films/film history and tracking the Oscar race.