5 Things Space Jam 2 Needs To Do To Improve Upon The First Movie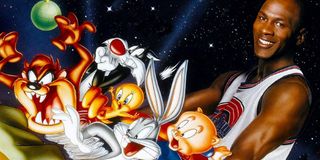 There's no way around it: Space Jam: A New Legacy is happening, whether you like it or not. For the droves of fans that have fond memories of the 1996 original, the new LeBron James project is really good news. However, if the creative team behind this sequel are looking to not only win over fans and detractors alike, there are some steps that could be taken to improve upon that first movie.
While Space Jam: A New Legacy has already wrapped production and is currently making its way to a July 2021 release, there's still some fine tuning that could be done on the final product. And if the good folks at Warner Bros are willing to hear me out, I'd like to point out some key improvements that could make this reboot a real crowd pleaser.
Don't Just Make A Brand New Version Of Space Jam
To clarify the role of Space Jam: A New Legacy in the Warner Bros canon, the film has been reported to be more of a reboot rather than sequel to Space Jam. Which is perfect, because the table is automatically cleared for a new and exciting vision to take flight into theaters next summer.
So the first piece of valuable advice that those behind Space Jam: A New Legacy could take to heart is that getting a new invitation to slam and/or jam means they shouldn't just reskin the original Space Jam formula for a new generation.
That means some key pieces of the original film's formula need to be swapped out in order to improve the total product. It's not every day that a reboot takes the chance it's been given to outshine its source material.
Space Jam: A New Legacy Has To Avoid Becoming A Stealth LeBron James Biopic
One of the biggest stumbling blocks for Space Jam was the fact that rather than be a movie where both Michael Jordan and the Looney Tunes were treated as co-stars, it felt more like a stealth MJ biopic that just happened to have Looney Tunes.
Sure, there were still gags and adventures to be had, but when you bookend your film with huge Michael Jordan commercials, it's kind of awkward. If Space Jam: A New Legacy hopes to avoid this mistake, it needs to remember that LeBron James is supposed to be starring with cartoons; not just starring in a movie that uses Bugs Bunny or Daffy Duck whenever it feels like it.
Luckily, Space Jam: A New Legacy has an ace in the hole with the casting of LeBron James, as the man's funny as anything. So James mixing it up with the Looney Tunes sounds like it'll already work out pretty well.
Limit The Number Of Human Sidekicks LeBron James Has In Space Jam: A New Legacy
It might have been a way to help Michael Jordan carry the acting load in Space Jam, but having both Wayne Knight's Stan and Bill Murray's... Bill Murray to support the basketball legend kind of muddied the waters. Without a clear focus on the human side of the equation, it made the live-action storyline in the film come off as rather tacked on.
Should the rumor that Don Cheadle would play a Murray-esque character in Space Jam: A New Legacy be true, then he should be the only support act that LeBron James has to fall back on. Though should the equally weighted rumor that Cheadle is the film's villain turn out to be triumphant, Star Trek: Discovery's Sonequa Martin-Green's role as James' on screen wife could be the perfect leverage point.
No matter how the cast list shakes out, this is a movie where LeBron James is a fish out of water in the world of the Looney Tunes. Too many prominent characters assisting this new NBA-flavored caper would only be repeating a mistake that ended up taking two fantastic comedic actors and not giving either enough to do.
If Lola Bunny Is Coming Back, Her Space Jam Character Needs Some Work
When one of your characters is a prime target for satire in another Looney Tunes movie, it's a good sign you've got some work to do. While creating a new female toon character to match wits with Bugs Bunny was certainly a great idea, Space Jam's Lola Bunny felt a little like a two-dimensional love interest with a spunky attitude.
However, Space Jam: A New Legacy has already built in a way for Lola's character to become more fleshed out. As WNBA players Diana Taurasi and Nneka Ogwumike have both joined the cast for this new sequel, there's a chance that Lola could interact with them both in their quest to potentially retrieve their basketball playing skills.
Even if Lola Bunny is just inhabiting the realm of the toons in Space Jam: A New Legacy, then she could be just as quippy as Bugs and Daffy have ever been. Her return shouldn't be merely to boost Bugs' character with banter, but to be just as valuable to the entire Looney Tunes team as her male equivalents.
Space Jam: A New Legacy Needs Timeless Humor
The fact that Space Jam's original website from '96 is still active on the internet says all you need to know about what the brand's current position in pop culture truly is. When you hear the title, it's a direct line to '90s throwbacks, complete with its extremely dated, but fondly remembered soundtrack.
In other words, it's everything Space Jam: A New Legacy should avoid becoming. Looney Tunes cartoons have always been up for skewering contemporary culture, and when done right, it makes for great gags. But building an entire movie around Top 40 hits and Pulp Fiction references doesn't always age as well as one would hope.
That's not to say the passage of time will automatically be kind to Space Jam: A New Legacy. But in the best case scenario, future generations could look back on this film as an entertaining product rather than just a simple inspiration for a trip down memory lane.
Running through the improvements that Space Jam: A New Legacy could, and should, bring to the table is enough to make even a complete cynic like myself optimistic about this new reboot. It's a new age, and that new legacy this Space Jam project is promising sounds all the more exciting; should these improvements be taken seriously, of course.
Space Jam: A New Legacy heads to theaters on July 16, 2021. So there's going to be plenty of time between now and then to keep dreaming of what this new basketball romp will have in store for everyone to behold.
Your Daily Blend of Entertainment News
Senior Movies Contributor
CinemaBlend's James Bond (expert). Also versed in Large Scale Aggressors, time travel, and Guillermo del Toro. He fights for The User.