Leonardo DiCaprio's Killers Of The Flower Moon Has Hit A Snag After Robert De Niro Injury, But It's Not All Bad News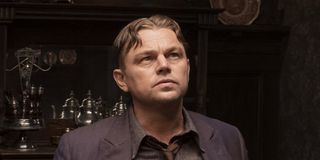 Killers of the Flower Moon is one of the most anticipated films currently in production, and for a good reason. The Martin Scorsese film will star Leonardo DiCaprio, who we got a first look at this week and has switched roles with Jesse Plemons. Killers of the Flower Moon will also feature Robert De Niro, who will be collaborating with Martin Scorsese once again after their most recent project together, 2019's The Irishman. The Leonardo DiCaprio-led Killers of the Flower Moon has hit a snag after Robert De Niro Injury, but it's not all bad news.
Robert De Niro has suffered an injury while in Oklahoma for the filming of Killers of the Flower Moon and has headed home to recover. Luckily the injury did not take place off set, so it was not during production, and it doesn't look like it will impact Killers of the Flower Moon too much. TMZ was told that De Niro's injury won't affect production and that they have already filmed all of the esteemed actors' scenes that were needed for the film. Fans who have marked their calendar for the Apple movie can rest assured that it is still on schedule for release in 2022.
Killers of the Flower Moon is based on the non-fiction book of the same name by David Grann. The film will follow a series of mysterious murders in Oklahoma that will result in a major F.B.I investigation. Leonardo DiCaprio will star as Ernest Burkhart, one of the killers. Robert De Niro will be playing William Hale, a cattleman and murderer who is a prominent figure in the murder conspiracy that will be explored in Killers of the Flower Moon.
Leonardo Dicaprio has collaborated with Martin Scorsese going way back to Gangs of New York in 2002. DiCaprio also starred in The Departed, which won Scorsese Best Director at the Academy Awards for the first time in his storied career. When DiCaprio and Scorsese team up, we usually get the best out of the pair, and hopefully Killers of the Flower Moon is no exception.
Killers of the Flower Moon seemingly has the makings of a critical hit that could compete for all the major awards, as movies directed by Martin Scorsese and starring Leonardo DiCaprio are wont to do. DiCaprio, who recently got a shout-out from his most recent on-screen partner Brad Pitt, has given some of his best work to Scorsese films. The cast also will include Jesse Plemons, Lily Gladstone, and country music star Sturgill Simpson in a story and film in the careful hands of Martin Scorsese.
Thankfully, Robert De Niro's injury won't impact the production of the film, and he is apparently recovering nicely. The long-time friends and collaborators De Niro and Martin Scorsese working together yet again is a gift to film fans, and Killers of the Flower Moon is poised to be another classic for the pair.
Your Daily Blend of Entertainment News
Movie and TV obsessive. A good Heist movie is the way to my heart. Enjoyer of everything from Marvel Movies to Rom-coms.